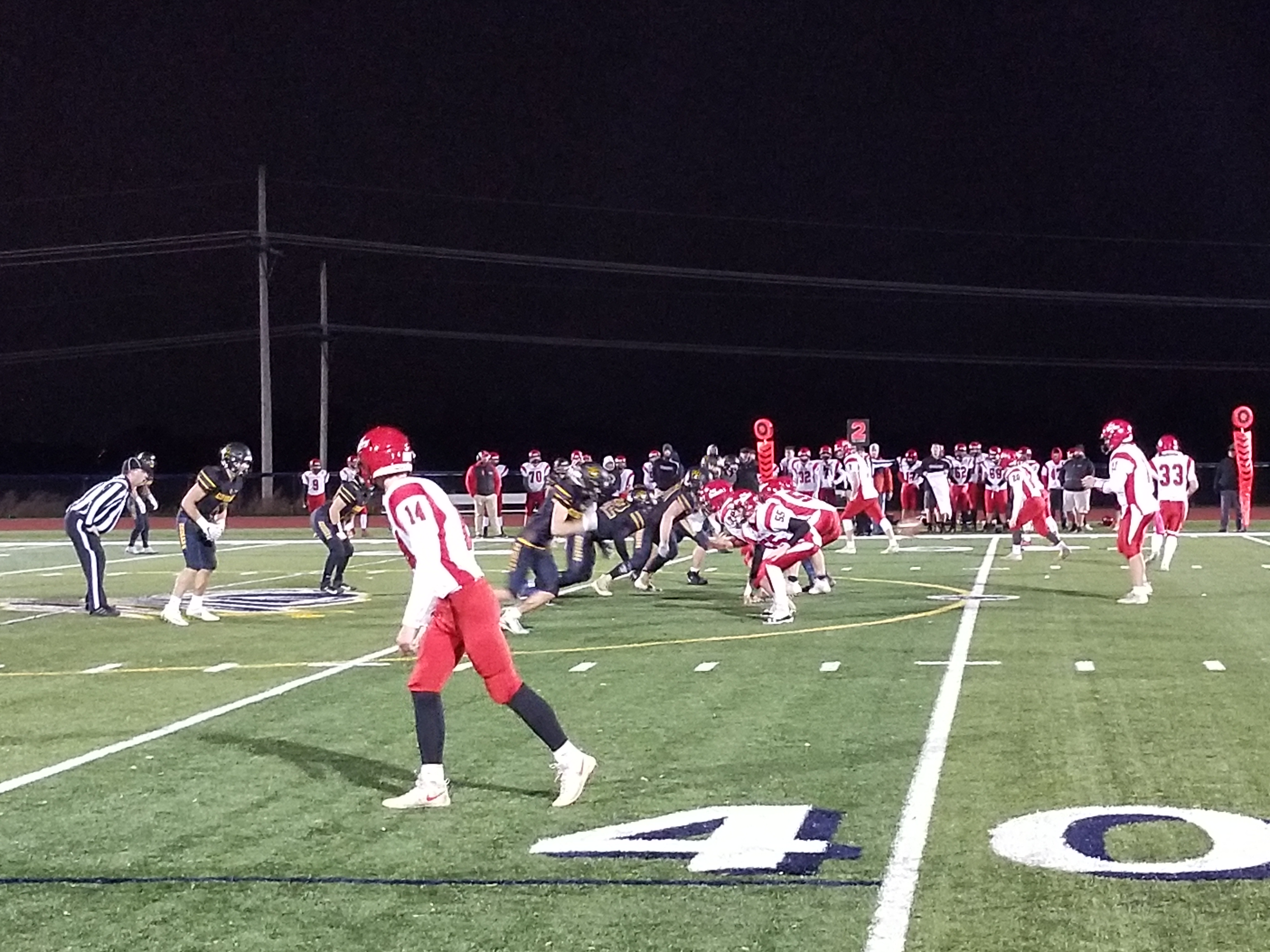 By JOHN LIKANJE
PITTSFORD, N.Y. – The Honeoye Falls-Lima (HF-L) varsity football players standing on the sideline noticed the large student section in the bleachers. It came as no surprise considering it was a Saturday night and the village of Honeoye Falls is located 10 miles south of Pittsford. But those students witnessed something special: their varsity football program advancing to the sectional final for the first time in school history.
"All the seniors, it's what we've worked for all summer," quarterback Turner Wilson said after the 14-12 win over Palmyra-Macedon. "We lost on this field last year and it means so much to win on here."
"There's been a lot of great teams that have come through HF-L," head coach John Russ, a HF-L alumni, said. "I felt like even when I played, we had teams that were very capable of getting there, but we could just never get over the hump."
Leading 7-6 with 5:20 remaining in the third quarter, Peter Romig took off for a 39-yard run on the first play of a drive which started from HF-L's 15-yard line. The senior tailback gained eight more yards to set up a Wilson 14-yard pass to Mitchell Slymon. Despite a loss of 15 due to a pass interference penalty, Wilson found Slymon in the left corner of the end zone for a 17-yard touchdown to extend the Cougars' lead to 14-6.
Wilson led the offense with eight completions for 143 yards and a pair of touchdown passes. The senior quarterback scrambled for 38 rushing yards as well. Wilson has 923 passing yards, 241 rushing yards and 15 touchdowns this season.
"He throws a great ball," Russ said about his senior quarterback. "He's gotten better and better as the year's gone on. He's run the ball fantastic for us. Overall, I couldn't be more proud of the kid."
.@SecVFootball B semifinal – @palmacsports vs. @HFLfball: Turner Wilson 24-yard TD pass to Patrick Lustyk. 1:31 2Q: HFL 7 PM 3. @PickinSplinters pic.twitter.com/rpJXLqJFoa

— John Mitchell Likanje Junior (@jml5798) November 2, 2019
Slymon snagged four receptions for 64 yards and a touchdown. Junior wide receiver Patrick Lustyk caught two passes for 67 yards and a score. Romig had eight carries for 68 yards in the second half. Junior running back Jacob Derby scrambled eight times for 47 yards.
"Peter and Derby just run the ball well," Wilson said. "Our wide receivers made big plays and our line did amazing."
For Palmyra-Macedon, senior wide receiver Grady Arnold connected on a pair of field goals and caught a 10-yard touchdown pass from Zachary Baker with 1:45 left in the game.
.@SecVFootball B semifinal – @palmacsports vs. @HFLfball: Zachary Baker 10-yard TD pass to Grady Arnold. 2-point conversion no good. 1:45 4Q: HFL 14 PM 12. @PickinSplinters pic.twitter.com/1ddbu8Yvyi

— John Mitchell Likanje Junior (@jml5798) November 3, 2019
Baker battled through an ankle injury and completed 8-of-14 passes for 147 yards. The senior quarterback ended his season with 1,087 passing yards and 11 touchdowns.
After knocking off defending champion Batavia, Palmyra-Macedon's campaign ends in the sectional semifinals with a 4-5 record.
Honeoye Falls-Lima (7-2) will match up with Livonia, who upset top-seeded UPrep in the other semifinal game. Kickoff is scheduled for next Saturday at 7 p.m. at Saint John Fisher College.
"We're going to have to be big up front the whole game," Wilson said in anticipation of next weekend's final. "We're going to have to stop their run and I think we can pass over them."
"Their defense is phenomenal," Russ explained. "They're well-coached. They got a really tough front four. We're going to have to bring it physically. We're going to have to be really true to our reads and things like that."
"I look for another classic HF-L/Livonia battle like we had in my day, so we'll be up for the fight and we'll see what happens."