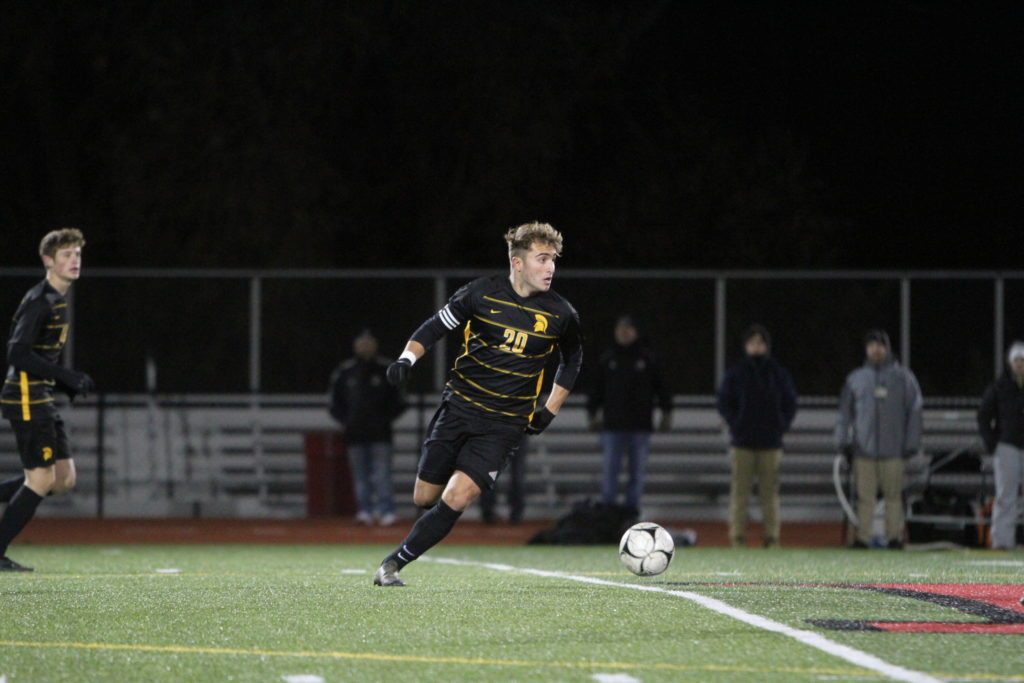 By PAUL GOTHAM
ROCHESTER, N.Y. — Dylan Rice thought of passing to teammate Othman Belhseine.
His second option proved to be better.
Rice clinched the 2019 Section V Class A1 championship for the Greece Athena Trojans with a goal that won't soon be forgotten.
Deadlocked in a two-all tie with crosstown rival Greece Arcadia, the junior midfielder made a 60-yard rush before going top shelf for the game winner.
"I remember receiving the ball, looking up," he said. "I couldn't find Othman. I saw a gap, so I kept just driving with the ball. I knew I had to finish and took it."
Rice received the ball near the 40-yard line of Athena's defensive end. He turned into the middle of the field to beat one defender. Within two strides he was at full speed sprinting through the center circle before beating a defender going right just as he entered the 18-yard box. He finished with his left foot.
"Probably the best goal I've ever seen or been a part of," Athena head coach Mike Butler said. "I think it's the best player in Section V making a play like that kid does."
.@Dylan_rice11 of @athena_soccer @AthenaHigh @athena_6thman simply would not be prevented from scoring championship game•winner tonight. What a run. pic.twitter.com/W5IP8Dinw4

— Matt Trabold (@TrabsMatt) November 2, 2019
The goal came after Arcadia goalkeeper Gabe Taylor had stopped Rice on three previous scoring attempts.
"It was building," Rice said of the frustration. "The first one near post, he did a good job getting both hands on it. The volley that I didn't hit hard enough, he picked that one up easily. I needed one. I was craving it."
Rice was an eighth grader when Athena won its most recent title in 2016, a 3-1 triumph over the same Arcadia Titans. It was the Trojans third straight title. He scored a goal in that win.
Friday night was Athena's first trip back to the title game since then.
"After my freshman year which was a tough loss to Brighton (in the semifinals), we always thought next year, next year, next year. Then sophomore year losing the quarterfinals to Spencerport that was a tough one. Really at this point we were kinda like full throttle. We need one. We want one. Happy to get that."
Athena had already beaten Arcadia twice during the season. The Trojans won on their home pitch, 3-nil in early September. They took a 3-1 decision on September 27th.
The Titans (12-7-0) rattled off four wins after that setback outscoring opponents by a combined score of 14-1. They entered Friday's game winners of three straight and four of five.
"Arcadia is such a good team and to come out on top is a great feeling," Rice said. "It's a huge win. We know we beat them twice over the season, but we knew they were going to come out strong. Nothing better right now."
Camden Englert wasted little time getting fourth-seeded Arcadia on the scoreboard. The senior gathered the rebound from teammate Cooper LaValley's shot and found back of the net to give the Titans a 1-nil lead less than three minutes into the contest.
Belhseine and Rice responded :62 seconds apart midway through the first half to give Athena a 2-1 edge heading into the break.
Dino Begovic leveled the match in the 60th minute with a near-post deflection of an Aidan Lewandowski service on a free kick from the left corner.
60' Dino Begovic gets the near post deflection off the Aidan Lewandowski free kick to level the match. @SoccerArcadia 2 @AthenaHigh 2 pic.twitter.com/6al4cqIRfG

— Paul Gotham (@PickinSplinters) November 2, 2019
Athena came into the game winners of eight in a row. They were unbeaten in 12 straight. They hadn't given up more than one goal in any single game since a 3-3 tie with McQuaid on September 21st.
"We were on our heels really," Butler said. "At that point, Arcadia really fought and had come at us a little bit."
Rice's goal was his 16th of the season.
"I knew we weren't going to create that many more opportunities because they were coming at us strong," Rice noted. "I knew it was do or die at that moment."
Athena (No. 18 NYSSWA) will face Pittsford Sutherland (No. 9 NYSSWA) in Tuesday's regional qualifier. A 5 PM kickoff is slated at Spencerport Central Schools.