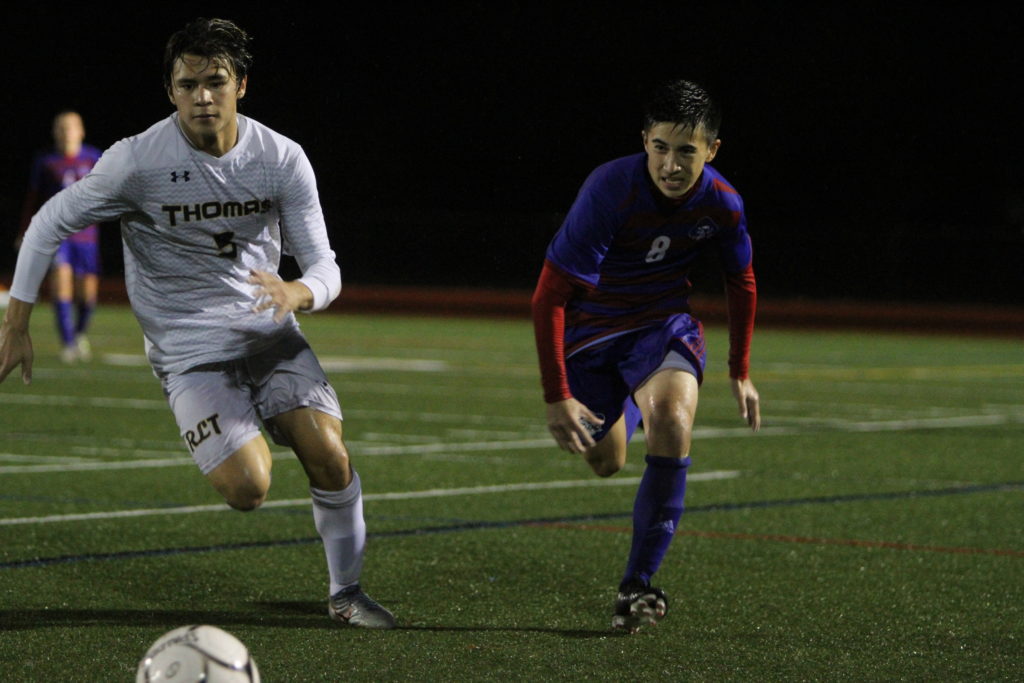 By PAUL GOTHAM
ROCHESTER, N.Y. — Fairport boys' soccer coach Gianni Bussani doesn't easily forget a loss.
When asked about the weather conditions of Thursday's Section V Class AA semi-final match, the 25th-year coach recalled a defeat from 2008.
"We played Thomas in a qualifier to reach the (state) tournament," Bussani said after Thursday's match that was played in a consistent downpour.  "Double-A and triple-a had a playoff. It was like this, but it was freezing cold. It was way worse. We lost that game."
Bussani's Red Raiders changed the narrative Thursday with a 1-nil win over those same Webster Thomas Titans in the 2019 Class AA semifinals.
With the victory, top-seeded Fairport (No. 10 NYSSWA) advanced to Tuesday's final where it will meet No. 2 seed McQuaid (No. 13 NYSSWA).
"Our goal is always to be competing for a Section V championship," Bussani stated. "We reached that goal, now we got to try and figure out how to win it."
Freshman Myles Palmer supplied the only offense of the match when he connected with 15:07 remaining in the first half.
"Right before he took a one-timer I said 'no,'" Bussani noted. "He had time to take a touch. I went from no to yes real fast. I would've taken a touch with my left foot and then played it with my right, but he played it one time. You're not going to argue with a goal, right?"
Caden Brunken collected an assist on the play. Moments earlier, the junior missed an opportunity to get Fairport on the scoreboard.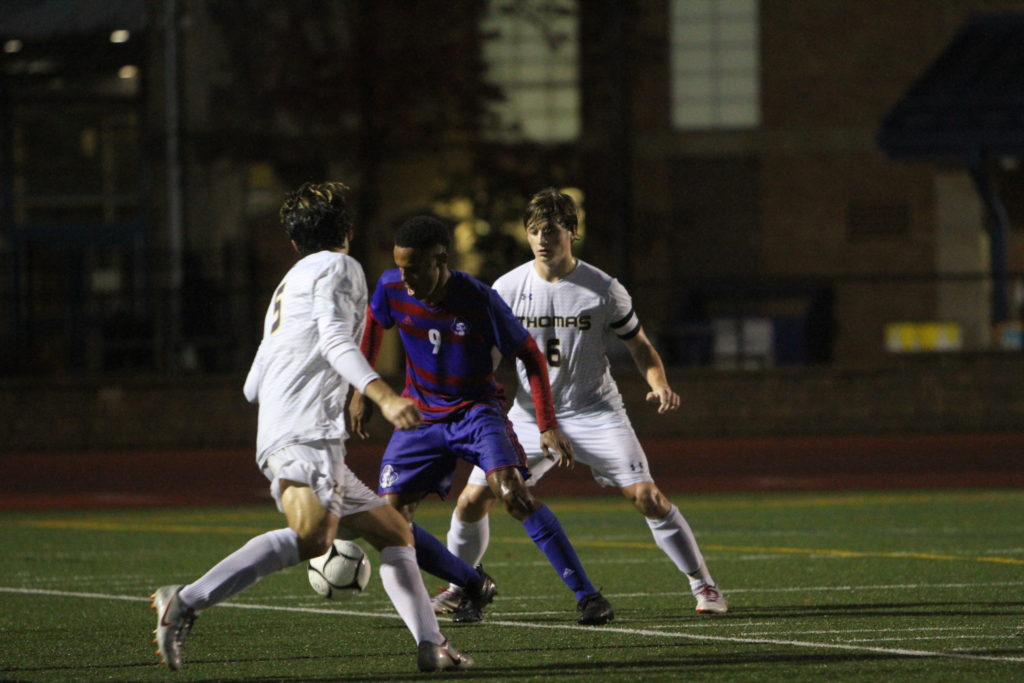 "The thing about Caden is he plays with so much heart and passion. He'd start on many teams. We got a bunch of guys that can't get in the starting lineup. That's a nice problem for me. When they do get their opportunity, those kids play hard. We have no drop off."
HALFTIME Class AA BSOC semifinals: Caden Brunken came this close to breaking the scoreless tie. Moments later, Brunken set up teammate Myles Palmer. @FptMensSoccer 1 @ThomasTitans 0 pic.twitter.com/wLqQPJPuNo

— Paul Gotham (@PickinSplinters) October 31, 2019
Senior goalkeeper Michael Nesser recorded his 11th clean sheet of the season for the Red Raiders (13-3-2), but it wasn't without Thomas applying pressure.
"It wasn't surprising. Thomas teams always play hard-nosed. They run. They're fast. They're athletic. But give our boys credit they handled it very, very well. I don't think we gave up too many chances."
The two teams played to 2-all draw earlier in the season.
Thomas finished 10-5-2.
Fairport will be looking to win its 10th sectional title when it takes the field on Tuesday.
"It's our goal every year to play in the Section V championship game. When you get there, anything can happen."
A 7:30 PM start time is scheduled at Spencerport Central Schools.