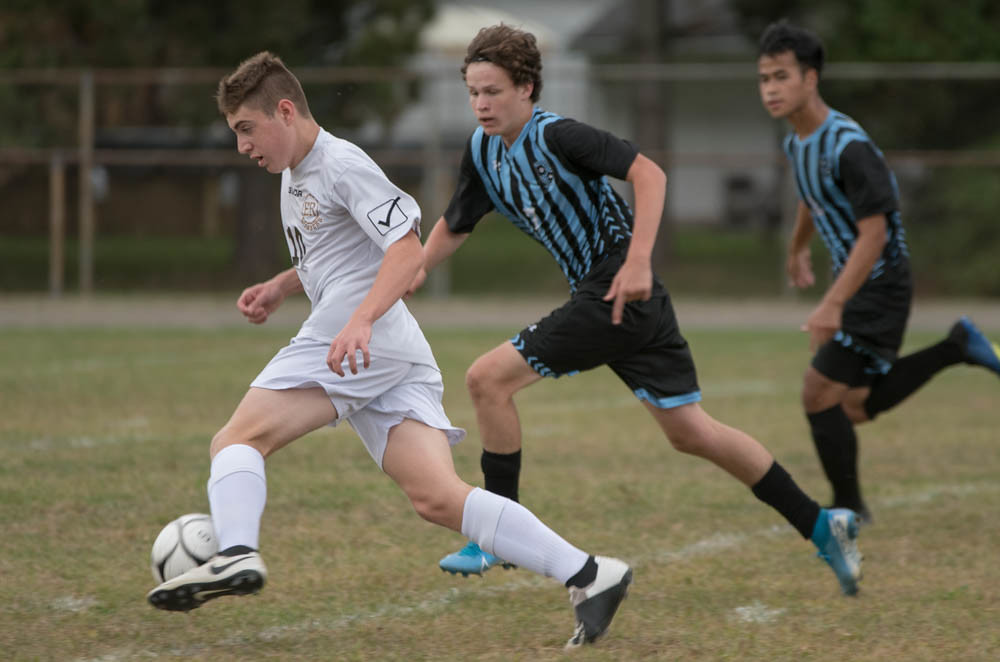 CLASS B1
No. 5 GREECE OLYMPIA 1
No. 1 PALMYRA-MACEDON 3
Palmyra Macedon advances to face No. 2 Geneva on Saturday, Nov. 2 in the Class B1 final.
No 3. LIVONIA 0
No. 2 GENEVA 1
Ryan Fishback scored in the fourth minute of the game and Geneva its sixth consecutive victory. Fishback's tally was just the first of his senior season. There was no assist on the goal. Geneva moves on to the Class B1 final on Saturday, Nov. 2 to take on No. 1 Palmyra Macedon.
CLASS B2
No. 4 SCHOOL #58/WORLD OF INQUIRY 1
No. 1 BATH-HAVERLING 4
Thomas Binkowski's hat trick kept Bath-Haverling's record a perfect 18-0-0. Binkowski scored twice in a seven-minute span in the first half. Both of his first half goals were unassisted. Keefer Calkins picked up the assist on Binkowski's second half tally. Binkowski also assisted on Bath-Haverling's third goal of the game, which was scored by Calkins. Binkowski now had 29 goals and 14 assists this season. Bath-Haverling will take part in the Class B2 final on Saturday, Nov. 2 against No. 7 Bishop Kearney.
No. 7 BISHOP KEARNEY 2
No. 3 LETCHWORTH/WARSAW 2
Bishop Kearney advances on PKs, 6-5
It was the usual suspects that led Bishop Kearney to its second straight upset victory. Evan Stevely and Fernando Furioso, who have given opposing teams headaches all season, each scored a regulation goal for the victors. Stevely found the back of the net in the 57th minute with the help of Luke Tytler. Furioso scored an unassisted goal just 11 minutes later. Bishop Kearney went on to win after extra rounds of penalty kicks. Bishop Kearney will face No. 1 Bath-Haverling in the Class B2 final on Saturday, Nov. 2.
CLASS C1
No. 5 SODUS 0
No. 1 EAST ROCHESTER 2
East Rochester struck twice in the first 15 minutes then relied on defense to remain undefeated. Russell Domm opened the scoring in the sixth minute. He was aided by Chuck Domm. Justin Gutierrez scored an unassisted goal in the 15th minute to provide some insurance for the victors. East Rochester advances to take on No. 10 Williamson in the Class C1 finals on Saturday, Nov. 2.
No. 10 WILLIAMSON 1
No. 3. ADDISON 0
Luis Ceron's 67th minute goal powered Williamson to its third consecutive upset win. Ceron's game-winner was unassisted. It was also his eighth goal of the season. Williamson has now defeated the No. 7, No. 2 and No. 3 seeds in the Class C1 tournament. They move on to face No. 1 East Rochester on Saturday, Nov. 2 in the Class C1 finals.
CLASS C2
No. 5 PERRY 0
No. 1 KESHEQUA 3
Reese Powers scored twice and assisted on Keshequa's other goal in its 18th straight victory of the season. Both of Powers' goals were unassisted. His first tally came in the 12th minute of the game, while the second came in the 61st. Powers also helped Riley Rease find the back of the net in the 54th minute. Powers now has seven goals and 19 assists this season. Keshequa advances to the Class C2 finals on Saturday, Nov. 2 to take on No. 3 Marion.
No. 7 WHEATLAND-CHILI 1
No. 3 MARION 4 
Marion moves on to face No. 1 Keshequa in the Class C2 finals on Saturday, Nov. 2.