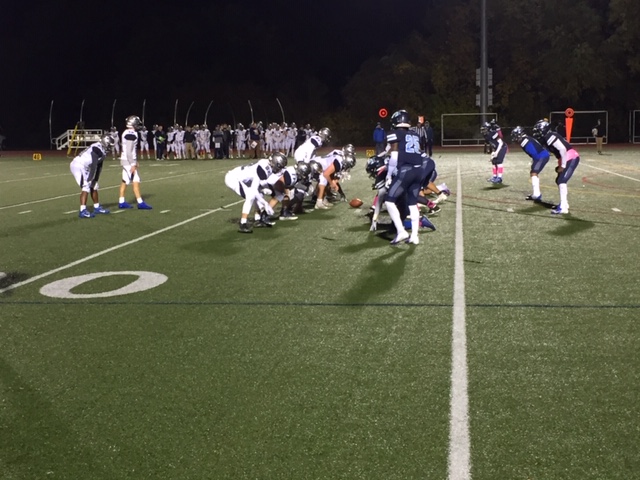 By CHUCKIE MAGGIO
With fewer than two minutes to play and his team's unblemished season in unexpected limbo, Eastridge coach Jasson Jobson remained confident.
"Plenty of time!" Jobson yelled to his offensive unit, which faced a 35-32 deficit to Brighton with the scoreboard reading 1:55 in the opening round of the Section V Class A playoffs. "We have plenty of time!"
Kick returner Matthew Brantley gave Jobson's words more credibility by giving Eastridge's drive a midfield start. After that, it was simple: the Lancers had the best runners on the field.
A 25-yard keeper by quarterback Sher'Ron Davis was the big burst to get Eastridge near the goal line and led to standout running back Ruben Torres finding pay dirt with :55 remaining. Torres also converted the two-point conversion for a five-point cushion. Tony Arnold corralled an interception on Brighton's last drive and Eastridge survived, 40-35.
"We could score fast," Jobson said, "so I just wanted them to believe, you know? I told them at the end, if we believe and keep fighting until there are zeroes on the clock, that this team could do anything… I just wanted to make sure they weren't panicking and that they kept fighting."
The Barons took the lead four times, exceeding expectations for a No. 8 seed doing battle with the No. 1. Coach Stephen Lian had the savvy to go for a fourth down conversion on his own 48-yard line to start the fourth and got the conversion when Eastridge was called for pass interference. Brennan Clasgens made the throw of the game when he found Aidan Lazenby for a crucial, albeit controversial, 33-yard 3rd down catch to set up Tahj Jackson's go-ahead second touchdown.
Brighton didn't look the part of a .500 team that had just lost 35-7 to Victor the week before; the Lancers were able to withstand their challenge. Torres ran for 108 yards and three touchdowns, all in the second half. Davis and Jalen Rose Hannah, who left the game in the first half with an undisclosed injury, also rushed for scores.
"The ending, it was getting real scary," Torres admitted. "All I knew was that we had to execute and we had to get in the end zone. I didn't know what it was gonna take, but I knew we had to play as a team and just execute."
Eastridge will meet Canandaigua Academy at Fairport High School next Saturday, a 4 p.m. kickoff. Eastridge learned Friday just how difficult sectionals can be, even as the favorite.
"They beat us up tonight," Jobson acknowledged with a laugh. "That was a tough team, man; they came to play. Every week we're gonna get everybody's toughest team. We're the dogs everyone's going after. But give it up to them. They played outstanding. They pounded the ball; their front did a great job.
"Sometimes those games, you don't have your best stuff, but we still found a way to win. Sometimes that happens. We need to get better this week, definitely, both offensively and defensively."