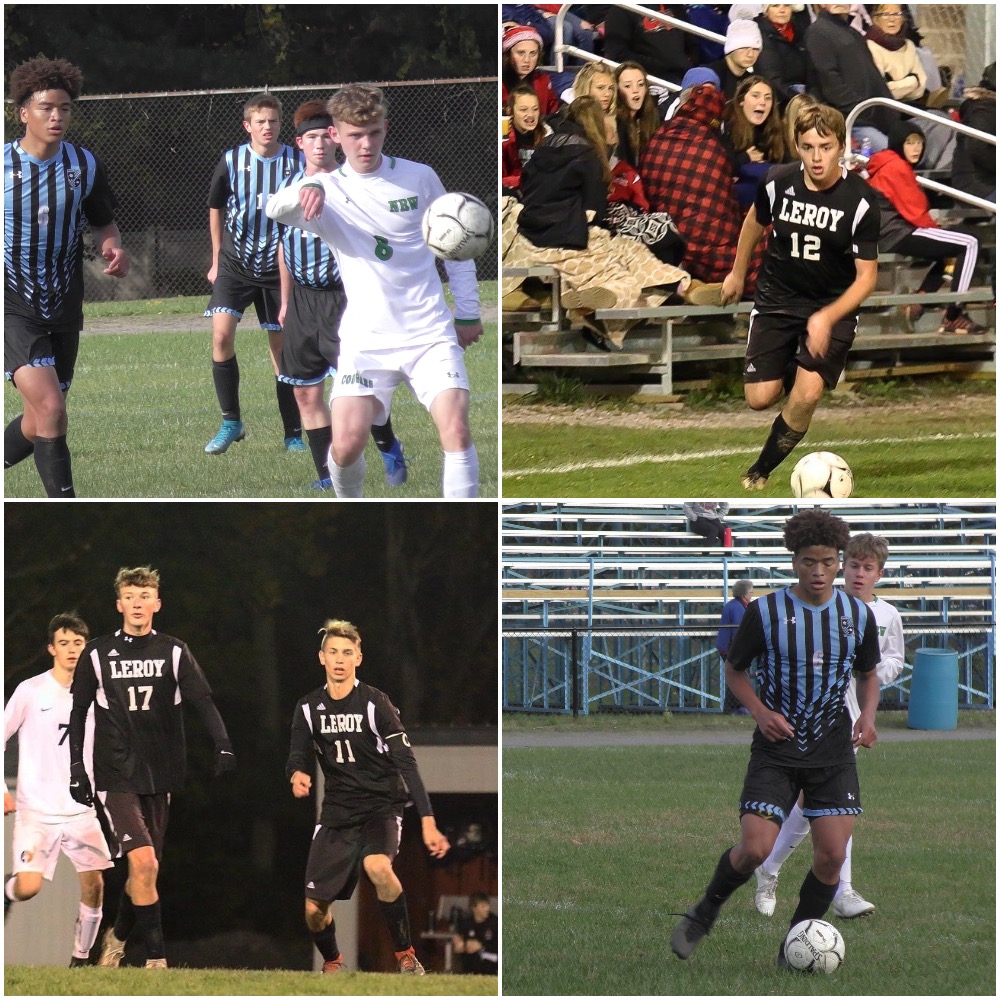 CLASS B1
No. 9 DANSVILLE 0
No. 8 PENN YAN 2
Penn Yan used two first half goals to snap a three-game losing streak. Brigham Hansen opened the scoring for the victors, using a Nicholas Jarecke assist to put his team up 1-0. Zackary Townley added an insurance goal later in the half, with Tyler Griffin earning the assist. Penn Yan moves on to face No. 1 Palmyra Macedon on the road on Saturday, Oct. 26.
No. 10 GREECE ODYSSEY 1
No. 7 NEWARK 6
Brian Estrada and Renz Vecinal each scored twice as Newark netted six goals on just eight shots. Estrada scored Newark's first two goals of the game, with Addison Bump and Zachary Herd each picking up one assist. Vecinal netted the final two of the game. Estrada assisted on both of Vecinal's tallies. Herd found the back of the net for Newark's third score of the first half off a feed from Elijah Malach. Matthew O'Connor's unassisted goal was the first of the second half for the winners. Newark will next play at No. 2 Geneva on Saturday, Oct. 26.
No. 11 WATERLOO 0
No. 6 BATAVIA 3
Batavia earned its third consecutive win with a full team effort. Three different players scored for Batavia, with Carter Havens the only player to pick up a goal and assist. He scored unassisted in the second half then later aided Andres Mateos' tally. Garrick Havens netted Batavia's first goal in the first half, which was also unassisted. Batavia advances to take on No. 3 Livonia on the road on Saturday, Oct. 26.
CLASS B2
No. 9 WELLSVILLE
No. 8 WAYLAND-COHOCTON
No. 10 NORTH ROSE WOLCOTT 0
No. 7 BISHOP KEARNEY 7
The Bishop Kearney boys' soccer team needed 40 minutes and change to find its offensive rhythm on Wednesday. Once found, the Kings had little problem switching into high gear. READ MORE.
No. 11 ATTICA 0
No. 6 LEROY 4
Nicholas Vallese's hat trick led LeRoy to its third win in its last four games. Vallese netted LeRoy's first three goals of the game, all in the first half. Aidan Harrington, Alexander Gramkov and Maveric McKenzie each picked up an assist on one of Vallese's goals. McKenzie scored LeRoy's final goal in the second half with the help of Connor Beagle. LeRoy's next game will be at No. 3 Letchworth/Warsaw on Saturday, Oct. 26.
CLASS C1
No. 9 MARCUS WHITMAN 1
No. 8 GANANDA 4
No. 13 ROCHESTER ACADEMY CHARTER 0
No. 4 SODUS 8

No. 12 PEMBROKE 0
No. 5 CANISTEO-GREENWOOD 4
Corey Barker's big first half helped Canisteo-Greenwood get back in the win column after dropping its regular season finale. Barker scored twice and assisted on a goal in the half. Neither of his goals were assisted, while Ayden Burd was the recipient of his helper. Jose Alvarez scored a direct kick to put the icing on the cake for the victors. Canisteo-Greenwood advances to play at No. 4 Sodus on Saturday, Oct. 26.
No. 10 WILLIAMSON 6
No. 7 HAC 1
Ayden Cristales took part in five of Williamson's six goals as it completed the 7-10 upset. Cristales scored two goals and recorded three assists. Luis Ceron and Luis Hurtado got the helpers on Cristales' goals. Connor Garrod opened and closed the scoring for Williamson, with Cristales' assisting on each goal. Ceron netted the third assist from Cristales. For Williamson's fifth goal of the game, Hurtado scored off a feed from Ceron. For HAC, Rafael Ferguson's first half-goal was aided by Roman Novy-Marx. Williamson's next matchup will be on Saturday, Oct. 26 at No. 2 Byron-Bergen/Elba.
No. 11 CUBA-RUSHORD 1
No. 6 HOLLEY 2
KJ Biedlingmaier's first half goal proved to be the game-winner as Holley got back in the win column at the right time. Biedlingmaier scored unassisted in the 34th minute. Carson Major opened the scoring for Holley in the fourth minute. Kohl Morgan assisted Major's goal. Holley moves on to face No. 3 Addison on Saturday, Oct. 26 on the road.
CLASS C2
No. 9 CAMPBELL-SAVONA 1
No. 8 CALEDONIA-MUMFORD 3
No. 13 SOUTH SENECA-ROMULUS 0
No. 4 NAPLES 6
Austin Chapman's hat trick led Naples into the next round. Chapman scored his team's second, fourth and sixth goals of the contest. His only first half goal was assisted by Ben Green. Wyatt Woodard picked up the assist on Chapman's second goal, while the third was unassisted. Green had two assists on the day, with Ryan Lester converting the second one. Aiden Peterson opened the scoring for Naples, netting a goal from Donivan Todd just under five minutes in. Owen Hulbert scored the fifth goal of the game unassisted. Naples will take on No. 5 Perry at home on Saturday, Oct. 26.
No. 12 PAVILION/YORK 0
No. 5 PERRY 5
Carson DeVinney recorded a hat trick and an assist in Perry's fifth straight win. DeVinney scored the first two goals of the game, with Tyler Uvieno getting an assist on the first. Dennis VanDuser was credited with the helper on DeVinney's final goal. Garrett McClurg, who scored the final goal of the first half for Perry, was the recipient of DeVinney's assist. VanDuser aided on Perry's fourth goal also, which was scored by Uvieno. Perry's next game will be at No. 4 Naples on Saturday, Oct. 26.
No. 10 RED CREEK 2
No. 7 WHEATLAND-CHILI 5

No. 11 BOLIVAR-RICHBURG 0
No. 6 BLOOMFIELD 6
Ryan Wollschleger and Adam Sheehan scored five of Bloomfield's six goals as it won its second straight game. Wollschleger scored two goals in the first half and another in the second. Sheehan picked up the assist on Wollschleger's first goal, while Eric Conklin got the assist on his second half goal. Sheehan found the back of the net once in each half. His first was unassisted but the second was aided by Ryan Pere. The other Bloomfield was its first of the game. William Nelson scored it off a feed from Simon Wille. Bloomfield's next game will be on Saturday, Oct. 26 at No. 3 Marion.