By PAUL GOTHAM
ROCHESTER, N.Y. — The Bishop Kearney boys' soccer team needed 40 minutes and change to find its offensive rhythm on Wednesday. Once found, the Kings had little problem switching into high gear.
Evan Stevely and Fernando Furioso combined for five goals as Kearney downed North Rose-Wolcott 7-0 in Section V Class B2 action.
The Kings needed 14 minutes to turn a 1-nil halftime edge into a five-goal advantage.
Furioso started the second-half onslaught when he took a Stevely pass along the left wing and finished far post for a 2-0 lead with 34:25 left in regulation.
34:25 remaining in regulation Class B2 BSOC: Fernando Furioso goes far post to give @BKHS_Sports a 2-0 lead over North Rose-Wolcott pic.twitter.com/Dk11JkaV4G

— Paul Gotham (@PickinSplinters) October 23, 2019
Little more than three minutes later, the duo combined again with Furioso connecting from outside the 18-yard box.
29:16 to go Class B2 BSOC: Evan Stevely cuts it back and feeds Fernando Furioso for the strike. @BKHS_Sports 3 North Rose-Wolcott 0 pic.twitter.com/l5Viym5pBi

— Paul Gotham (@PickinSplinters) October 23, 2019
"We just needed to get in sync," Kearney head coach Stephen Strauss said of his squad's second-half effort. "I felt like we were a half-step slow. In the second half it started to click."
Less than two minutes later, Casey O'Gara found the back of the net and the BK lead had swelled to five.
"I don't know if it was an early start time or if it was being over-confident, inappropriately over-confident," Strauss added. "We talked at halftime about getting reorganized and competing."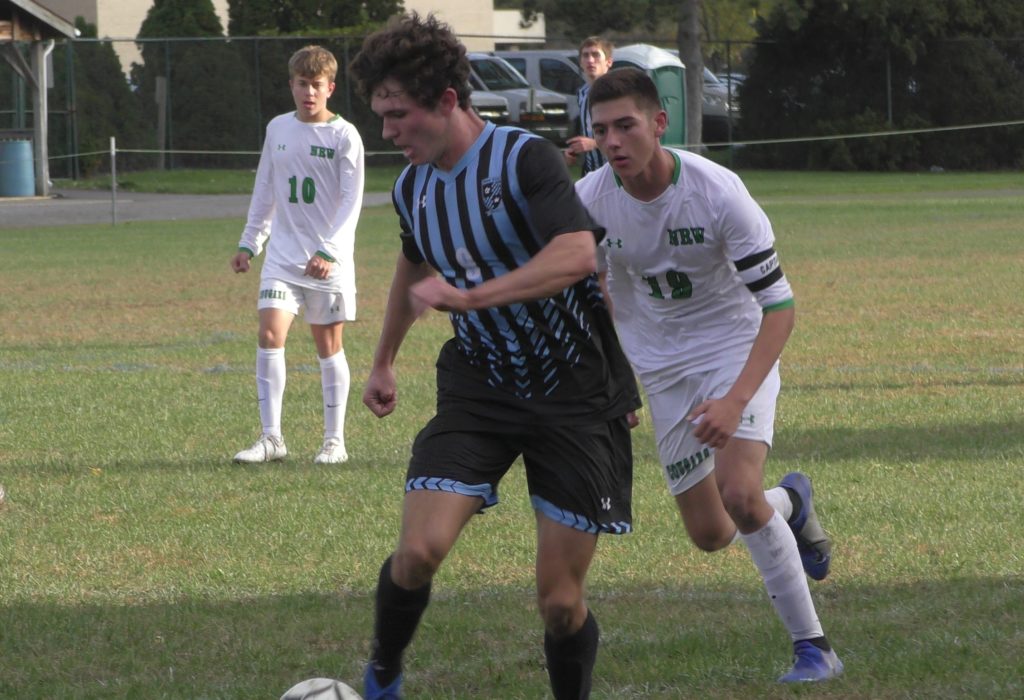 With the win, Kearney advanced and will play Mynderse in the quarterfinals. The second-seeded Blue Devils earned a bye for the first round.
"It's almost nice not to have that bye, so we can play in rhythm and not to take five days off between games," Strauss noted. "You could see in the first half how much we needed to play. That was good."
With Wednesday's offensive production (three goals and two assists), Stevely ran his season totals to 32 goals and 10 assists. His 74 points rank second in Section V only to East Rochester's Chuck Domm (30 goals/19 assists). He converted a penalty kick for the early 1-nil lead.
8:45 remaining in the half Class B2 BSOC: Evan Stevely converts the PK. @BKHS_Sports 1 North Rose-Wolcott nil pic.twitter.com/Pccj7TsSfS

— Paul Gotham (@PickinSplinters) October 23, 2019
"He's got every tool that you could want in a soccer player," Strauss said of the junior forward who also won the 200 and 400 meter sectional titles last spring. "He's smart. He knows where to be. He knows how to play with his teammates. Lucky to have him."
O'Gara added two assists. Caleb Baraka contributed a goal and an assist.
17:41 remaining Class B2 BSOC: Evan Stevely nods in the Casey O'Gara service for the hat trick. @BKHS_Sports leads 6-0 pic.twitter.com/IQk1lUkAnr

— Paul Gotham (@PickinSplinters) October 23, 2019
Kearney will play at Mynderse on Saturday. A 6:30 PM start time is slated.