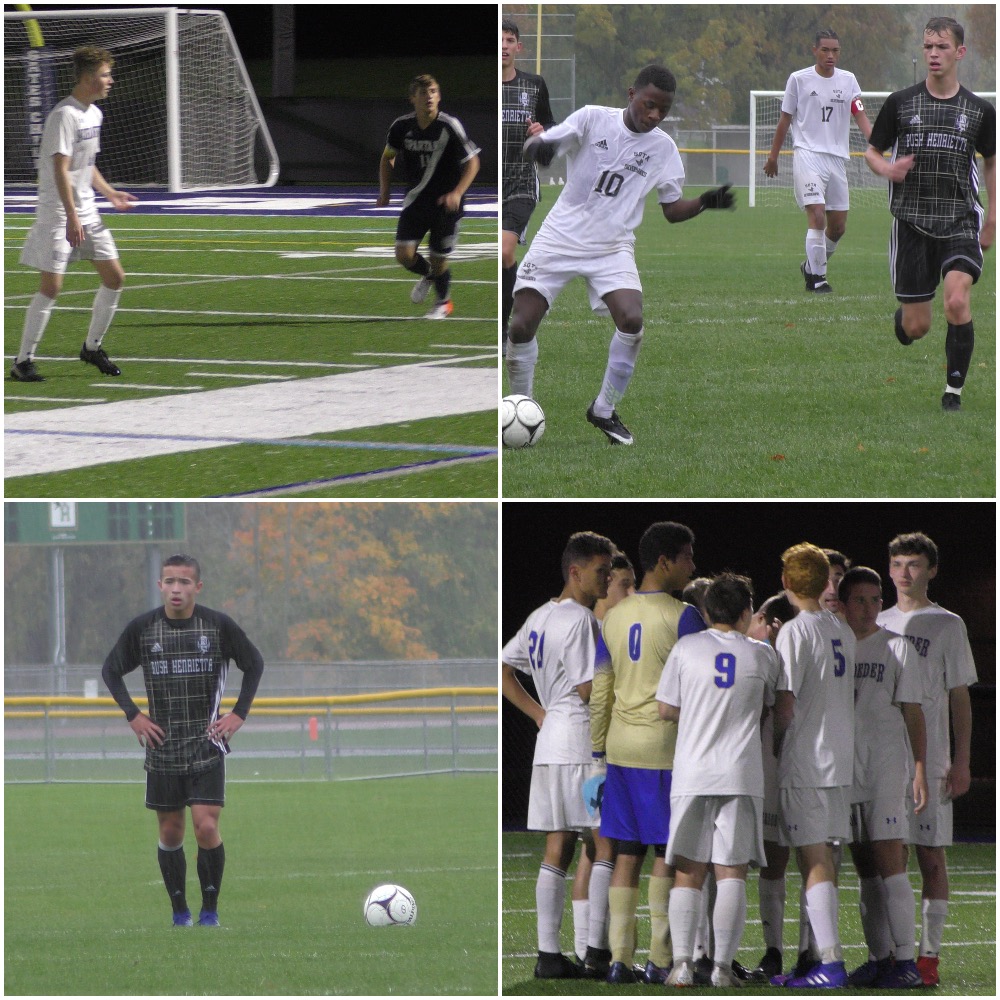 CLASS AA
No. 9 WEBSTER SCHROEDER 2
No. 8 GATES-CHILI 0
Bayne Ebling and Nick Bartosiewicz scored a goal apiece as Webster Schroeder advanced to meet top-seeded Fairport in the quarterfinals. Ebling connected in the third minute of the match with an assist from Christian Mascari. Bartosiewicz doubled the advantage with 18 minutes remaining in the contest. The two goals represented a single-game, season-high for Schroeder (3-13-0)
No. 10 SOTA/NE DOUGLASS 0
No. 7 RUSH-HENRIETTA 8
Rush-Henrietta will play No. 2 McQuaid in the quarterfinals. 
CLASS A1
No. 8 CANANDAIGUA 2
No. 9 BROCKPORT 1
Orestes Papas connected with a minute remaining in regulation to lift Canandaigua into the quarterfinals. The Braves will play top-seeded Spencerport on Friday. Aidan Russell gave Canandaigua the lead 12 minutes into the contest. Nick VanWie leveled the match early in the second half. READ MORE. 
CLASS A2
No. 9 VERTUS 0
No. 8 MIDLAKES/RED JACKET 3
CLASS D1
No. 9 ARKPORT/CANASERAGA 3
No. 8 GENESEE VALLEY 0
Mikah Hoyt netted a pair of goals, and Arkport/Canaseraga advanced to play top-seeded Fillmore. Hoyt opened the scoring in the first half with an assist from Jax Roosa. Griffin Milliman added to the advantage in the second half with a helper from Josh Abraham. Hoyt added an insurance tally. Konnor Stuckey assisted on the third score. 
No. 10 HAMMONDSPORT 0
No. 7 HONEOYE 3
CLASS D2
No. 12 FRIENDSHIP 0
No. 5 PRATTSBURGH 11
Mason Putnam collected five goals and two assists as Prattasburgh advanced to play No. 4 Bradford in the quarterfinals. JT Campbell started the scoring with an assist from Chris Hively. Kris Johnson followed with a tally. Evan Campbell picked up his first of three assists on the night. Evan Campbell and Hively later added tallies of their own. Macoy Putnam and Jerimiah Hubbard had a goal apiece. Johnson had three assists. Dominic Reagan chipped in with a helper. 
No. 11 WHITESVILLE 2
No. 6 BELFAST 6
Belfast scored four times in the second half to break open a one-goal game. Stiven Lopez, Justin Hill Hunter Enders and Jason Drozdowski each found the back of the net in the second stanza. Caleb Caizza and Matt Weave connected in the first 40 minutes. Whitesville's Chris Gullett and Conner Phillips scored a goal apiece. 
No. 10 HINSDALE 1
No. 7 ANDOVER 0
No. 9 LIMA CHRISTIAN 0
No. 8 MOUNT MORRIS 7
Ryan Morgan scored twice and added an assist while Joey Pagano collected a goal and three assists coming out of halftime as Mount Morris blew open a one-goal game after the first 40 minutes. Pagano gave Mount Morris the lead 22 minutes into the first half with an assist from Luis Saez. Morgan and Pagano then scored one minute apart to speak the Mount Morris offense. Brandon Flint, Chance Brooks and Ben Bacon had a goal apiece. Flint also chipped in with a helper. Mount Morris will play top-seeded Scio in the quarterfinals.