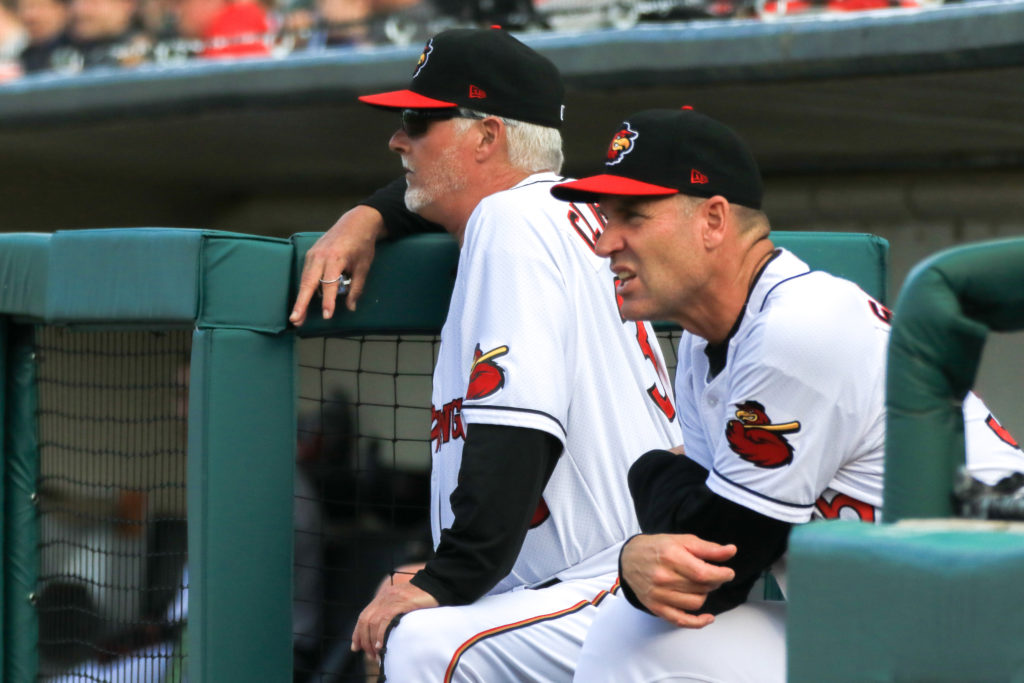 By KEVIN OKLOBZIJA
When you've been in professional baseball for 42 years, catch phrases become your thing.
For Rochester Red Wings pitching coach Stu Cliburn, it was "Now we go."
If the team was in a rut, Cliburn always had the inspirational three-word message: Now we go. When it was game time, he was quick to say, Now we go.
On Friday, the parent Minnesota Twins had a message for Cliburn: Now you go.
After 27 seasons in the Twins minor-league system, the Minnesota baseball department headed by general manager Thad Levine and chief baseball officer Derek Falvey opted to cut ties with Cliburn.
Wings manager Joel Skinner and hitting coach Javier Valentin also were relieved of their duties in Rochester.
The moves were reported by the Star Tribune of Minneapolis.
Skinner, 58, managed the Wings for two seasons. They were 64-76 in 2018 and 70-70 this summer. Considering the Wings were 18-31 on May 29, their climb to respectability was in some ways a testament to Skinner's ability to keep the clubhouse focused on the every-day responsibilities.
Skinner has managed 14 seasons, including one in the big leagues; he guided the Cleveland Indians to a 74-88 record in 2002.
Cliburn, 62, was in his second stint as Wings pitching coach. He was in Rochester from 2006-2008, when his twin brother Stan was the manager. He returned to Double-A New Britain in 2009 and then came back up to the Wings in 2016.
A native of Jackson, Miss., he pitched for 13 seasons in professional baseball in the Pirates and Angels organizations between 1977 and 1990. He spent parts of three seasons with the Angles, going 13-5 with a 3.11 ERA. He retired after the 1990 season and moved right into coaching.
Cliburn worked extensively with Jose Berrios when the Twins All-Star right-hander was coming up through Double-A and then Triple-A. He also worked with Francisco Liriano when the left-hander was on his way to the big leagues.
Cliburn also represented the International League as pitching coach at the Triple-A All-Star Game, the second time he received the honor.
Valentin, 44, spent just one season was hitting coach for the Twins. He was in his fourth season with the organization, ascending the development ladder quickly from rookie ball (2016) to Double-A Chattanooga (2017-2018) before coming to Rochester for the 2019 season.
Valentin's firing means the Wings will have their third hitting coach in five years. Chad Allen served in that capacity from 2016-2018.
Most moves by the Red Wings managerial/coaching staff were dictated by the Twins, especially how pitchers were used. There was never anyone designated as the closer or the eighth-inning set-up person. Every reliever pitched in every role, and all were given pitch limits that determined their availability for the next day. That's not at all uncommon in today's game.