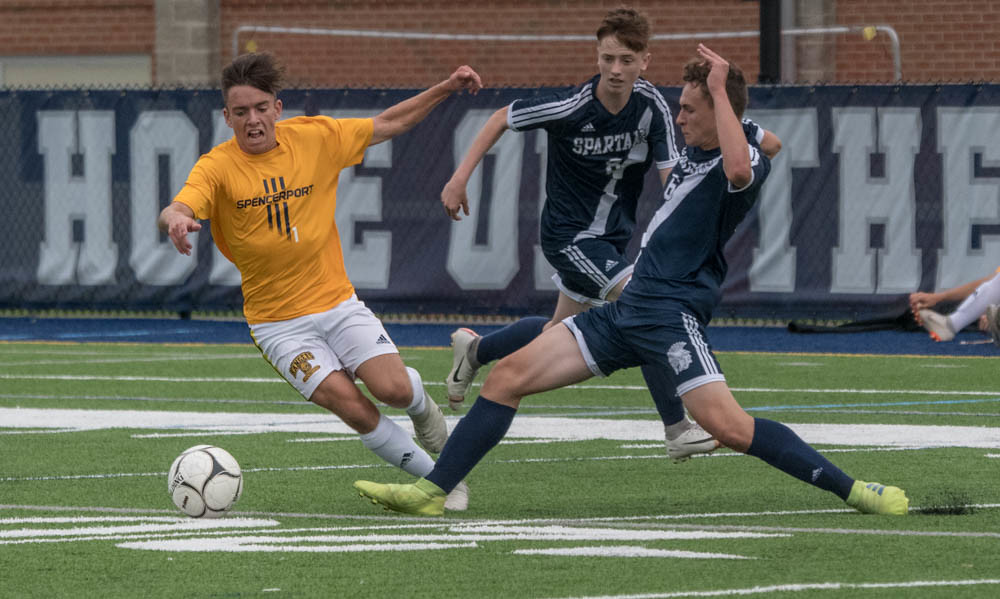 WEBSTER THOMAS (9-3-1) 1
GATES-CHILI (3-10-0) 0
The game's lone goal came from Taner Goren, following a set-up pass from Zach Wolfe.
GREECE OLYMPIA (7-6-1) 4
BATAVIA (5-7-0) 1
After entering the second half tied with Batavia at one goal apiece, Olympia took control with three second half goals to earn the victory. Jacob Landro netted all three, picking up a hat trick. In the first half, Andrew Balch scored for Olympia and Joe Gefell converted for Batavia, assisted by Colin Dunn. Baich also handed out two assists, while Tristan Caruana had one.
RUSH-HENRIETTA (1-9-3) 1
FAIRPORT (9-3-2) 3
Ryan Collins, Jude Rouhana and Timmy Hirschler each found the back of the net for Fairport, No. 11 NYSSWA Class AA, with Garrett Kucera (2) and Myles Palmer adding assists. Josh Catanese scored Rush-Henrietta's only goal, on a pass from Cory Meintel. All four goals came in the second half, with the first not coming until 61 minutes into the game.The Red Raiders peppered the net with 17 shots.
GREECE ATHENA (10-2-2) 5
BRIGHTON (4-9-1) 1
Othman Belhseine led Athena in scoring with three goals, followed by Ryan Fitzgerald and Nate Masucci with one goal each. Dylan Rice picked up a pair of assists, while Emmitt Rosado and Jake Borcyk each had one.
CANANDAIGUA (4-10-0) 0
SPENCERPORT (12-2-0) 6
Max LaRosa and Jacob Lenhard converted for two goals apiece, with Lenhard also adding two assists for a six-point evening for No. 18 NYSSWA Class A Spencerport. Vincent Ranieri and Greg Ranieri contributed the Rangers' other two goals, while Frants Valodzka, Gino Pellett and Jordan McEntee had one assist each. The win clinched a division title for Spencerport, the 24th in program history.
HILTON (6-6-2) 0
VICTOR (9-4-1) 1
Justin Graham found Chase Dickens five minutes into the match, giving Victor the only goal of the game.
BROCKPORT (4-9-1) 1
PITTSFORD MENDON (10-4-1) 3
Mendon scored quickly in both halves, as Dom Tabechian and Pierce VanBenthuysen both found the back of the net before the 30-minute mark in the first half. Kevin Shelter assisted on VanBenthuysen's goal. Hajoon Lee finished the Vikings scoring by converting a penalty kick 11 minutes and 44 seconds into the second half.
PENFIELD (5-4-3) 5
WEBSTER SCHROEDER (2-11-0) 0
HONEOYE FALLS-LIMA (8-5-1) 2
EASTRIDGE (6-7-0) 0
Gunnar Wetzel and Chris Goetz scored for HF-L, with Will Eby picking up an assist on Wetzel's goal.
CHURCHVILLE-CHILI (9-5-0) 3
IRONDEQUOIT (3-10-0) 0
Mario Cozzo, Nick Rippe and Jacob Anthony netted goals within five minutes of each other in the first half (minutes 32 to 36) for Churchville-Chili. Marcus Postell, Alex Blondale and Colton McCane had assists for the Saints.
SOTA/NW/NE (1-11-0) 2
GREECE ODYSSEY (2-11-0) 0
GANANDA (5-9-1) 0
BISHOP KEARNEY (7-7-0) 6
Evan Stevely (3) and Caleb Baraka (2) accounted for five of Kearney's six goals. The sixth goal went to Fernando Furioso, who also picked up three assists. Baraka and Andy Duran each added assists as well.
MCQUAID (8-2-1)
ST. FRANCIS
ATTICA (2-9-3) 1
PAVILION/YORK (2-11-1) 0
Evan Dickhut found the back of the net for Attica, set up by Ryan Meides on the assist.
WELLSVILLE (4-7-3) 2
GENESEE VALLEY (5-9-0) 3
Cannon Phillips topped the offense for Genesee Valley with a pair of goals, followed by Riley Gordon with one goal and one assist, and Evan Windus with two assists. Matthew Carlton and Jacob Riggs contributed goals for Wellsville.
EAST SYRACUSE MINOA 1
PITTSFORD SUTHERLAND (13-0-1) 6
Will Bowen tallied four goals for No. 3 NYSSWA Class A Sutherland, with Dylan Kladstrup and Tyler Merrick also netting goals. Kladstrup, Connor Maedi, Will Field, Jack Gutch and Drew Kull each contributed an assist. Sutherland put 16 shots on net over the course of the match.
WILLIAMSON (5-7-1) 1
EAST ROCHESTER (13-0-0) 2
Nathan Jantz and Jalen Patterson scored for East Rochester, No. 1 NYSSWA Class C, assisted by Chuck Domm and Russell Domm, respectively. The Bombers had 17 shots and nine corner kicks in the contest.
ANDOVER (5-7-2) 0
HOUGHTON (9-3-1) 0
Andover put up 13 shots and 18 saves in the match.
HINSDALE (2-8-0)
WHITESVILLE (2-8-1)
CUBA-RUSHFORD (5-9-0) 0
SCIO (13-1-0) 8
Elia Travaini topped Scio, No. 2 NYSSWA Class D, with four goals. Carl Finnemore added two goals, and Cam Loucks and Mike Schoffner each had one. Jake D'Arcy contributed three assists, while Luraritz Kruze handed out two.
FRIENDSHIP (3-10-1) 1
BELFAST (9-4-1) 5
Matt Weaver led Belfast on the evening with two goals and one assist. Caleb Caiazza, Andrew Blocho and Hunter Enders each scored a goal in the contest. Belfast applied offensive pressure with a total of 20 shots. Seth Bogart netted Friendship's goal.
WAYNE (11-2-0) 8
WATERLOO (0-13-1) 0
MYNDERSE (9-3-1) 0
GENEVA (8-5-0) 1
Jordan Myer scored in the 75th minute for Geneva, assisted by Mason Rusinko.
LEROY (7-7-0) 1
LETCHWORTH/WARSAW (10-5-0) 0
LeRoy had six shots and eight saves in the match.
HORNELL (8-4-1) 6
DANSVILLE (2-11-1) 1
Chase Freeland picked up a hat trick with three goals for Hornell. Justin Briggs posted a three-point evening, scoring two goals and assisting on a goal, while Jonas Sciotti contributed two assists. Ian Ashworth had a goal, with Wyatt Argentieri and Chris Sexsmith adding an assist each. Hornell took 18 shots in the match. Jacob Avery found the net for Dansville on a pass from Caleb Pruden.
AVON (7-6-0) 1
PERRY (8-6-0) 2
Carson DeVinney had a goal and an assist for Perry, while Michael John Grover also scored a goal and Tyler Uvieno contributed an assist. Carson Williams connected with Reverdy Clarke for Avon's lone goal.
WAYLAND-COHOCTON (4-10-0) 0
BATH-HAVERLING (13-0-0) 4
Thomas Binkowski collected two goals and two assists to lead Bath-Haverling (No. 1 NYSSWA Class B). Sam Arnts and Justin Marshall added a tally apiece. Keefer Calkins chipped in with an assist. Binkowski has 22 goals and eight assists on the season.