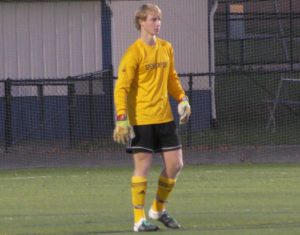 By PAUL GOTHAM
SPECNERPORT, N.Y. — On Saturday night, the Spencerport boys' soccer team had their 10-game win streak snapped.
Tuesday night offered the possibility of responding to that setback.
The Rangers took advantage of the opportunity.
Three different players found the back of the net, and Spencerport (No. 18 NYSSWA Class A/No. 2 Pickin' Splinters Large Schools) delivered a convincing 3-nil victory over Penfield.
"It was great," first-year head coach Jody Wyant said. "We came out and played a team game. We played the way we wanted to on both sides of the ball. It was great to get back in the win column."
Frants Valodzka converted on a free kick from 30 yards out to start the scoring less than 18 minutes into the match.  Jacob Lenhard slotted a shot side netting to double the advantage midway through the second half, and senior Max LaRosa redirected a Greg Ranieri cross to put the game out of reach in the 71st minute.
Frants Valodzka gets @RangersBSoccer on the scoreboard in the 18th minute. pic.twitter.com/Y5xnFKzljm

— Paul Gotham (@PickinSplinters) October 8, 2019
Jadon Schlierf made three saves for Spencerport's seventh shutout of the season.
"We did miss a lot of chances last game," Schlierf said of the Rangers 1-nil loss to Greece Arcadia in the finals of the Broadbent-Selander Tournament.  "We were all fired up today ready to get back into the win column."
The senior keeper took responsibility for the defeat, pointing to his slide tackle which resulted in the winning penalty kick.
"I made a big mistake which cost us the game," he said. "For me, I really wanted to come out and win the game."
Max LaRosa adds an insurance goal. 9:31 remaining @RangersBSoccer 3 @PHSVarSoccer 0 pic.twitter.com/WCYv6Nmh3d

— Paul Gotham (@PickinSplinters) October 9, 2019
Spencerport held the advantage in shots Tuesday night, 17-5 and created five corner kick opportunities to one for the Patriots. Combining tight one-touch passing with the occasional diagonal over-the top ball, the Rangers eventually broke down Penfield's defense.
"One of the things we talked about the last few weeks in practice is not being one dimensional," Wyant said. "We were relying on one aspect of our attack. Teams were shutting that down, and we knew had to start adding a second and third dimension in order to try and break down teams that are packing it into the 18. We had to come up with something different. It worked tonight, so we have to keep developing that in practice on the training ground."
Spencerport (11-2-0) has outscored opponents 44-6 on the season. Schlierf and the defensive backline of Sujan Rajamohan, Jacob Schlierf, Patrick Uebelacker and Valodzka have not allowed more than one tally in any individual game.
"They are doing a great job," Wyant said of his defense. "They are composed. They start our offense. We're looking to build right out from them.
"As soon as Jadon makes a save, we're looking to get right on the attack. I told him he's got the green light with distribution. Once he gets that ball, he should be immediately picking up his head to get the ball going forward again. I trust his decision-making implicitly."
Penfield fell to 4-4-3 with the loss.
"They're really good," Patriot head coach John Cotsonas said of Spencerport. "They're athletic, and they put a lot of pressure on you."
Spencerport hosts Canandaigua on Friday for a 5 PM start. Penfield travels to Webster Schroeder for a 7 PM kickoff on the same day.