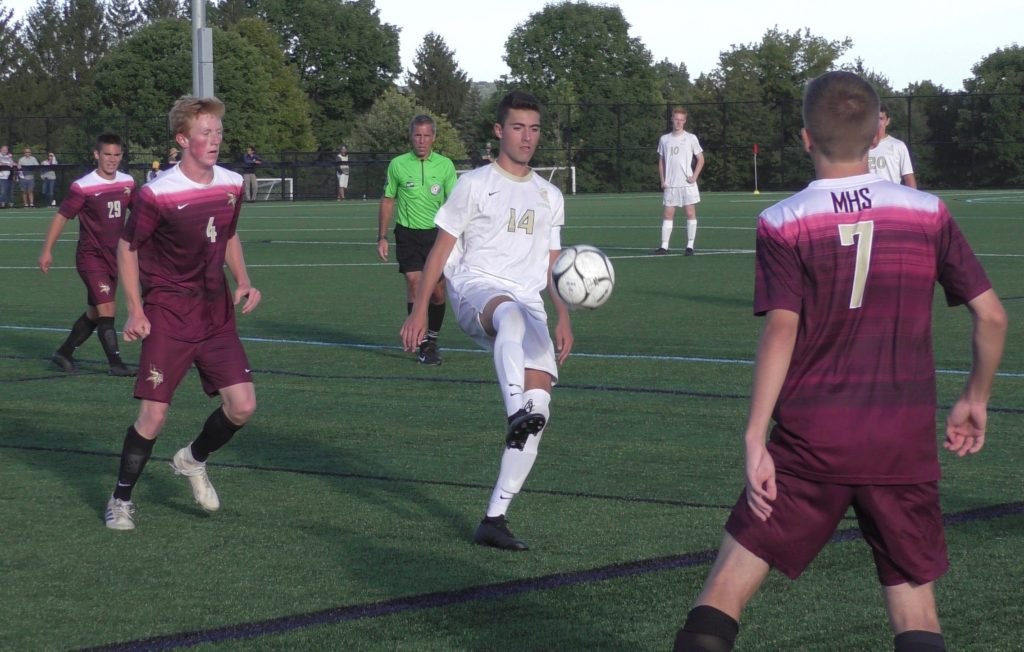 By PAUL GOTHAM
With the calendar page flipping from September to October, it is good time to evaluate the local large and small school sides. Counting them down from 10 to 1.
Large Schools
10. Greece Arcadia Titans (7-4-0/4-4-0) winners of three straight and five of six, Arcadia snapped Spencerport's (more on the Rangers later) 10-game winning streak over the weekend. Sophomore keeper Gabe Taylor has five clean sheets during that recent stretch.
9. Webster Thomas Titans (7-3-1 overall/6-2-0 Monroe County Division II ). Thomas looked like the team to beat in Class AA when they downed Hilton, 4-1. Since then the Titans have won two and dropped two. Cameron Webb is always a threat to create scoring opportunities.
8. Churchville-Chili Saints (8-4-0/5-3-0 Monroe County Division II) Churchville's four losses have come to teams with a combined record of 26-7-1 including a pair of setbacks to Spencerport. Saints are currently unbeaten in seven of their last eight. Mario Cozzo has five goals and five assists on the season.
7. Pittsford Mendon Vikings (7-4-1/3-4-1 Monroe County Division III) Rebounded from a 1-3 start to the season, going unbeaten in six.  Unbeaten in seven of their last eight, the Vikings host Eastridge on Monday and travel to Webster Schroeder on Wednesday.
6. Wayne Eagles (9-2-0/6-2-0 Finger Lakes East) Tim Mattle's side has won seven of eight including an impressive 2-1 triumph over McQuaid. Both of the Eagles' setback have at the hands of Finger Lakes rival, Palmyra-Macedon. Matt Gentile has 15 and six assists to lead the offense.
5. Fairport Red Raiders (8-2-2/6-1-1 Monroe County Division I No. 11 NYSSWA Class AA) Fairport opened the season with one in their first four three games.  Currently, Gianni Bassani's XI is unbeaten in eight of nine. Six of those wins have been via shutouts. A Monday tilt at Greece Athena is a must-see game. Jude Rouhana has six goals and three assists.
4. McQuaid Jesuit Knights (8-2-1/3-0-0 RCAC No. 9 NYSSWA Class AA) McQuaid responded to its first loss in Section V beating Rush-Henrietta, 3-0. It was the Jesuit Knights sixth clean sheet of the season including a pair against Section VI power, Canisius. Elliot Aguirre tops 14 different scorers with sven tallies on the season.
3. Greece Athena Trojans (7-2-2/6-2-0 Monroe County Division III) Unbeaten in their past six games, the Trojans host Fairport Monday afternoon in a good postseason gauge for both sides. Dylan Rice leads the way with seven goals and four assists.  Athena has the firepower to stay with any team (see the 3-3 draw at McQuaid). Their defense, though, has given up three or more goals on three occasions, including a 4-1 head scratcher of a loss to Brighton (4-7-1). No shame losing to the Barons, but 4-1?
2. Spencerport Rangers (10-2-0/8-0-0 Monroe County Division II No. 18 NYSSWA Class A) Winners of 10 straight until dropping a 1-nil decision over the weekend in a game decided by a penalty kick. The Rangers had an eye-popping 3-nil triumph over Fairport (it's not often that a Gianni Bussani squad loses by more than one goal). Under first-year head coach Jody Wyant, the Rangers have six clean sheets on the campaign and have outscored opponents 41-6. All-County performer Jadon Schlierf has logged most of the minutes in goal. Max LaRosa (12 goals/ three assists) leads an offense which has six player which multiple tallies. Spencerport has four wins against teams on this list.
1. Pittsford Sutherland Knights (10-0-1/7-0-1 Monroe County Division III No. 7 NYSSWA Class A) The last standing undefeated team among the large schools, Sutherland faces a few tough tests in the final two weeks (home against Churchville-Chili and a surging Greece Arcadia as well as a visit to Athena). Dylan Kladstrup paces the offense with 10 goals including three game winners in overtime. Six Knights have scored two or more goals this season.
Small Schools
10. World of Inquiry/School No. 58 (6-5-2/3-3-0 RCAC) The Griffins have struggled of late (winless in their last five games) but Joe Mohamed (5 goals/3 assists) and Isaac Hakizimana (6 goals/4 assists) lead an offense which can easily find its rhythm.
9. Geneva Panthers (7-4-0/4-4-0 Finger Lakes East) Panthers had won five of six before dropping decisions to Wayne and Pal-Mac. The Panthers are one of two teams to beat Pal-Mac, having knocked off the Red Raiders earlier in the season, 4-2.
8. Livonia Bulldogs (7-3-2/5-3-1 Livingston County Division I) Livonia was unbeaten in eight straight until dropping a decision to Bath-Haverling (No. 1 NYSSWA Class B). A recent 2-nil win over Letchworth/Warsaw (9-4-0) shows what the Bulldogs are capable of doing.
7. Northstar Christian Knights (9-1-1/3-1-1 Private-Parochial No. 10 NYSSWA Class D) Knights rebounded from their first loss of the season (Bishop Kearney 3-4) winning three straight. Josiah Bradley has 16 goals.
6. Scio Tigers (11-0-0/6-0-0 Allegany Division I No. 2 NYSSWA Class D) Luraritz Kruze has 15 goals and Elia Travaini 10 to lead an offense has found the back of the net 49 times this season.
5. Addison Knights (12-0-0/6-0-0 Steuben County Division I No. 10 NYSSWA Class C) Knights have allowed one goal over their past six games. Brian Smith has scored nine this season for the Knights. Jeremy Seeley and Brayden Bills have seven goals apiece.
4. Keshequa Indians (12-0-0/9-0-0 Livingston County Division II No. 6 NYSSWA Class C) Indians will have their challenges this week with three games over six days. Aidan Wood extended Keshequa's winning streak with a golden goal over the weekend.
3. Palmyra-Macedon Red Raiders (10-2-0/7-2-0 Finger Lakes East No. 12 NYSSWA Class B) Winners of nine straight, the Red Raiders have six shutouts on the season. Sam Quick leads the offense with nine goals.
2. Bath-Haverling Rams (9-0-0/7-0-0 Livingston County Division I No. 1 NYSSWA Class B) Atop the state rankings for a second straight week, the Rams have outscored their past seven opponents by a combined total of 23-2. Thomas Binkowski ranks second in Section V with 20 goals and six assists.
1. East Rochester Bombers (10-0-0/6-0-0 Wayne County No. 1 NYSSWA Class C) Ascended to No. 1 in the state three weeks ago for the first time in program history. Since then have won five in a row by a combined total 21-3. Overall this season, the Bombers hold a 60-6 combined advantage on opponents. Chuck Domm leads all of Section V with 22 goals and 13 assists.