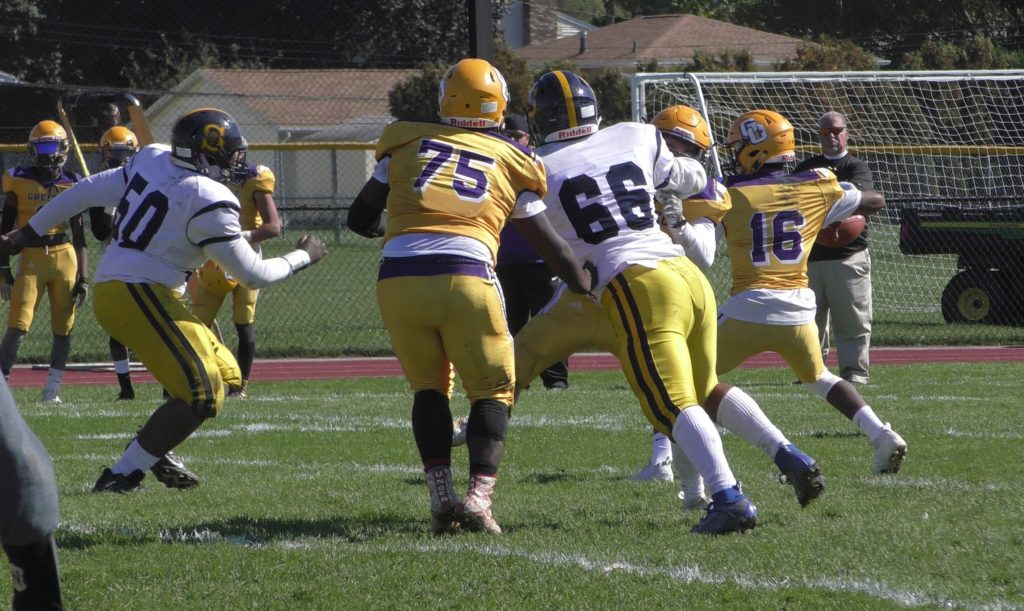 By PAUL GOTHAM
ROCHESTER, N.Y. — After last season, Spencerport's Jacob Zimmerman traded in his soccer cleats for a chance to roam the gridiron.
The Rangers football squad reaped the benefit of that switch Saturday afternoon.
Zimmerman finished with a touchdown and an interception in Spencerport's 28-12 victory over Greece Olympia/Odyssey.
The junior scampered 23 yards on a counter play to give Spencerport a 7-0 lead with 2:20 to go in the first quarter.
The interception, though, was no routine pick.
Teammate Khalize Beamon went 22 yards on a first down play to give Spencerport a 14-12 lead late in the third quarter, and the game looked destined to swing back and forth.
Olympia/Odyssey took possession on their own 39-yard line and Corey Bright rushed for 20 yards on first down. The Spartans had the ball on Spencerport's 41 when quarterback Xavier Hurell rolled to his left.
Zimmerman dropped into coverage.
"He stepped up to the outside, and I thought he was going to run," Zimmerman said of Hurell.  "I kinda stepped off my receiver, and then I saw the quarterback set his feet and throw the ball."
What happened next is something that will take its rightful place in Spencerport lore.
Falling backwards, Zimmerman left his feet and with his right hand reached up and grabbed the ball. As the 5-foot-8 defensive back fell to the ground, he instinctively pulled the ball into his body. First he wedged the pigskin against his helmet while bracing for impact before bringing his left hand to the ball.
"It literally was just like the Giants Super Bowl catch," Spencerport head coach John Dowd said referring David Tyree's grab in Super XLII. "It was unbelievable. It was that good. It's just at the high-school level. That's a phenomenal play."
Leading up to the play, Hurell had orchestrated two scoring drives and another where the Spartans pushed the ball inside Spencerport's 10-yard line before Joe Marcello intercepted a pass in the end zone.
The junior signal caller led a five-play, 81-yard drive for Olympia/Odyssey's first score. He went five yards on a keeper then hit Darnell Williams on back-to-back strikes, the second for 51 yards. He connected with Scott Parr for 16 and then again for a nine-yard touchdown.
On the Spartans first drive of the second half, Hurell and Carr combined for a 62-yard catch-and-run play and a 12-7 advantage.
"You know how they say death by a thousand paper cuts," Dowd said laughing. "They were throwing the hitch and the out, the hitch and the out and a few crossing routes. I know they like to take a deep shot, but they were just killing us underneath at the beginning."
Instead of a seesaw battle, Zimmerman threw a boulder on one side of a teeter-totter and titled the game in Spencerport's favor.
"I was running back and I was like 'Shoot, it's over my head,'" Zimmerman recalled. "I threw my arm up and came down with the catch. It truly turned the tables for the game."
"He made a great play and that was definitely a momentum killer," Olympia/Odyssey head coach Eddie Long said. "I haven't seen anything like that since the Super Bowl. That was a great play."
Spencerport took over on its own 23-yard line. Sixteen plays and more than 10 minutes later, Connor Mesh punched it in from one yard out. The point after attempt made it 21-12.
The game clock had 5:45 on it, but this one was done.
"Once they scored, that kinda deflated our guys," Long noted. "With that offense they have, they grind it out."
Beamon added to the margin with a 56-yard run. The junior tailback gained 150 yards on 16 carries to lead a Spenceport offense which rushed for 370 yards and scored 21 unanswered to close the game.
"We try to run the ball and be physical," Dowd said of his Triple Wing offense. "Part of our offensive philosophy is to try and wear people down. In order to do that, we can't make mistakes. We have to keep a game close. We have to play good defense and then not make mistakes offensively.
"In the first half, we made a lot of mistakes. We had some penalties putting us in first-and-20s. With a run-heavy offense, you can't do that…We played a really clean second half."
Mesh had 89 yards on 13 carries and Rayshod Walker went for 81 yards on 18 carries.
Spencerport improved to 4-1 on the season after suffering their first loss a week ago.
"It feels great," Zimmermand said. "This is my first year playing varsity football. I was a soccer player last year. This is what I signed up for."
Spencerport hosts Churchville-Chili next week.
Hurell threw for 215 on 16-of-26 passing and rushed for 62 on five carries.
"Does he make mistakes? Absolutely, he does," Long said referring to the junior's two interceptions and one fumble. "But it's not from a lack of him competing. I'll take a guy who leaves it on the field and competes every day. He's definitely a leader of this team. As he goes, we go."
Parr made five catches for 101 yard and two touchdowns. Darnell Williams hauled in 10 catches for 110 yards. Maklye Murdock had 15 tackles and an interception. Mike Matteson also had 15 tackles for Olympia/Odyssey.
The Spartans (2-3) play at Canandaigua next week.