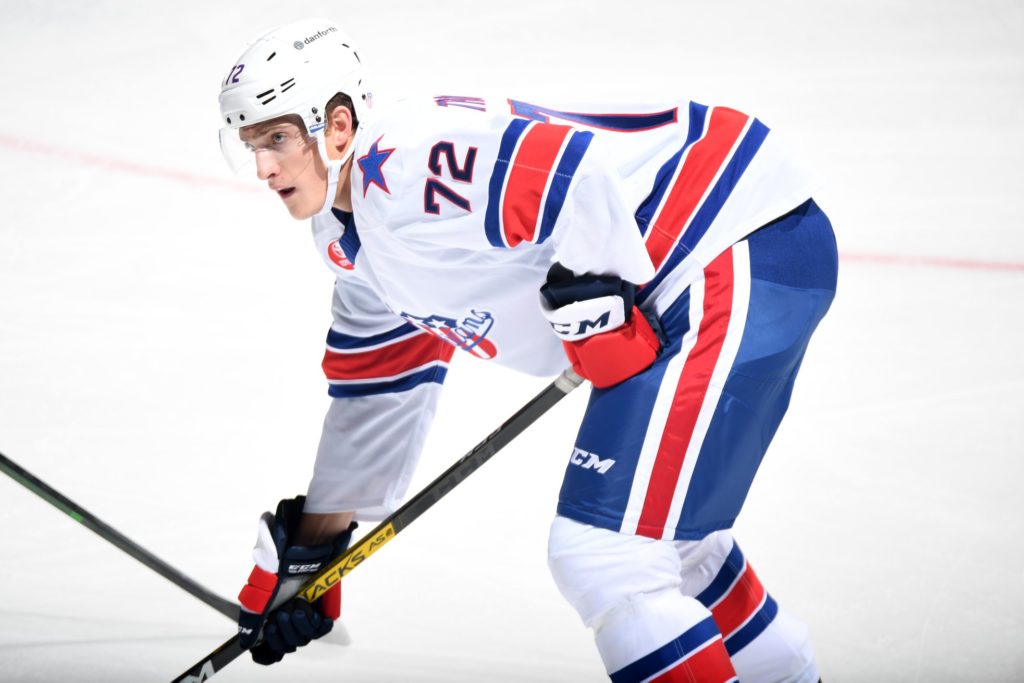 By KEVIN OKLOBZIJA
This was not where Tage Thompson intended to be, in a Rochester Americans uniform again.
Oh, playing a big role in Friday's 3-2 overtime victory over the Syracuse Crunch was nice. But between his finish with the Amerks last spring and the start of training camp with the Buffalo Sabres last month, Thompson had dedicated himself to doing whatever was necessary to re-earn his NHL job.
He came to camp bigger, a chiseled 15 pounds heavier. He was more determined to use his speed and size. Yet when new Sabres coach Ralph Krueger chose his roster, Thompson wasn't among the group at right wing; he instead was sent to the Amerks.
He was also given a message on his way out of KeyBank Center: do what you need to do to get better, and you'll get your chance again.
"He was challenged to play a game that translates to consistent time in the NHL," Amerks interim head coach Gord Dineen said.
Thompson met the challenge head-on Friday night. He scored two goals, including the game-winner with 43 seconds left in overtime as the Amerks won their season opener for the fifth time in six years.
But there was much more to his game.
"Obviously the two goals, but I thought he was doing little things well," captain Kevin Porter said. "He used his size, he held on to the puck, he made some plays."
Like on the game's first goal, 38 seconds into the second period. He attacked from the neutral zone with speed, bought time for his linemates to join the play by angling into the slot, then, with goalie Louis Domingue trying to guess shot or pass, Thompson unleashed his wicked snap shot that was nothing but blur as it hit the twine.
"That was a helluva shot," Dineen said.
Cory Conacher's power-play goal at 8:30 of the second period tied the score. Andrew Oglevie restored the Amerks lead on a rebound goal at 1:04 of the third but, with Oglevie in the penalty box for a faceoff violation, Danick Martel tied it for the Crunch at 11:24.
Near the end of a frenetic overtime, Thompson provided victory. Rasmus Asplund moved in off left wing on a two-on-one, surveyed the situation, then fired a pass across the slot and Thompson redirected it home. Well, with a little help.
"I actually almost missed that one," he said. "It went off the post and then off his (Domingue) back."
Sometimes you need a lucky bounce.
He didn't get many of those last season. Thompson, acquired from the St. Louis Blues in the Ryan O'Reilly trade, spent the first five-plus months of the 2018-19 season with the Sabres. He went the first 13 games without a goal and then didn't score a goal in his final 23. In the 32 games in between, he produced 7-5-10.
But with the Amerks he was a terror, scoring 6 goals and assisting on 3 others in the final eight regular season games. He then scored two of the four goals the Amerks produced in losing three playoff games to Toronto.
"The way he played for us in the playoffs, he made a statement," Dineen said.
He intends to keep doing so this season. "It's nice knowing you're going to get some opportunities," Thompson said, "but at the same time you have to earn it."
Of note: » Asplund assisted on both Thompson goals, and defenseman Zach Redmond also had two assists. » Oglevie missed all but 28 games last season because of concussions. He was strong on Friday, however. "Anybody that's been through what he's been through might take a step backwards in tough areas and battles, but he really dug his heels in and went after it," Dineen said. » Why is Asplund wearing 74, instead of the 26 he wore last season. He said he always wore 74 in Europe, his way of honoring his mother (born in the 1970s) and grandmother (born in the 1940s).