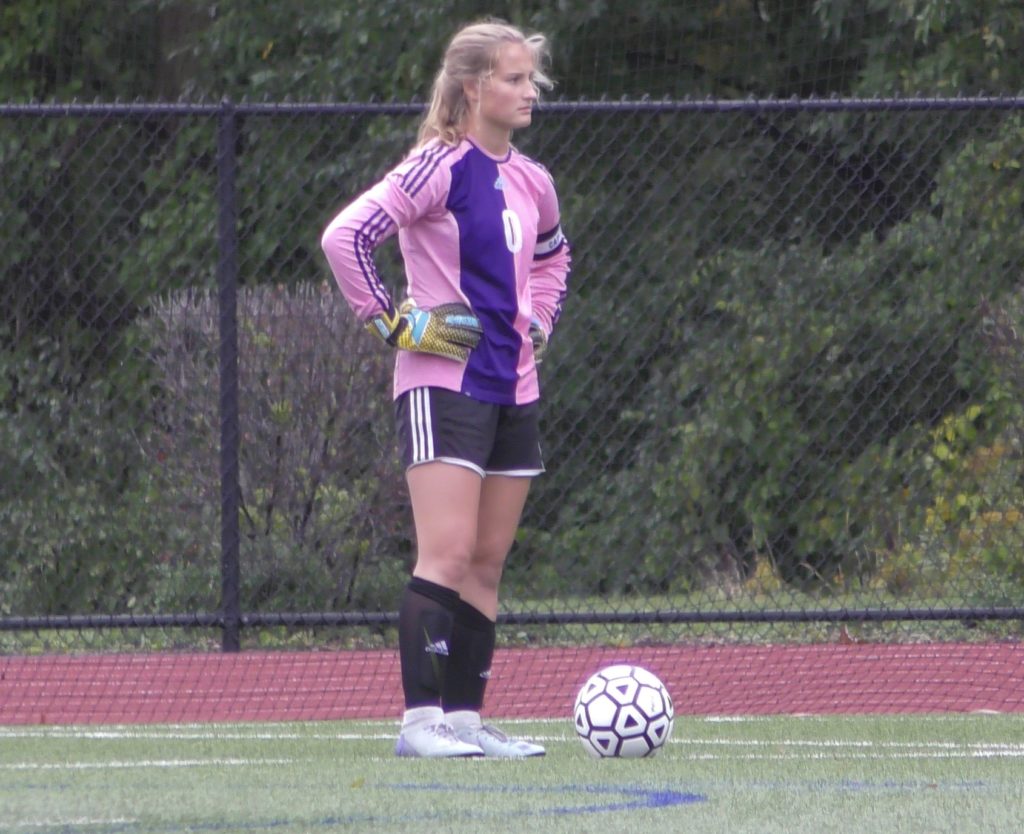 By PAUL GOTHAM
ROCHESTER, N.Y. — For the third time in as many meetings the Our Lady of Mercy soccer team got the better of Pittsford Sutherland. Wednesday's victory gave the Monarchs an ounce of payback for the last time they fell to their rival. 
Three different players scored as the Monarchs downed Sutherland, 3-0 for their fourth straight win.
"All week we have been focusing on working together more as a team," Mercy head coach Donna Trost said. "We've kinda struggled a little bit just getting our passes together and having our momentum with our transition.
"I'm really happy that we got that effort against a team as good as Sutherland."
Clare Kelly scored her team-leading seventh goal nine seconds into the match to give Mercy all the offense it needed.
"I was expecting a pass out wide because that's what we usually do, but then I was wide open," the senior forward said of the play. "Emily (teammate Tabone) made a perfect pass to me. I was thinking about passing it off, but nobody was coming on. I kept taking it and then I was like 'I'm just going to go for it.'"
Kelly beat a pair of defenders and took advantage of the damp condition to connect from outside the 18-yard box.
"She did not hesitate," Trost stated "She wasn't afraid to go one-on-one and side-stepped two players and launched the ball. I think the ball was still wet. It had rained all day.
"I couldn't believe that happened. That started the momentum for our team."
The goal reminded Trost of Sutherland's win over Mercy in 2017.
"Two years ago, on this field they did that to us," said Trost recalling the Knights 1-0 win. "Literally, whistle blown 10 seconds down and the girl scores."
Kelly's goal stood as the difference until Tabone doubled the advantage in the 65th minute. The senior tucked a blast under the crossbar for her fourth marker of the season. 
Lucia Lanahan beat a defender along the wing to keep the play alive.
"She did not give up on the ball," Tabone said of her teammate. "It was a really good play throughout. Sissy Smith put a great ball in. Sophie Dearcop got a touch on it, and I just put it away."
Tabone received the ball outside the 18-yard box with her back to the net. 
"As a forward you're expecting that someone's going to be on your back, but you got to get the shot off anyway. I thought someone was going to come, but I was kinda wide open."
The shutout was Mercy's fourth of the season. Lauren Kepes made seven saves for the clean sheet.
The senior took away a second-half scoring opportunity when she came off her line. She followed that with a point blank stop in the 67 minute off the foot of Sutherland's Laura Bennett.
"She's fearless," Trost said of her keeper. "She has saved us numerous times."
Dearcop took advantage of a second-chance opportunity to give Mercy an insurance goal with 3:22 left in the game. After Smith put a shot off the crossbar, Dearcop gathered the rebound for her second goal of the season.
Mercy downed Sutherland a year ago in the regular season (2-0) and then again in the Class A semifinals (1-nil). Wednesday's win, though, showed the Monarchs ability to respond to adversity.
"We've had a lot of injuries and a lot of people just really stepped up and are really hungry to be a part of the team and get in the starting lineup," Trost noted. "That was huge for us."
Mercy (8-3-1) hosts Clarence of Section VI for a noon kickoff Saturday at Abby Wambach '98 Field.
Sutherland (7-3-0) travels to play at Brighton on Friday. A 7:15 PM start is scheduled.