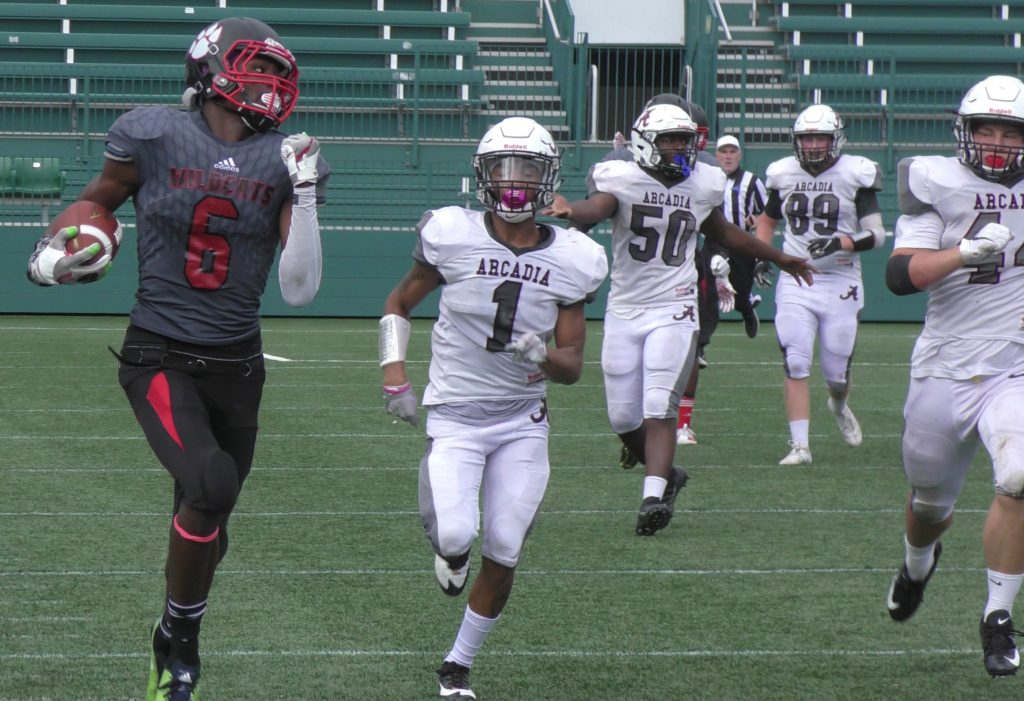 GREECE ARCADIA (2-2) 28
WILSON (4-0) 54
Greg Mortier hoped to minimize the damages. With his squad pinned deep in their own territory, the Wilson Magnet head football coach wanted to get some room for a possible punt. Moments later, Mortier watched as his Wildcats lined up for a two-point conversion. READ MORE.
LEROY (4-0) 14
AVON (2-2) 13
The pouring rain. The raucous atmosphere. An Avon 58-yard touchdown pass 18 seconds into the fourth quarter. These are some of the many reasons the LeRoy Knights could have rolled over and let this game get away from them. However, Kyler LaCarte had other plans. READ MORE.
MIDLAKES (0-4) 6
BISHOP KEARNEY/ROCH PREP (2-2) 54
Nate Carter collected four first-half touchdowns to pace Bishop Kearney/Rochester Prep to a 47-0 lead going into the break. The senior running back scored on runs of 5, 50 and 28 yards as well as grabbing a pass for a 30-yard touchdown. Javier Flowers, Mark Patton and Shaian Patton added a touchdown apiece over the first 24 minutes of action.
AQUINAS (3-1) 55
MONROE (0-4) 12
Will Benjamin rushed for 140 yards including a 68-yard touchdown run to give Aquinas a 20-0 lead in the first quarter and the Li'l Irish went on to a 34-6 advantage at halftime. Benjamin and Bryan Magee both rushed for two touchdowns. Magee gained 82 yards on the ground. Quarterback Tyler Szalkowski completed 17 of 20 passes for 270 yards and three touchdowns. Manny Russell caught six passes for 158 yards and two touchdowns. Syracuse University commit Steve Mahar made four catches for 76 yards. On defense for Aquinas, Joe DeBonis and Camron Mateo made seven tackles apiece.
LETCHWORTH/WARSAW (4-0) 28
PENN YANN (2-2) 14
Brett Vasile connected on 11 of 14 passing attempts including a 13-yard, second-quarter strike to Eddie Stores as Letchworth/Warsaw grabbed a 14-0 halftime lead. Vasile hit Dalton English with a 12-yard pass, and the Indians pushed their advantage to 21-0 in the third quarter. English ran 51 yards and Stores had three receptions for 31 yards. Vasile also rushed for a touchdown. Austin Williams added a 46-yard touchdown run. Kyle Berna had 24 rushing yards and a touchdown for Penn Yan.
UNIVERSITY PREP (4-0) 38
LIVONIA (2-2) 22
Mike Cathey rushed for 160 yards and three touchdowns on 11 carries as University Prep downed Livonia. Christian Jean added 128 rushing yards and two touchdowns for UPrep. Clyde Davis threw for 146 yards on 9-14 passing. Mark Rogers added 92 all-purpose yards and one touchdown. On defense, Ray Rivera had 20 tackles, Anthony McCoy had 13 tackles and Jayshawn Hamilton added 12 tackles.
GREECE ATHENA (2-2) 6
EAST (3-1) 48
Yasiir Daniel had eight receptions for 142 yards and three touchdowns for East. Levi Wright, who threw Daniel all three of his touchdowns, was 9-11 passing for 194 yards. Freddie Brock had 12 carries for 81 yards and returned a punt for a touchdown. RJ Haten had seven tackles, a sack and an interception return for a touchdown.
CANANDAIGUA (3-1) 33
SPENCERPORT (3-1) 10
Trailing 10-6 with less than two minutes remaining in the third quarter, Canandaigua scored 27 unanswered points to win its third straight game. Dominic Comella scored a pair of touchdowns. Casey Herod, Matt Vierhile and Zach Wantuck added a touchdown apiece.
EASTRIDGE (4-0) 20
IRONDEQUOIT (0-4) 7
Ruben Torres had 131 rushing yards and a touchdown as Eastridge took the matchup of crosstown rivals. , Matthew Brantley added 94 rushing yards and a touchdown for the Lancers. Sher'Ron Davis finished with 140 all-purpose yards. Noah Bowens had 11 tackles on defense. The Eastridge offense amassed 349 rushing yards on the day.
EDISON
VESTAL