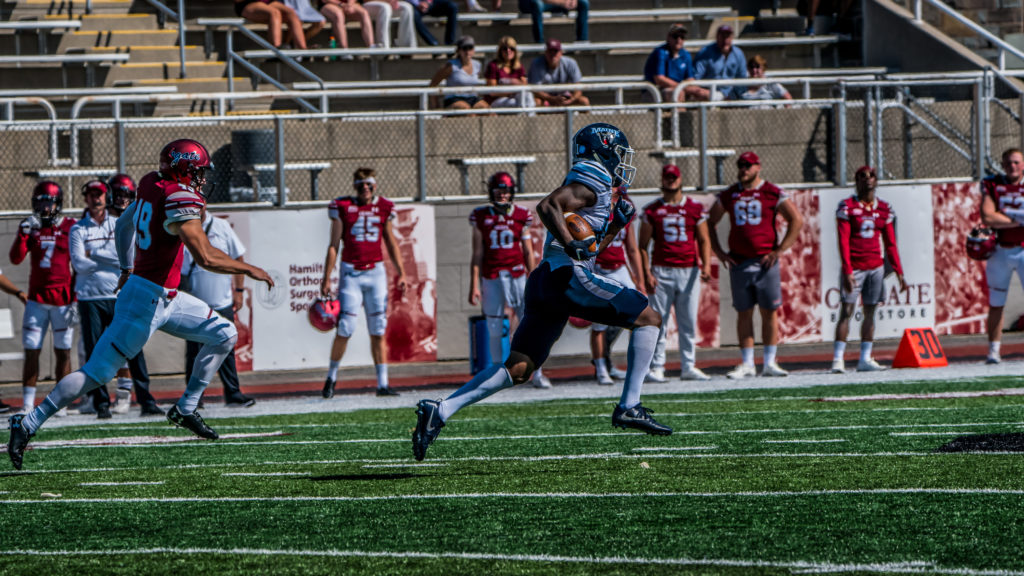 By BILLY HEYEN
After a 15-yard gain on a trick play in the second quarter, Earnest Edwards put his hands on his hips and looked back at the defender he'd just sprinted by.
It was if Edwards was saying, Is anyone going to stop me?
Maine lost Saturday to Villanova, but that didn't stop Edwards from having another standout performance. The Aquinas alumnus caught one touchdown and threw another. He finished the game with four catches for 140 yards, one rush for 11 yards, one pass for eight yards, and four kick returns for 100 yards.
Edwards has now caught 12 touchdowns in his last 12 games. That goes with his dynamic ability in the return game, as Edwards had two kick return touchdowns a week ago against Colgate. Today's wasn't even the first time this season Edwards threw a touchdown on a reverse, as he'd done that earlier in the season, too.
A senior, Edwards has now totaled more than 1,700 receiving yards in his career with the Black Bears. That goes along with a trip to the national semifinals in 2018.
Edwards' six kick return touchdowns are tied for most in FCS history and one off the overall Division I record, which is held by four different players, including former Buffalo Bills' speedster C.J. Spiller.
Earlier in the week, Edwards tweeted: "I'm tryna play in the league so bad" followed by a crying emoji. If he keeps making a difference all over the field for Maine, he'll have plenty of people at the next level interested in him.
Other Aquinas football alumni Week 5 performances:
Jamir Jones had a strip sack for Notre Dame in its ranked win over Virgina. Jones also had a big hit on the UVA quarterback that led directly to an interception.
Taylor Riggins had six tackles, including a tackle for loss, in Buffalo's loss to Miami (OH). UB also featured two catches from Victor's Zac Lefebvre, five tackles from Brockport's Cory Gross and two tackles from Rush-Henrietta's Eric Black.