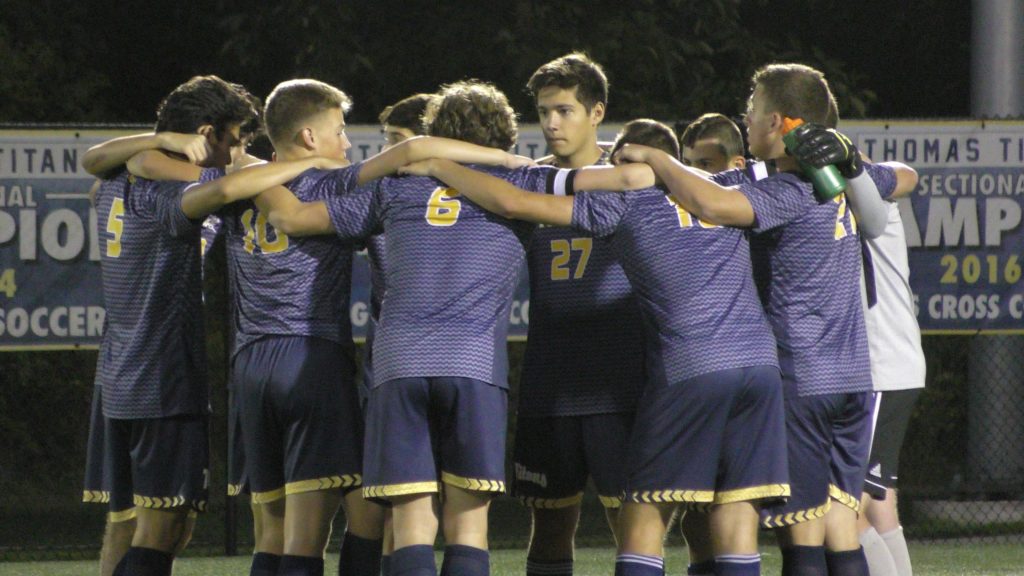 By PAUL GOTHAM
WEBSTER, N.Y. — Two nights after suffering their first setback of the season, the Webster Thomas Titans used a renewed focus for a resounding victory.
A team meal also helped.
Zach Wolfe tallied twice and assisted on another to lead a resounding 4-1 victory over Hilton, Thursday night.
"Zach was really good tonight," Titans' head coach Steve Grose said. "He was really controlling the top and made them look pretty average. Great game for him. He was good."
Wolfe gave Thomas a lead it did not surrender when he took advantage of a loose ball just outside the Hilton 18-yard box and found back of the net with 11:29 remaining in the first half.
The junior combined with fellow striker Taner Goren less than 14 minutes into the second half for a 3-nil lead.
"Big props to our defense and our midfield for dishing me the ball for those goals," Wolfe said. "I got a deep ball and I ran for it (on the team's third goal of the night). I did one move on the defender. I just knew my fellow striker, Taner, was right by me. He finished it off. Props to him. I knew my left foot it probably wasn't going in, so I dished it across to him. He knows how to finish pretty good."
Thomas, ranked No. 7 in the state, improved to 5-1-1 on the season.
"This group seems to thrive on the positivity of being together, working together and working for each other," Grose noted. "It's showing with good results this year. Same group of kids this year as last."
The Titans played without Sean Malley who was injured in Tuesday's 2-1 loss to Spencerport (No. 19 NYS Class A). Nick Harrington, who missed the Spencerport game, returned to action and assisted on both of Wolfe's markers.
"We had a good scouting report on them," Grose noted. "We thought we could get some goals and we did.
"Our focus was good tonight. That was not a strength of ours last year. It's turned in to being that this year."
Cameron Webb, who missed a large chunk of Tuesday's match also with an injury, converted a Brendan Hill corner kick in the 30th minute to give Thomas a 2-0 lead heading into halftime.
Wolfe ran down a ball in the open field for his second marker of the night and a commanding 4-o lead. It was his team-leading sixth of the season.
He credited Wednesday's practice and team gathering for the collective focus.
"The coaches got us in the right mentality in practice on Wednesday. We all came together as a family. We had a pasta party yesterday. We all bonded together. We knew this was a big game because they're in our class. A big thank you goes out to the Webbs. Their meatballs are very good."
Hilton fell to 3-4-0 on the season. Will DePrez scored the lone Cadets' goal in the 65th minute. Reserve goalkeeper Nate Battaglia turned away a Thomas penalty kick in the 73rd minute.
Hilton downed Thomas 2-0 in the 2018 Section V Class AA quarterfinals. The Cadets went on to claim the program's second sectional title in four years.
Hilton travels to play at Brighton next Monday. A 7 PM kickoff is scheduled. Thomas will play at divisional rival Churchville-Chili on Tuesday. A 6 PM start is scheduled.