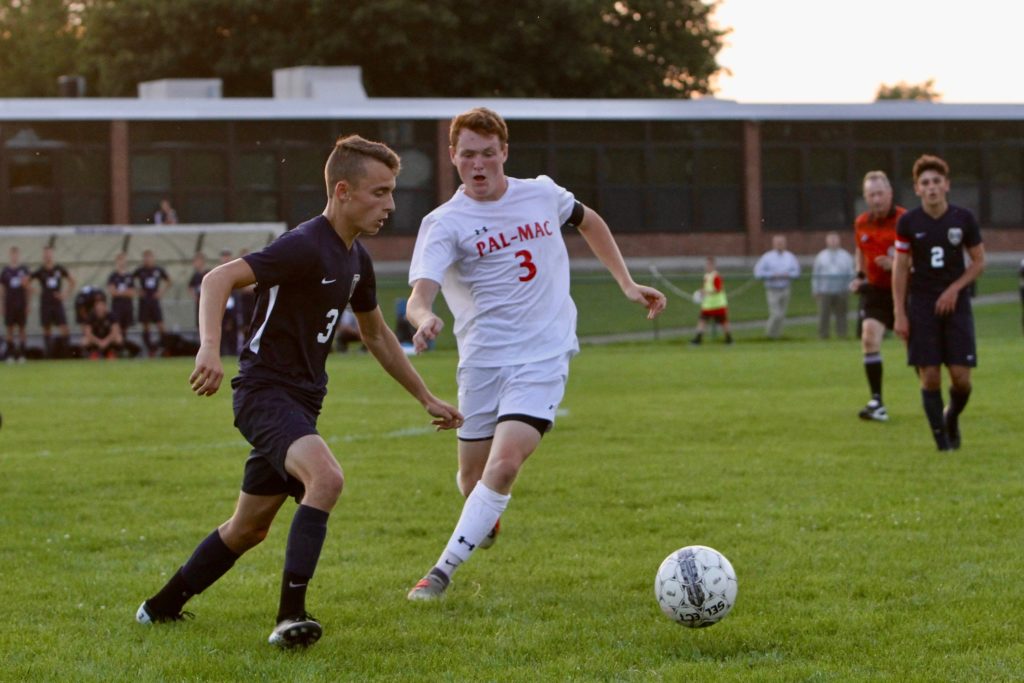 PALMYRA-MACEDON 7
WATERLOO 0
Sam Quick led Pal-Mac's attack with two goals while five other goal scorers registered tallys to come on top of Waterloo for Pal-Mac's fifth consecutive victory. Cody Johnson pulled the strings of the forward play as he finished with three assists along with Aidan Quinn who provided two assists of his own. 
KENDALL 3
ATTICA 0
Kendall's Derek Edick found the back of the net once in each of the two periods to propel his team over Attica for its third win of the season. Nick Richardson helped on both sides of the attack as he scored and assisted in the contest. Kendall will look to maintain its winning streak against Byron-Bergen/Elba on Tuesday, Sept. 24 at 6:30 p.m., a side which the team lost to in the beginning stages of the season.
PEMBROKE 1
HOLLEY 0 OT
Adam Dulski was the difference maker in Pembroke's overtime victory over Holley as the forward scored during the extra time period to break the deadlock. Dayone Heschke provided the single assist which allowed Dulski to decide the game. 
EAST 6
VERTUS 0
Ben Ali Mfaume scored a brace to lift East over Vertus and claim top-scorer status with five goals in seven games. Glodi Mata followed in his footsteps as both scorers registered two goals a piece in the opening period. Teammates Adhikari Bishal and Jonathan Ceysaire added one goal each to finish out the commanding victory. East is now 3—4—0 in the season. 
NAPLES 9
ROCHESTER ACADEMY CHARTER 0
Austin Chapman scored two goals in the second period of the contest to finish off a hat trick as Naples saw six different scorers in its victory over Rochester Academy Charter. Aiden Peterson also shined in the win as he contributed a single goal and dished out a quad of assists. Dylan McMullen joined in on the scoring when he bagged a brace in a span of one minute and brought Naples to its fifth win of the season. 
CUBA-RUSHFORD 2
CANSITEO-GREENWOOD 4
Jose Alvarez secured a hat trick to extend his goal season tally to eight and force Canisteo-Greenwood past Cuba-Rushford. Teammate Corey Barker scored and assisted in the victory as his team claimed its fifth win of the campaign for a 5—3—0 overall record.
LIMA CHRISTIAN 0
PRATTSBURGH 6
Prattsburgh's fifth victory of the season saw two different forwards tally braces as Mason Putnam and Kris Johnson were responsible for more than half of their team's total score. Evan Campbell and Henry Devoe added one goal each to break Prattsburgh's two-game losing streak.
C.G. FINNEY 2
NORTH STAR CHRISTIAN 2
Ethan Eliason and Conner Torrell's goal contributions did not prove enough to break the deadlock after two periods of play. Finney's 2-2 scoreline over Northstar Christian came as the team's first tie of the season.   
EAST ROCHESTER 6
MARION 1
Justin Gutierrez recorded a brace in between three minutes during the second period of the match as Russell Domm scored one and assisted twice to keep East Rochester's undefeated season alive. Chuck Domm followed in the footsteps of his brother to score and assist. Marion's goal was the first allowed by ER in over 240 minutes of play. The Bombers have outscored opponents 39-3 on the season. 
WILLIAMSON 4
GANANDA 2
Williamson saw four different scorers in its fourth victory of the season. Luis Hurtado and Tyrone Walked both registered goals in the opening period while Ayden Cristales and Andrew Brandt closed out the contest in the closing half with one goal a piece. Despite early goals from Gananda's Brett Martin and Ayden Neal, the team was not able to find a winning answer.  
GREECE OLYMPIA 4
WILSON MAGNET 4
Trailing 4-1 at halftime, Greece Olympia rallied to come away with a tie. Jacob Landro finished with two goals and assisted on Andrew Balch's equalizer in the 73rd minute. Balch also had two assists in the match. Muqtada Alifari added a tally for the Spartans (2-2-1). 
RED CREEK 1
SODUS 5