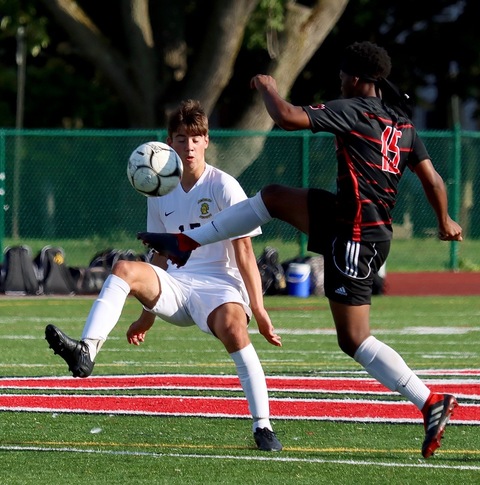 KENDALL 2
HOLLEY 3
Kohl Morgan's penalty kick in the 78th minute led Holley (5-1-0) to its second straight victory. Just a minute earlier, Kayden Servais tied the game up on an assist from Morgan. Nathan Nothnagle started the scoring for the victors, scoring in the 34th minute with the help of Carson Major. Jacob Esposito and Dale Steffen each scored second-half goals for Holley. Esposito was assisted by Steffen and Steffen was aided by Tory Raufeisen.
WHEATLAND-CHILI 2
PEMBROKE 0
Aaron Lund assisted on both goals for Wheatland-Chili (2-3-1) which was winless in its past three games. Joey Sutherland scored the first goal of the game just six minutes into the contest. Troy Smith then scored 51 minutes later to give the victors some insurance.
CALEDONIA-MUMFORD 0
KESHEQUA 8
Reese Powers and Aidan Wood each scored twice in Keshequa's big win. Powers scored in the 48th and 50th minutes while Wood put his tallies up in the 61st and 63rd. Riley Rease, who assisted on Wood's second goal, also found the back of the net. Adam Hunt was the only player to score in the first half and did so on an assist from Powers. Avery Strobel scored the final goal of the night for Keshequa with the help of Ryan Thayer.
GENESEO 5
MOUNT MORRIS 2

LETCHWORTH/WARSAW 3
LEROY 2
Adam Grover scored in the 74th minute to propel Letchworth/Warsaw past LeRoy. Grover was assisted by Nik Eustace, who also scored the first goal of the game for the victors. Eric Woodworth scored the second goal of the game for Letchworth/Warsaw off of a feed from Quinn Bannister.
DANSVILLE 0
HORNELL 4
Chase Freeland and Justin Briggs each scored a goal and tallied an assist for Hornell. Freeland scored Hornell's first goal of the game and aided Liam Khork in scoring his team's third. Briggs found the net for the fourth goal and helped Wyatt Argentieri find the back of the net for Hornell's second goal.
PERRY 2
AVON 1
Tyler Uvieno scored a goal and assisted on another for Perry. Uvieno's goal was unassisted and Michael John Grover was the recipient of Uvieno's assist. Reverdy Clark scored  an unassisted goal in the 68th minute for Avon in defeat.
BATH-HAVERLING 3
WAYLAND-COHOCTON 0
Five different players recorded a point for Bath-Haverling in its road victory. Keefer Calkins opened the scoring in the first half on a feed from Braden Yartym. Tony Orfanidis was responsible for the second goal with the assist going to Lorenzo Serafini. Brendan Strong scored the final goal for Bath-Haverling and did not need an assist.
SOTA/NW/NE 0
SCHOOL #58/WORLD OF INQUIRY 3
Josiah King recorded a goal and an assist as School #58/World of Inquiry (6-2-0) won its third straight game. King opened the scoring with an assist from Ehlermoo Tong. King the provided help to Joe Mohamed for his team's second goal. Yeremiah Sumaili was found by Mandip Rai for the final insurance goal for School#58/World of Inquiry.
MCQUAID 6
WILSON MAGNET 0
Andrew O'Hern scored two goals to lead McQuaid (5-1-0) to its second straight win. O'Hern scored his team's second and third goal on assists from Henry McDonald and Zach Smith. Smith also netted his team's sixth goal with the help of Grayson Alkins. Alkins scored an unassisted goal two minutes before assisting Smith. Brad Talsania scored one minute before Alkins and Caden Kress received an assist on Talsania's goal. Justin Larry opened the scoring for McQuaid just two minutes into the game off of a feed from Brennan Shanahan.
PRATTSBURGH 2
BRADFORD 3
Steven Spina scored the game-winning goal for Bradford in the second half. Spina scored it on a direct kick to complete a comeback. Michael English scored the game-tying goal in the second half with the help of Brock Sorber. Spina also picked up an assist on Bradford's first goal, which was scored by Blai Crespo. Both English and Crespo picked up their fifth goals of the season. Mason Putnam scored both goals for Prattsburgh. The first was unassisted, but JT Campbell assisted on the second.
ALFRED-ALMOND 0
CANISTEO-GREENWOOD 1
Jose Alvarez scored in the second overtime period to lift Canisteo-Greenwood to victory. Anthony Loper assisted the game-winning goal. Alfred-Almond took 23 shots and six corner kicks in defeat.
JASPER-TROUPSBURG 2
ARKPORT/CANASERAGA 6
Mikah Hoyt recorded a hat trick and an assist in Arkport/Canaseraga's win. Hoyt scored his team's first, third and sixth victories. Josh Abraham was the recipient of Hoyt's assist. Joe Bauch, who assisted on Hoyt's first two goals, scored Arkport/Canaseraga's fourth of the first half. He was assisted by Riley Shinebarger, who also aided Konnor Stuckey on his goal.
ADDISON 4
HAMMONDSPORT 0
Four different players scored in Addison's victory. Luke Pepper and David Howe each scored in the first half. Pepper was assisted by Caden Atwood and Howe did not receive an assist. Trevor Knapp and Bradyn Coletta registered the other two goals for Addison. Pepper provided the helped for Knapp's tally and Colby Jones aided Coletta.
GANADA 2
RED CREEK 1
Andrew Gabbard's overtime goal lifted Ganada over Red Creek. Gabbard received a penalty kick and did not miss. Jacob Rapp scored the game-tying goal with one minute left in regulation. Gabbard provided the helped for Rapp's goal. Logan Field scored in defeat for Red Creek.
EAST ROCHESTER 3
WILLIAMSON 0
Russell and Chuck Domm both had a goal and an assist as East Rochester improved to 6-0 on the season. Russell Domm scored the first goal of the game on an assist from Max Wagner. Chuck Domm assisted on Andrew Weltman's tally before providing the final marker of the game. Michael Raschiatore made five saves for his fourth clean sheet of the season. The Bombers have outscored opponents this season by a combined total of 33-2.
NORTH ROSE WOLCOTT
MARION