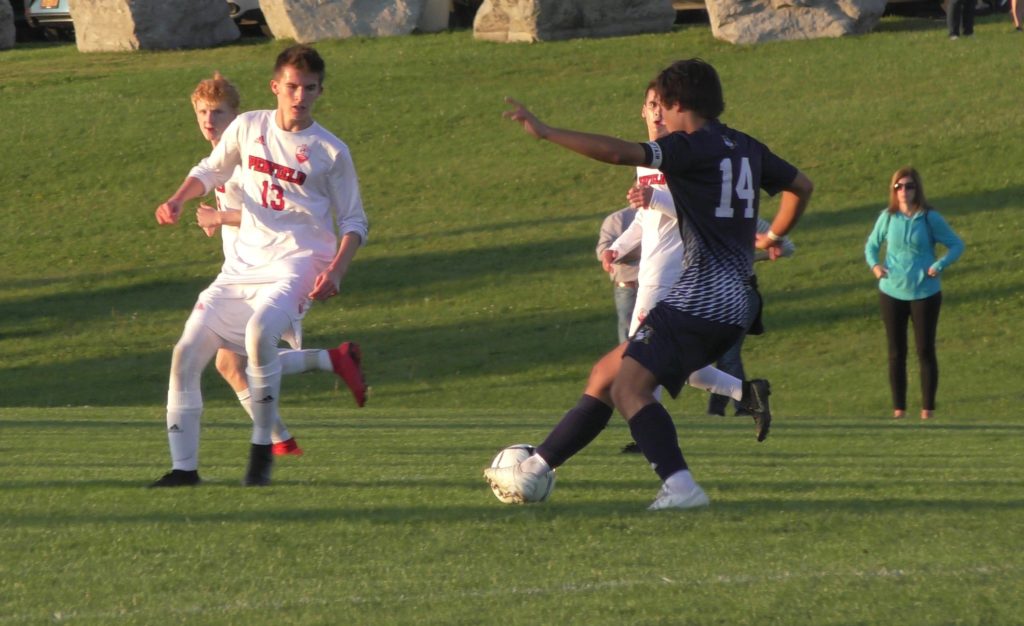 By PAUL GOTHAM
VICTOR, N.Y. — The transitive property of equality does not apply to the soccer pitch.
At least not in Monroe County Division I.
Unbeaten in four games, Penfield debuted at No. 11 in the NYSSWA Class AA poll earlier this week.With wins over perennial contender Fairport (2-1) and reigning Section V Class AA champ Hilton (2-0), the Patriots opened the season 3-0-1 in league play.
Meanwhile Victor suffered setbacks to Fairport (0-1), and Hilton (1-3) while starting 3-2-1 and 1-2-1 in the division.
Tuesday night, though, the Blue Devils reigned.
Freshman Thomas Gravino netted a pair of first-half goals, and Victor used a strong first half to down Penfield, 3-0.
"The parity in our league is evident," Victor assistant coach Chris Wuest commented. "Any given day, any team can win.
"When we played Hilton, we played them tough. The ball just didn't go our way. Their goalkeeper (Andrew Cavuoto) played amazing. Against Fairport, we had a PK early on and their goalie made a great save against us, and they just scored late. We were right there. We were just clicking tonight."
Gravino finished just outside the six-yard box to start the scoring with 17:17 remaining in the first half. The freshman made it a 3-nil game before the break when he connected from 30 yards out.
"There was one defender back, and our striker, Justin Graham, was up top," Gravino explained. "I was going to push up until the defender came to me, but he kept dropping back so I decided to fire."
Gravino won a ball at midfield and took advantage of open space to make a rush into the Penfield end before striking his second marker of the season.
"You don't expect that from a freshman," Wuest said noting that Gravino put into action what the squad discussed in preparations for the game. "He looked at it. He recognized it. His IQ, he's not a freshman."
Freshman Thomas Gravino wins a ball at midfield and lets fly with a rocket that he tucks under the bar from 30 yards out. @VictorHS_Soccer 3 Penfield 0 pic.twitter.com/X2U52Fbrla

— Paul Gotham (@PickinSplinters) September 17, 2019
Caleb Crouch-Pickup and Connor Cronin combined for the squad's third shutout of the season. Crouch-Pickup was credited with five saves in 65 minutes of work.
"I did not have a hard shot in the game because of them," the senior keeper said crediting the defense in front of him. "It's all the communication. We keep talking with each other. It allows us to make every single save and make it easy."
Corner kick opportunity for @PHSVarSoccer turned away by @VictorHS_Soccer 20 to go in the half. No score. pic.twitter.com/uKqRjm5ns6

— Paul Gotham (@PickinSplinters) September 17, 2019
Penfield came into the game having not allowed a goal in their previous 265 minutes of play. The Patriots had outscored opponents  this season by a combined total of 8-1.
"We knew they were a good team," Crouch-Pickup added. "We knew it was going to be a battle. We know that we don't lose at home."
Victor's Alex Newton converted a penalty kick in the 28th minute.
Alex Newton converts the PK to give @VictorHS_Soccer a 2-nil lead with 12:47 remaining in the half. pic.twitter.com/W1LYX5iqCj

— Paul Gotham (@PickinSplinters) September 17, 2019
Felice Rucci assisted on Gravino's first goal.
Victor (4-2-1/2-2-1) travels to Churchville-Chili on Thursday.
Penfield (3-1-1) hosts Pittsford Mendon on Saturday.