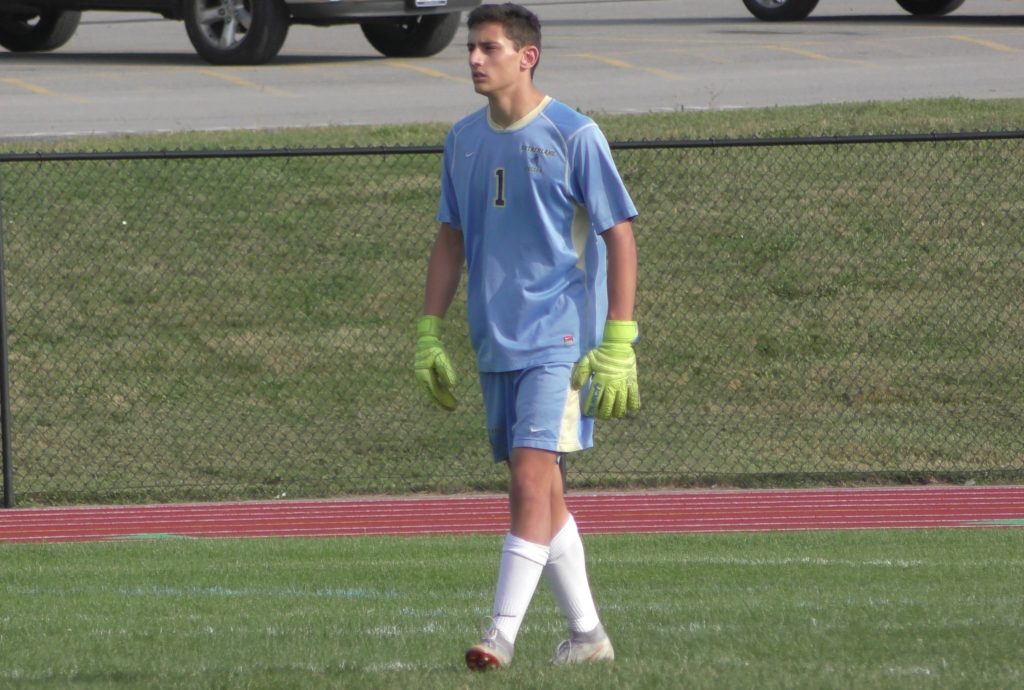 SATURDAY
SWEET HOME (VI) 1
PITTSFORD SUTHERLAND 3
Three different players found the back of the net, and Pittsford Sutherland improved to 5-0-0 on the season. Will Bowen opened the scoring and added two assists in a game in which the Knights jumped to a 3-nil advantage. Aidan Pellegrino and Dylan Kladstrup added a marker apiece. Kladstrup assisted on Bowen's first-half tally.
CANANDAIGUA 0
SPENCERPORT 6
Spencerport (4-1-0) continued a dominant stretch which has seen the Rangers outscore opponents by a combined tally of 20-1 over the past four games. Gianni Pellett scored twice in Saturday's win, and Greg Ranieri added two assists as Spencerport grabbed a 2-nil lead at halftime. Alexander Moss opened the scoring in the 32nd minute. Pellett scored two minutes later. Max LaRosa Jacob Lanhard and Luc Fedele added second-half markers. LaRosa, Lenhard and Moss collected an assist apiece. Patrick Uebelacker also had a helper.
CHRISTIAN BROTHERS ACADEMY (III) 2
McQUAID 1
VERTUS 0
GREECE ODYSSEY 8
Ryan Michelsen and Gavin Watt finished with two goals and an assist apiece to Greece Odyssey to its first win of the season. Cody Schneider opened the scoring in the first minute, and the Leopards spring to a 5-nil advantage at halftime. Schneider also added an assist. Aiden Drake collected three helpers, all in the first half. Mayken Perez Aguilar, Alexander Bonin and Gabriel Cobo had a marker apiece. Isaiah Malcolm also had an assist.
NEWARK 1
WAYNE 5
Five different players led a balanced attack, and Wayne (3-1-0) won its second straight game. Josh Bolt and Matt Gentile collected first-half markers to give Wayne 2-nil advantage at the half. Ryan Wilson, Kaleb Glassine and Devin LaDue added second-half tallies. Dylan Cook had two assists in the match. Justin Jantzi and Tyler Reynolds had a helper apiece.
HAC 0
EAST ROCHESTER 4
Russell Domm scored twice and added an assist as East Rochester improved to 4-0-0 (2-0-0 Wayne County) on the season. Chuck Domm added a goal and two assists in the win. Max Wagner opened the scoring the fifth minute with an assist from Nathan Jantz. East Rochester led 2-nil at half.
WORLD OF INQUIRY 2
BLOOMFIELD 1
Ehlermoo Tong had a goal and an assist as World of Inquiry grabbed a 2-nil lead and held off Bloomfield late. Mandip Rai opened the scoring in the seventh minute. Tong scored with an assist from Osman Mohamed Yunus. Bloomfield's Ryan Wollschleger scored an unassisted goal in the 85th minute.
PAL-MAC 1
WILLIAMSON 0
ALFRED-ALMOND 1
BATH-HAVERLING 7
Thomas Binkowski found back of the net three times in the first half, and the Rams improved to 5-0-0 on the season. Brendan Strong added a goal and two assists in the second half. Braden Yartym, Keefer Calkins and Lorenzo Serafini helped Bath-Haverling put the game out of reach with second-half markers. Sam Arnts and Justin Marshall had an assist apiece. Dylan Coots scored the lone Alfred-Almond goal with a an assist from Ayden Burdick.
ATTICA 0
BYRON-BERGEN/ELBA 5
Sam Pringle had three goals and an assist as Byron-Bergen/Elba (3-1-0) responded to its first loss of the season. Greyson Huntington added a goal and an assist in the win. Gianni Ferrara also had a goal. Kyle Foeller chipped in with an assist.
LIVONIA 3
WAYLAND-COHOCTON 0
Jake Oliver snapped a scoreless tie 15 minutes into the second half and doubled the advantage 10 minutes laters. Shawn Minnehan added an insurance marker in the 72 minute. Shane Melead, Manny Gonzalez and Ewan Maxwell had an assist apiece.
KESHEQUA 2
AVON 0
Riley Rease scored with an assist from Reese Powers for a 1-nil edge at halftime. Hunter Stephens added to the lead 19 minutes into the second half. Jacob Schiano had an assist.
KENDALL 4
ALBION 2
Jacob Esposito and Tory Raufeisen combined on a pair of second-half goals with Esposito finding back of the net twice. to lead Kendall. Hayden VanDusen and Dale Steffen added a goal apiece for Kendall.
SCIO 2
AVOCA 1
Luraitz Kruze converted a penalty kick in overtime to clinch the win. Cam Loucks gave Scio a first-half lead with an assist from Patryk Pietruszka. Cameron Giglio leveled the match in the second half with an unassisted goal.
JASPER-TROUPSBURG 3
NAPLES 2
Brennan Waters broke a two-all tie with an unassisted goal in the 59th minute. Thomas Flint gave J-T a 2-nil advantage with a pair of markers in the match's first 10 minutes. Brayden Hill and Josh Flint had an assist apiece on the markers. Donivan Todd narrowed the deficit with an assist from Ben Green, and Dylan McMullen leveled the match less than two minutes before halftime.
HAMMONDSPORT 1
PRATTSBURGH 4
Mason Putnam scored three goals, and Caleb Johnson added another tally in the win. Kris Johnson collected two assists. JT Campbell also had a helper. Josh Wells made it 2-1 game late in the first half with an assist from Nevin Davis.
ARKPORT/CANASERAGA 1
BRADFORD 4 
Blai Crespo scored twice; Steven Spina had a goal and an assist to lead Bradford. Westin Sorber also scored in the win. Logan Ayers and Joseph Miller both had an assist. Josh Abraham scored the Arkport/Canaseraga goal with an assist from Mikah Hoyt.
FRIDAY
BRIGHTON 4 
GREECE ATHENA 1 
Torin Broderick secured a brace in the opening 20 minutes of the match as Brighton picked up its third win of the season to even out its overall record at 3-3. Nico Leone scored eight minutes before Mat Ochs to see out the victory. Michael Loiacono scored two minutes into the match to give Athena an early lead.
GREECE OLYMPIA 3 
BATAVIA 2 
Andrew Balch registered two goals while Jakob Landro scored once and picked up two assists to help Greece Olympia to its first win of the season. Jakob's goal added to his goal tally of the season to bring him up to four in total.
HONEOYE FALLS-LIMA 3 
EASTRIDGE 1 
Honeoye Falls-Lima maintained its perfect away record with its fourth victory of the season. Gunnar Wetzel opened the scoring for the winning side followed by Nick Burch and Aidan Crego who carried the team to the win. Eastridge's lone score came from Stirling Delves, assisted by Tolga Kahya inside 10 minutes of the contest.
WEBSTER THOMAS 4 
GATES-CHILI 1 
After scoring nine goals and conceding just three in its previous four matches, Webster Thomas protected its undefeated record with four goals from four different scorers. Sean Malley, assisted by Zach Wolfe opened the scoring inside 10 minutes of play. Wyatt Dutro and Issac Buckley followed up with a goal a piece to extend the lead to 3-0 at the end of the first period. Taren Goren of Webster Thomas found the net for the final goal of the match.
PITTSFORD SUTHERLAND 2
GREECE ARCADIA 1
Henry Leahy converted a corner kick opportunity with 4:07 remaining, and Sutherland improved to 4-0-0 on the season. READ MORE.
CHURCHVILLE-CHILI 4
IRONDEQUOIT 0 
Alex Blondale scored twice as Nick Millard pulled the strings of the offense with two assists to help Churchville-Chili to its highest-scoring win of the season. Jacob Anthony picked up his second goal of the season in the second half while Mario Cozzo saw his first sight of the net in the closing period.
PENFIELD 4 
WEBSTER SCHROEDER 0 
Shane McMillan registered a hat trick in the span of 28 minutes to bring up his goal season tally to five. Ethan Jones scored once and assisted another to allow Penfield to cruise to victory.
FAIRPORT 2 
RUSH-HENRIETTA 1 
Jude Rouhana had a goal and assisted on Nick Polizzi's game winner in the 54th minute as Fairport (4-1-1) won its third straight game. Rouhana opened the scoring with an assist from Ryan Collins in the match's second minute. Josh Catanese leveled the match seven minutes into the second half. Humberto Francisco collected an assist on the Catanese marker.
FILLMORE 3 
BELFAST 2 
Fillmore saw three different scorers find the net as it picked up its fourth consecutive win of the season over Belfast in an overtime thriller. Luke Cole and Mason Cool scored one a piece in the second period as Ethan Peet registered the game winning goal in overtime. Belfast's scorers, Matt Weaver and Jason Drozdowski netted in the second period but were not able to come up with a win.
ANDOVER 1 
WELLSVILLE 1
Following a three-game winning streak, Andover picked up its first tie of the season in a tight battle against Wellsville. The two teams were separated by two shots at the end of regulation. Wellsville's Dominic Sawyer's opening goal was cancelled out by Andover's Chris Walker in the closing period.
GENESEO 1 
GANANDA 0 
Brian Ehmann's 78th minute goal assisted by Jonathan Edmunds propelled Geneseo to its fifth consecutive victory of the season.
GENEVA 3 
CAZENOVIA 2 
Mason Rusinko picked up a brace to extend his goal scoring record of the season to nine and help lift Geneva over Cazenovia in an overtime win. The junior forward now has nine goals from four games played. Jordan Myer scored the only goal during the extra time period.
AVOCA 2
JASPER-TROUPSBURG 0
Alex Hubbard and Kade Slayton both scored to help Avoca continue its undefeated campaign. Caleb Polmateer was once again the provider as he claimed his second assist of the season.
CANISTEO-GREENWOOD 4 
CAMPBELL-SAVONA 0
Jose Alvarez netted twice in the space of 15 minutes to take his season goal tally to four. He was accompanied by Jaxson Crook and Adam Puorro who both score in Canisteo-Greenwoods third win of the campaign.
PAVILION/YORK 2 
MOUNT MORRIS 0