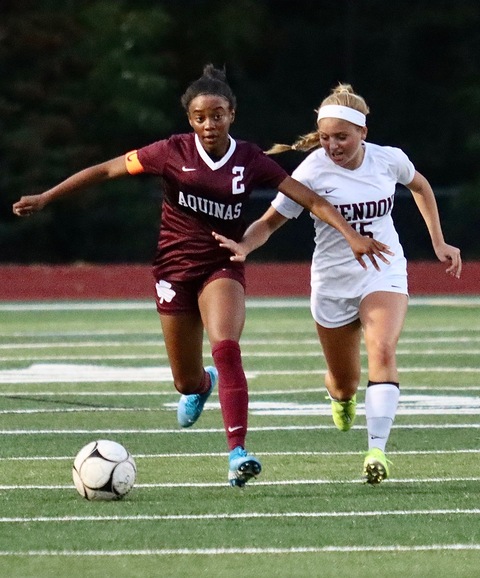 By PAUL GOTHAM
ROCHESTER, N.Y. — Junior Grace O'Hara scored at the final horn, and Pittsford Mendon downed Aquinas, 2-1 in Section V girls' soccer action from Wegmans Stadium Monday night.
O'Hara took an Elena Barr lead and cut to the left before putting the ball in the opposite side netting.
"It was pretty amazing," O'Hara said. "I did not think that was going to happen. Both teams were competing really hard. I'm so happy for our team because we worked so hard."
The play started along the left sideline. Barr settled a throw-in with less than :10 second remaining in the game. The freshman pushed the ball up the field and found O'Hara with a through ball that eluded the Aquinas backline.
"She had an amazing ball," O'Hara said of her teammate. "I just touched it around the keeper. I saw her coming out and I had one quick touch around her."
The final play was not without some controversy. The National Federation of State High School Associations (NFHS) rules state that the ball has to completely cross the goal line under the crossbar and between the posts before the final horn sounds.
Unofficial video shows the ball in the goal mouth when the final horn sounded. It is unclear from the video when the ball crossed the line.
At. The. Buzzer. Grace O'Hara lifts Pittsford Mendon past Aquinas, 2-1. @PCSDAthletics pic.twitter.com/8XhQdLfGn3

— Paul Gotham (@PickinSplinters) September 17, 2019
"I don't think I've ever had one and I've been coaching for 12 years," Mendon head coach Eric Pritchard said of the goal as the horn sounded.
Sabrina Engin gave Mendon a 1-nil lead with 21:46 remaining in the first half. Janel Eckl assisted on the play.
Sabrina Engin goes opposite side netting to give Pittsford Mendon GSOC a 1-nil advantage with 21:46 remaining in the half. @PCSDAthletics pic.twitter.com/KmhLvmzQL5

— Paul Gotham (@PickinSplinters) September 16, 2019
Chanel Alexander fed Mary Genrich for the equalizer less than 15 minutes into the second half.
Chanel Alexander to Mary Genrich for the equalizer. 27 to go in the game: Pittsford Mendon 1 Aquinas 1 GSOC pic.twitter.com/MrWt8knVoF

— Paul Gotham (@PickinSplinters) September 16, 2019
The win was the fourth in the five games for Mendon (4-2-0). The Vikings's keeper Ary Lougher made 10 saves.
"We wanted to make sure we were possessing the ball," Pritchard said of Mendon's approach to the game. "The field's big, so we wanted to work it around and make them run and chase after us. I thought we did a pretty good job of doing that, making good possession passes."
The loss was the first on the season for Aquinas (4-1-0).