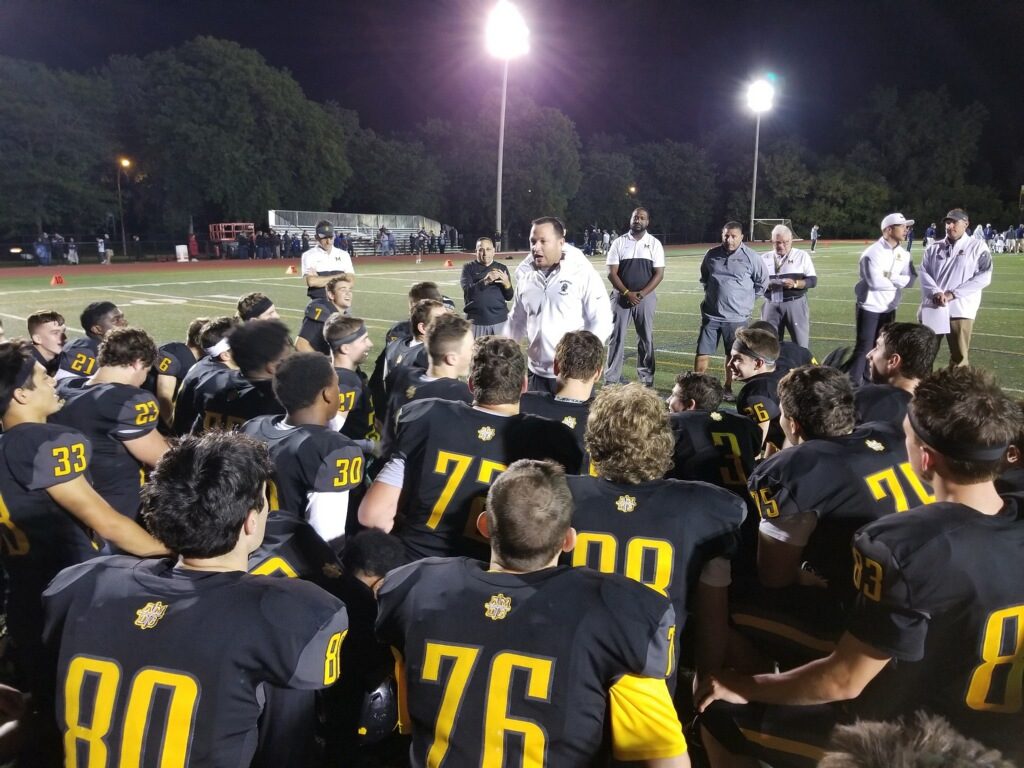 By JOHN LIKANJE
BRIGHTON, N.Y. – After defeating rival Aquinas for the first time in 13 years, the McQuaid Jesuit Knights varsity football team wanted to maintain focus for a potential "trap" game against the Pittsford Panthers.
"I think that even though we beat Aquinas for the first time in however long, people still doubt us every game," senior running back Andrew Passero said. "They don't think we can do it, but I think we proved them wrong again tonight."
"I felt that it was a 'trap' game in the sense that we had a very emotional win last week," Knights head coach Bobby Bates said. "How were our guys going to respond this week? That's why we called it a 'trap' game."
For the second straight week, the Knights' offense took time to get going, totaling 36 yards through two drives in the opening period. However, Bates' squad found their groove in the second quarter, exploding for 21 points en route to a 28-0 shutout of the Panthers at Don Seymour Field, Saturday night.
"We knew on film that they (Pittsford) always stack the box," Passero explained. "We knew that that'd leave an extra linebacker not covering someone on the outside, so we ran the ball in the first quarter. Wasn't really working, but then starting spreading it out. We were able to hit screens and stuff."
Scoreless with 36 seconds remaining in the first quarter, Passero ignited the Knights with a 33-yard run as part of a drive that started half the distance to the goal line. The senior running back caught a ball near the left sideline and sprinted 17 yards to the end zone to break the ice and cap off a 12-play drive.
"We had some of those plays called in practice," Passero said. "We came out today. In warmups, Joe (Cairns) and I, we missed the wheel route four times or something."
.@SecVFootball – @PFBPanthers vs. @FootballMcquaid: Andrew Passero 17-yard TD run. 7:01 2Q: McQuaid 7 Pittsford 0. @PickinSplinters pic.twitter.com/sSEd3aAQpB

— John Mitchell Likanje Junior (@jml5798) September 14, 2019
Although he scrambled for 18 carries and 74 rushing yards, Passero caught seven passes for 179 receiving yards and three touchdowns – two of which came in a three-drive span.
"Andrew's just a grinder," Bates said about Passero. "He's a tough kid. He makes plays happen. I just like his approach to the game. He's patient and he knows that, given time, something's gonna break."
Passero has started the season with 52 carries for 247 rushing yards and five touchdowns – two on the ground and three from the air.
"The proof is in his body of work throughout his whole career here and what he's done," Bates explained. "When you have a senior that comes up like that and you just trust him to make those plays and to put him in those pressure situations, with a kid with that kind of work ethic, it's going to be positive for him."
Joe Cairns completed 10 of his 11 passes for 195 yards and three touchdowns. The junior quarterback punched the ball into the end zone from half a yard out for a commanding 21-0 advantage going into the locker room.
"We knew that he'd be able to throw the ball," Passero said about Cairns. "Last week, we didn't really need him to, so he didn't really show it. Today, he definitely showed that he can throw the ball and he's a legitimate quarterback."
"A little bit of resiliency and I saw a kid who felt a little bit more comfortable back there this week," Bates said about his starting quarterback. "He's a junior coming up. This is his first two varsity games and he's just composed. It's getting better day in and day out."
"I see it in practice during the week and I see it in the games. Tonight, he just looked more comfortable than he did last week and I hope he looks more comfortable next week."
.@SecVFootball – @PFBPanthers vs. @FootballMcquaid: Joe Cairns punches it in from half a yard out. 31.7 2Q: McQuaid 21 Pittsford 0. @PickinSplinters pic.twitter.com/A0ruzJVhbU

— John Mitchell Likanje Junior (@jml5798) September 14, 2019
Junior linebacker Jacob Kimbrew led a stout Knights defense with seven tackles and two fumble recoveries. Will Teresi had six tackles and Quinn Bergeron added five and a sack. Junior defensive back Sam Perozzi picked off a pass as well.
"Our defense is great," Passero said. "We have so much depth. So many guys who can play. We knew from film what they were doing and they kind of did that and everybody did their job and we were able to get a shutout."
The Knights' defense has started the season by not allowing a point in six of eight quarters played.
"Outstanding job by our defense," Bates said as his squad forced three fumbles and held the Panthers to 127 yards of offense. "Outstanding job by our defensive staff to put together a good game plan. We got kids who are in the mindset of 'I don't care who's on the other side of the ball. We're just going to go play.' It doesn't matter what color jersey they're wearing."
McQuaid's first away game will be at Hilton Friday night. Pittsford will vie for its first win against Monroe Friday as well. Both games are slated for a 7 p.m. kickoff.