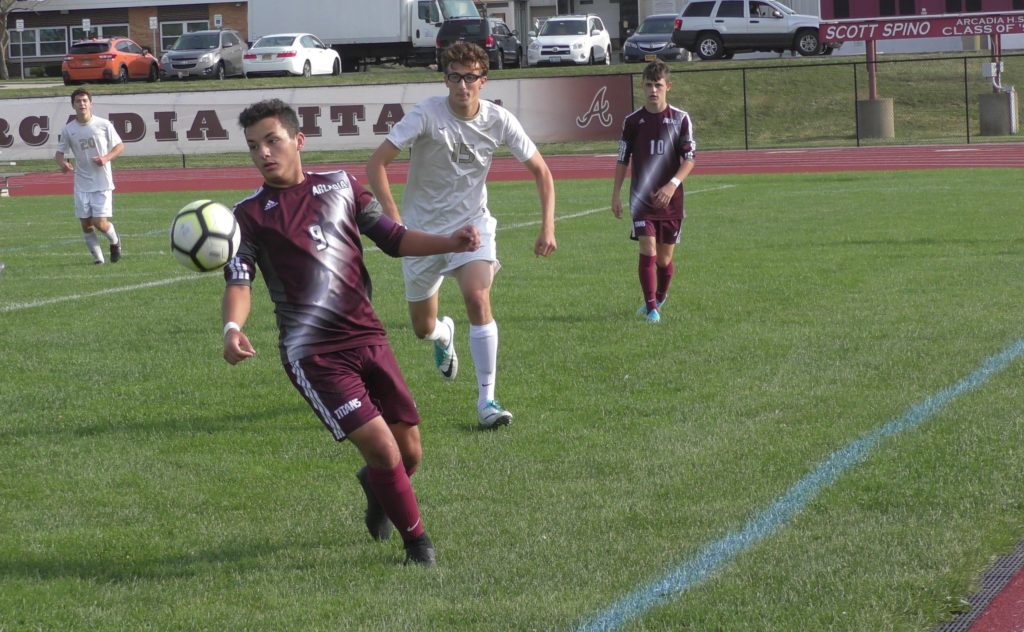 By PAUL GOTHAM
ROCHESTER, N.Y. — Of the seven corner kicks the Pittsford Sutherland boys' soccer team attempted Friday afternoon, Dylan Kladstrup took six. The junior midfielder won't use any of the first five attempts in his personal highlight film. Not unless he wants to demonstrate his ability to make in-game adjustments.
The sixth try, though, that one made it all worthwhile.
Henry Leahy converted on the set piece, and Sutherland improved to 4-0-0 on the season with a 2-1 win over Arcadia.
"The wind was a game changer," Sutherland head coach Sean Hopkins stated. "First half we had it the whole time (at our backs). Second half, they had it the whole time. We just got lucky on one of those spurts to get that second goal."
You might say the wind is a little strong. Matt Nixon kick travels the length of the field. pic.twitter.com/XXZll9AJgT

— Paul Gotham (@PickinSplinters) September 13, 2019
Lined up at the south end of the field from where the wind was blowing, Kladstrup played a ball from the right corner flag.
Arcadia goalkeeper, Gabe Taylor punched out the initial attempt, but Will Field intercepted the clearing and sent the ball back into the 18-yard box. Henry Leahy one-timed a shot into the back of the net.
"I was just in the right place," the sophomore midfielder explained. "Will Field took a shot, and I was on the post. It came right to my feet, so I was just standing there. The goalie was coming right at me. All I had to do was hit it around him."
Henry Leahy takes advantage of a second-chance opportunity to give @SHSsoccersquad a 2-1 lead with 7:15 remaining pic.twitter.com/bxO5fSgc5z

— Paul Gotham (@PickinSplinters) September 13, 2019
The goal ended a frustrating afternoon for Kladstrup who watched as three of his first-half corner kicks at the north end of the field blew out of bounds before his teammates could make a play on them.
"It was so bad," Kladstrup said of the wind. "I was aiming five yards at a time backing up. The wind kept taking the ball.
"I was like finally I got a ball in the box. Hoping someone would capitalize on it."
Kladstrup converted a penalty kick with 11:21 to go in the first half to give Sutherland its first advantage. Arcadia's Cooper LaValley converted a penalty kick of his own with 15:43 to go in the game.
11:21 remaining in the half Dylan Kladstrup converts the PK to give @SHSsoccersquad a 1-0 lead pic.twitter.com/0hH59eTzc4

— Paul Gotham (@PickinSplinters) September 13, 2019
LaValley's goal was the second this year that Sutherland goalie Matt Nixon has allowed. The Knights have outscored opponents by a combined total of 8-2.
"I don't think we've been happy with any of our games," Hopkins said. "We haven't put together a full 80-minute game of soccer. We have great spurts and then we have these five minutes of 'what's going on?' Today we had a few more than five minutes. They figured it out, and they got it done. That's all that matters. I'm excited for them."
Arcadia made a late push for an equalizer. A corner kick opportunity produced two separate shots that glanced off the crossbar.
Corner kick opportunity for @SoccerArcadia came this close. pic.twitter.com/4cMYk0ydWg

— Paul Gotham (@PickinSplinters) September 13, 2019
"This is the first time we've been on grass," said Hopkins whose Sutherland squad plays on turf. "We haven't even practiced on grass. Every time we play on grass for the first time in a season, it's not pretty, and it wasn't pretty today. We know we need to get better. We worked hard and we found a way to win."
Nixon made six saves in the contest.
Taylor stopped nine shots.
Dylan Kladstrup leads Will Bowen into the open field, but Gabe Taylor is there for the save. pic.twitter.com/xnRmuLhS1d

— Paul Gotham (@PickinSplinters) September 13, 2019
Sutherland hosts Sweet Home (VI) for a 5:15 PM start on Saturday.
Arcadia travels to play at Mendon next Tuesday.