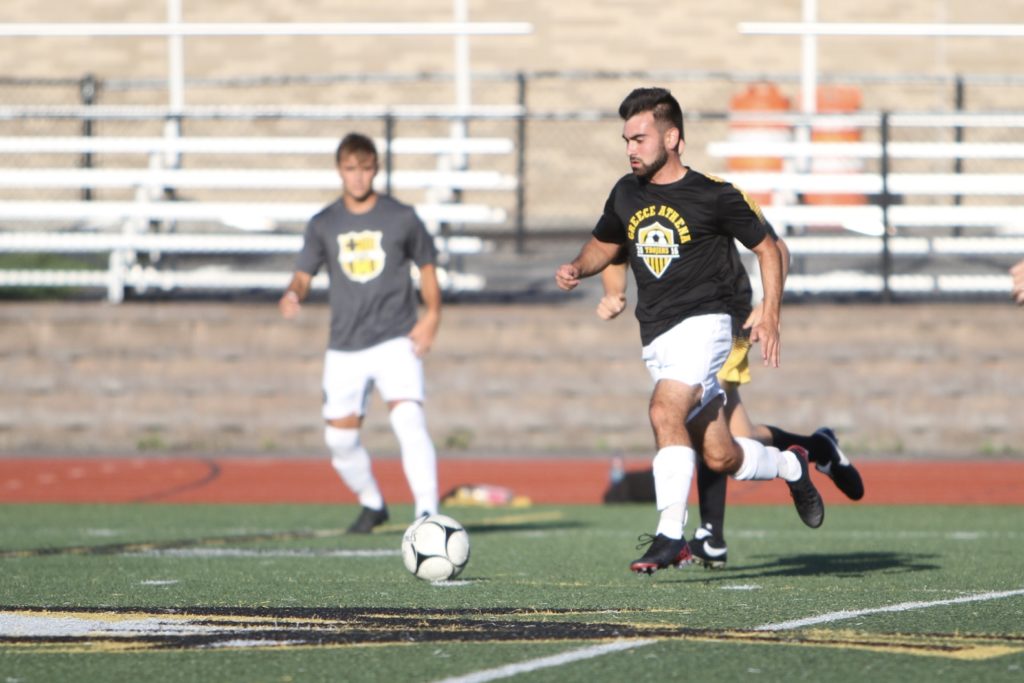 By PAUL GOTHAM
MENDON, N.Y. — Michael Tracey needed an alternative route.
Having netted the game winner in overtime, Tracey channeled his adrenaline into a celebratory jaunt.
One problem existed.
"I saw Vic (teammate Alongi) running straight at me, and I knew he was going to tackle me," Tracey said laughing. "I was trying to get away. Then I realized I had to embrace it, so I just ran back towards him."
The junior midfielder showed his skills on the pitch might transfer to gridiron as he was able to elude the grasp of his teammate.
Tracey scored less than five minutes into the first overtime, and the Greece Athena boys soccer team improved to 4-0-0 on the season with a 1-nil triumph over Monroe County Division III rival Pittsford Mendon.
"I'm feeling great right now," said Tracey who notched his first goal of the campaign.
He took advantage of a miscue in the Mendon backfield to score golden goal.
"When I saw that the ball was whiffed, I knew that the only thing I could do was hustle and get there," he explained. "If I could win it before he had the chance to recover, it's a goal every time. I just hustled and beat him there."
Michael Tracey has the golden touch. @athena_soccer stays undefeated on the season with a 1-nil win in overtime. pic.twitter.com/Tesc9ArNdI

— Paul Gotham (@PickinSplinters) September 12, 2019
For 84 minutes, the opposing defenses took the spotlight before Tracey changed that.
Billy Broikos denies Brian Piendel to take us to halftime. @athena_soccer 0 @VikingsSoccer9 0 pic.twitter.com/dbzJ14jc3n

— Paul Gotham (@PickinSplinters) September 11, 2019
Athena starting goalkeeper Zach Smith turned away a pair of early Mendon scoring opportunities including one on a breakaway. After Mendon worked for back-to-back corner kicks to open the second half, Athena was able to shift the momentum.
We've played less than 12 minutes and Zach Smith has already taken away two goal-scoring opportunities. pic.twitter.com/JfdRSoZNdF

— Paul Gotham (@PickinSplinters) September 11, 2019
It appeared Othman Belhseine would find the back of the net when the Athena attacker made a push deep inside the Mendon 18-yard box. Forced to avoid having a goal scored, Mendon starting keeper Billy Broikos grabbed Belhseine.
Broikos received a yellow card.
Milan Blaakman entered the game and promptly denied the ensuing penalty kick. The Trojans continued the pressure and Mendon defender Ean West took away an open-net opportunity.
Holy smokes! Milan Blaakman comes off the bench after starting keeper Billy Broikos is issued a yellow card. Coming in cold Blaakman stops the PK. Still scoreless @athena_soccer and @VikingsSoccer9 with 15 to go. pic.twitter.com/GmfEE8ndV3

— Paul Gotham (@PickinSplinters) September 12, 2019
Athena defender Mark Maio lunged and made a stop in the match's waning moments to send the game into overtime.
Blackman stoppped a last-second Athena corner kick.
Milan Blaakman makes another save to take us to overtime. @athena_soccer 0 @VikingsSoccer9 0 pic.twitter.com/RUzaIo4Tew

— Paul Gotham (@PickinSplinters) September 12, 2019
Tracey broke into the open along the left side of the 18-yard box and finished in the opposite side netting.
"I saw him coming out, and he left the right side completely open," Tracey said referring to the Mendon GK. "He came out guarding only the near post. I just toe-poked it right side."
Athena has outscored its opponents by a combined total of 8-0.
The Trojans host Brighton on Friday for a 4:30 PM start. Mendon plays at Brockport on the same day. A 6:30 PM kickoff is slated.