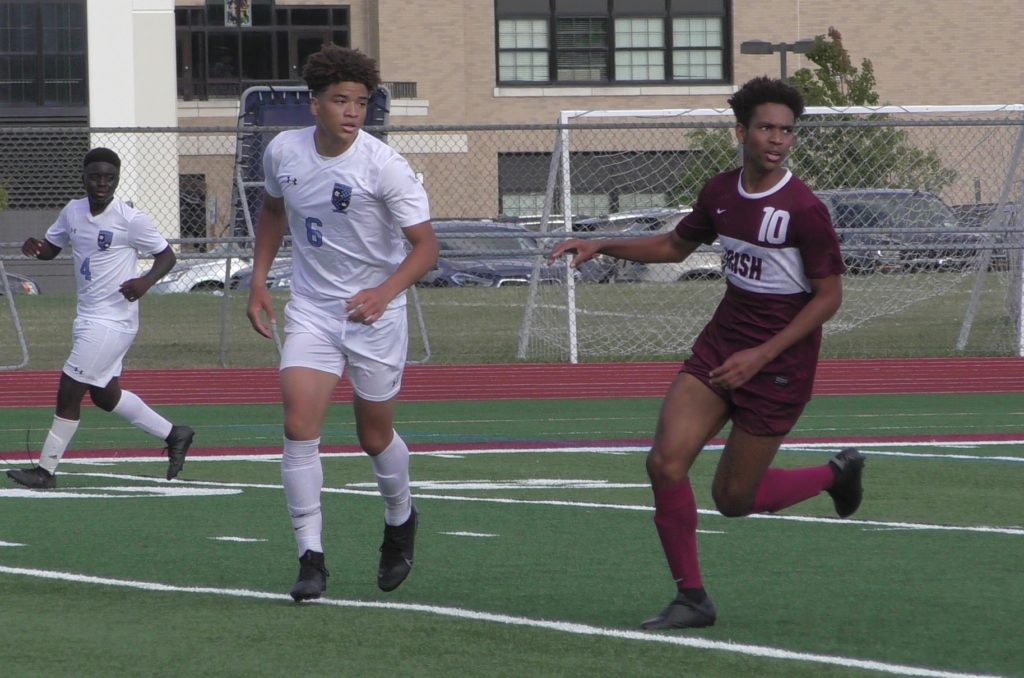 MYNDERSE 6
WATERLOO 1
Mynderse scored five times in the first half to generate a lead that could not be overcome by the winless Waterloo. Matthew Reardon opened scoring 20 seconds into the game with his first of the year. Griffin Herron doubled the score on an assist from Jake Smith who followed with one of his own to make it 3-0. 30 seconds later, Jeremy Porter added another and Herron closed out the half with his second of the night. After picking up an assist in the first, Jared Hartwell scored the only goal of the second half. Nick Jones added an assist as well.
ATTICA 2
PEMBROKE 2
In search for their first wins of the season, Attica and Pembroke ended in a 2-2 tie after 100 minutes of action. Simon Lamparelli scored both goals for Attica. Simon Rudolph and Connor Storch each had an assist.
KESHEQUA 7
MOUNT MORRIS 0
Keshequa used seven different goal scorers to capture its third win in three games to begin the season. Riley Rease opened scoring 28 minutes in and assisted on Reese Powers' goal seven minutes later. At the start of the second half, Jacob Schiano and Hunter Zangerle each scored off assists from Powers. Trey Learn, Jordon Luther and Avery Strobel increased the lead to seven with three goals in six minutes. Hunter Stephens picked up two assists and Adam Hunt earned one on the final three tallies.
AQUINAS 3
NICHOLS 0
After a scoreless first half, Aquinas found the back of the net three times for its fourth win of the season. Jon Gatti scored his first of the year on a feed from Gian Malcolm. Adam Holt made it 2-0 and Malcolm notched his eighth of the year to increase the lead one final time. Jake Dolle and Joe Clark both had assists in the game.
WILLIAMSON 4
WHEATLAND-CHILI 1
Ayden Cristales and Connor Garrod both scored and collected an assist to lead Williamson over Wheatland-Chili. Unassisted, Cristales made it 1-nil in the 10th minute and Jake Kuhl and Tyron Walker added two more late in the first. With a sizeable lead Cristales found Garrod for the team's only goal of the second half.
NORTHSTAR CHRISTIAN 9
ROCHESTER ACADEMY CHARTER 0
Jerry Miller scored twice and added three assists as Northstar Christian improved to 4-0-0. His first two assists came on Daniel Miller's and Josiah Bradley's goals to open the game. Jerry Miller followed it up with his first tally of the game, assisted by Derrick Martin. In the second half, all three first half scorers capitalized again, while Philipp Gehrig, Joshua Caporaletti and Trevor Nasso each added one of their own. Kevin Anderson and Nasso also earned assists in the match.
C.G. FINNEY 5
BISHOP KEARNEY 4
Mathew Torell doubled his goal count on the season to lead C.G. Finney over Bishop Kearney. Torell scored twice in the first half and twice, unassisted, in the second to give him eight in three games. After assisting on one of Torell's goals in the first, Matt Magliato found the back of the net on an assist from Torell. Conner Torell also had an assist in the game.
GENEVA 4
PAL-MAC 2
Mason Rusinko scored a hat trick in his third straight multi-goal performance to lead Geneva over Pal-Mac. Rye Weber earned an assist while Jordan Myer registered a goal and assist in the victory.
LETCHWORTH/WARSAW 2
HORNELL 1
Adam Grover netted the game-winning goal with 20 seconds remaining in the second overtime to hand Hornell its first loss of the season. Eric Woodworth tied the game with under four minutes to go in regulation. Nik Eustace assisted on both goals for Letchworth/Warsaw. Justin Briggs scored the lone goal on an assist from Braeden Caruso for Hornell. Hornell had shutout all four of its previous opponents heading into the game.
AVON 1
CALEDONIA-MUMFORD 0
Cam Salvati tallied his fourth of the year in the 66th minute to lead Avon to its second consecutive 1-0 victory. Goalkeeper Reverdy Clark made five saves.
HOLLEY 3
PERRY 2
Entering the second half down by two, Holley stunned Perry with three unanswered goals to steal the victory. Carson DeVinney opened scoring and Mitchell Hockey made it 2-0 before entering halftime. Ten minutes into the second, Andrew Drechsel cut the deficit in half on an assist from JJ Strathern. Caleb Wright tied the game five minutes later and Nathan Nothnagle gave Holley the lead with 15 minutes to go. KJ Biedlingmaier and Nothnagle each earned an assist.
EAST ROCHESTER 7
GANANDA 1
Chuck Domm scored twice in the first five minutes to give East Rochester a lead it never surrendered. Max Wagner had the only other tally in the first half off an assist from Russell Domm. Justin Gutierrez scored twice in the second half and assisted on a goal by Russell Domm. Ian Szemcsak scored off a pass from Chuck Domm. Russell Domm picked up two assists and Jacob Mercado finished with one. Ayden Neal scored the lone goal for Gananda.
BATH-HAVERLING 2
LIVONIA 1
Lorenzo Serafini kept Bath-Haverling's win streak alive with a goal eight minutes into overtime. Brendan Strong earned the assist on the crucial goal. Thomas Binkowski tied the game at one with his fifth tally of the year. Brady Bishop found Thomas Hayes, 10 minutes in, for Livonia's only tally of the match.
LeROY 2
WAYLAND-COHOCTON 1
Cameron Smith scored the golden goal for LeRoy as the Knights prevented a Way-Co comeback late in the game. Benjamin Herrick tallied the first goal of the game on a feed from Maveric McKenzie. Justin Schwab tied the game at one for Way-Co. Nicholas Vallese earned the assist on Smith's game-winner.
NEWARK 2
PENN YAN 0
Addison Bump and Brian Estrada both found the back of the net in the second half to boost Newark over Penn Yan. After a scoreless first half, the pair of tallies came six minutes apart, both unassisted. Sophomore goalie Cody Luther made three saves in the shutout victory.
BYRON-BERGEN/ELBA 3
KENDALL 0
Byron-Bergen/Elba scored early and late in the game to capture its second win of the season. Four minutes in, Kyle Foeller scored unassisted to give Byron the early lead. Freshman Gianni Ferrara tallied his third of the year to make it 2-0 and Sam Pringle found the back of the net with five minutes remaining in the game. Josh Swapceinski and Pringle both finished with an assist.
SODUS 3
NORTH ROSE WOLCOTT 1
Ryan DeBadts registered his second hat trick of the year in the winning effort over North Rose Wolcott. Currently second in Section V in scoring, DeBadts scored twice unassisted and was helped by Marquese Burton for his first goal of the night, five minutes in.
MARION 5
RED CREEK 0
After being shutout in its previous game by Sodus, Marion responded with five goals to collect its third win of the year. Kurtis Wurster opened scoring and Francisco Cordova tallied twice before halftime to give Marion a 3-0 lead. Drew Holahan and Cameron Miller both scored in the second half. Tyler Couperus, Michael Hamill, Colin Cahill and Miller all registered an assist in the match.
MIDLAKES/RED JACKET 4
SOUTH SENECA-ROMULUS 0