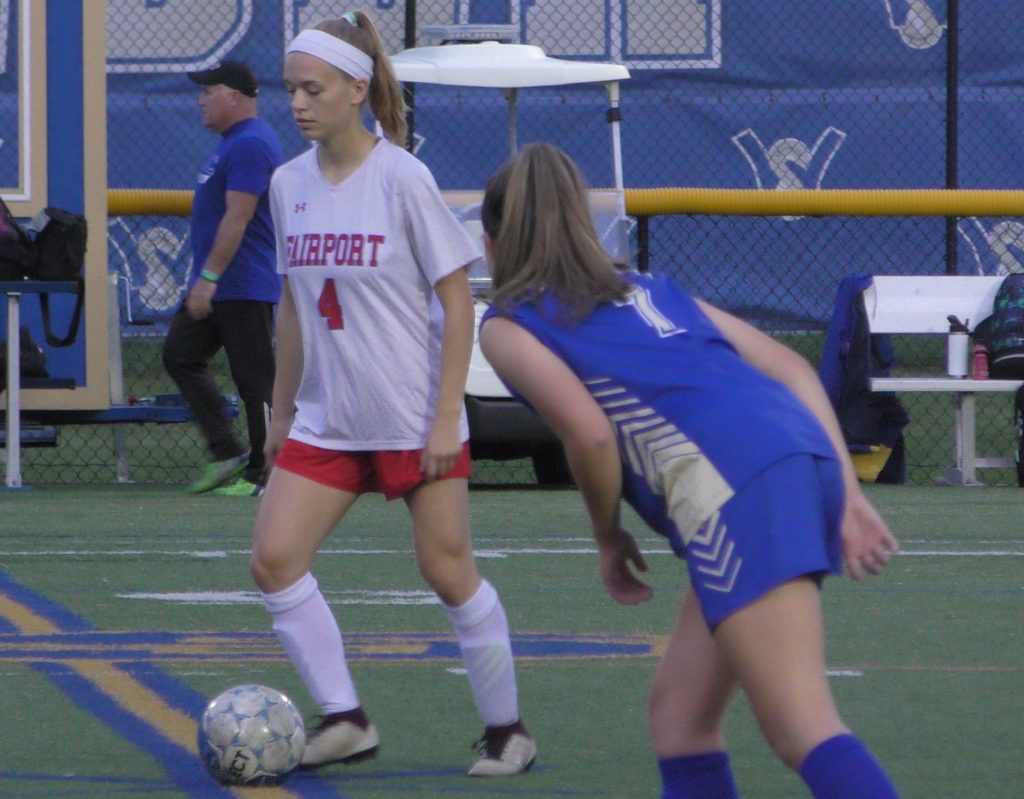 By PAUL GOTHAM
WEBSTER, N.Y. — That the outcome of the Fairport – Webster Schroeder girls' soccer match hung in the balance for the duration of Tuesday's contest comes as no surprise. The slimmest of margins has decided the head-to-head matchups between these Monroe County Division I rivals for the past three seasons.
On a night when the top four seeds from the 2018 Section V Class AA bracket went head-to-head, the Red Raiders and Warriors continued their recent trend and offered glimpses of what's to come.
"I really like playing against these guys because (Webster Schroeder head coach Brown) Kent's a great coach," Fairport's Tom Natalie said after Tuesday's scoreless draw. "You can tell his team is so well-organized. The girls buy into what they're doing. They're a well-organized, a very talented team."
Fairport came into the game with a win and a tie in two outings. Schroeder was undefeated in four games with three wins.
"Coach Hewlett just summed it up," Brown said referring to assistant coach Jim Hewlett's postgame comments to the team. "Every time we play Fairport it's usually one goal, overtime or someone scores really late. That's a typical game. They've been like that for years."
Schroeder got an early push and worked for a corner kick in the match's second minute.
"I was very happy after the first 12 minutes," Natalie commented. "They were knocking it around. We were trying to figure ourselves out. We're still figuring things out as a group. We lost some key people. We got some good, young players. I was very happy. I thought we turned it around and had a decent go at it for the rest of the game."
Schroeder nearly took advantage of a loose-ball situation in front of the Fairport net late in the first half.
Lilian Hicks responded leading the Red Raiders with a rush before halftime.
Lilian Hicks claims a 50/50 ball and makes a rush. Shot off the upright. @FCSDSports pic.twitter.com/ckVL7sd2IW

— Paul Gotham (@PickinSplinters) September 11, 2019

Both teams featured freshman goalkeepers who delivered when needed.
Fairport's Brigid Mulholland made five saves. Schroeder's Megan Fry stopped nine shots.
Fry denied Hicks late in regulation. The Fairport center back lined up a free kick from 50 yards away that looked destined to slip under the crossbar. The Schroeder keeper nudged the shot over the frame. It appeared for a moment that Fairport had scored against Schroeder for the first time since 2016. The play was ruled dead after it was determined that the ball glanced off the football crossbar and back into the field of play.
First good test of the night for @SchroederSports Fr. GK Megan Fry. She passes the test. pic.twitter.com/x7ZISXQKEb

— Paul Gotham (@PickinSplinters) September 10, 2019

"Both keepers played really well tonight," Brown said. "I thought we got in a couple times. Mulholland made some big saves. Megan saved our tail on a couple of corner kicks where she was able to get the ball kicked out or punched out. She cleaned some stuff up in the back for us.
"It's harder to find strong keepers. So when those freshman and 10th-grade kids they come along, they can be difference makers. They can get a lot of opportunity because keeper is one of those positions where you have to have the right mindset too. It's tough. If you give up a goal, you're the one standing there. On the other end, the kids who are the strikers get all the attention. Sometimes the goaltender becomes extremely important in the end."
As an eighth grader, Mulholland finished out the season in goal for Fairport a year ago when her sister, Clare – who now plays at the Air Force Academy, went down with an ACL injury.
"She's a fantastic keeper and a fantastic athlete," Natalie said. "She's grown so much since last year."
Early second-half chance for Annie Mulhall pic.twitter.com/VzP1vS2NoM

— Paul Gotham (@PickinSplinters) September 11, 2019

Both coaches kept in mind the result from one town away where Penfield hosted Hilton.
"It's funny because last year the top four teams were Hilton, Schroeder, Fairport and Penfield," Natalie stated. "Right now, all four of us are undefeated and we're all playing against each other tonight. So it was like the big one, but you can't count out the Victors and R-H. Sort of like last year, it was one of those things that whoever gets hot at the end could take it. I think it's one of those wide-open years."
The Patriots and Cadets played to a 1-1 tie. Sydney Hayward, with an assist from Autumn Edwards, gave Hilton a 1-nil lead with 13 minutes remaining in regulation. Grace Murphy leveled the match in the final minute. Hilton's Samantha Pelcher stopped 16 shots in the matchup. Abenaa Osei Baffoe made six saves for Penfield.
"Every game in the division is pretty tough. Penfield, Fairport, Schroeder, there's a pretty good rival history there," Brown said. "Every game between the schools always becomes the one-goal battles. The zero-zero battles. It helps prepare us, but again our sectional bracket is basically Division I all over again except for a couple schools tossed in."
Schroeder took both meeting with Fairport in 2018 by identical scores of 1-0. The Warriors downed Fairport in the only 2017 matchup also 1-0. The Red Raiders beat Schroeder 1-0 in 2016.
Schroeder plays at Penfield on Thursday. A 6:30 PM start is scheduled. Fairport plays at Rush-Henrietta on the same day. A 4:30 kickoff is slated.