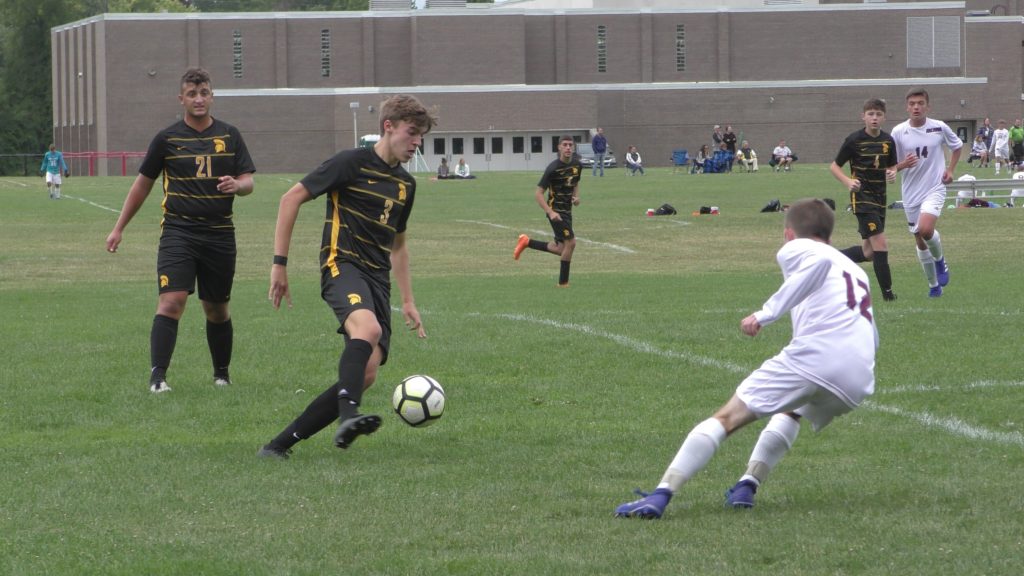 SATURDAY
BRIGHTON 1
PITTSFORD MENDON 0
With two minutes to go in a scoreless regulation, Will Kelly scored his second goal in two games to give Brighton the lead and avoid the risk of overtime. Kamer Lenio picked up the assist on the late goal and sophomore Cal Oberst made five saves to earn his second shutout of the year.
GREECE ATHENA 3
GREECE ARCADIA 0
Three different goal scorers paired with three separate assist-getters to give Greece Athena its third straight shutout win to start the season. Othman Belhseine opened scoring off an assist from Dylan Rice and Victor Alongi tallied his second of the season on a pass from Ryan Fitzgerald. In the second half, Michael Tracey found Mark Maio 18 minutes in for the team's third and final goal of the night. Belhseine's goal was the 36th of his career. The Athena senior now holds the mark as the program's all-time leading goal scorer.
IRONDEQUOIT 1
GATES-CHILI 0
After being shutout in its first two games, Emir Erkenkalken scored Irondequoit's first goal of the season 28 minutes into the match. Joshua Ludolph made two saves to preserve the small lead and give Irondequoit its first victory of 2019. Mikey Vullo earned the assist on Erkenkalken's goal.
FAIRPORT 1
VICTOR 0
Jude Rouhana scored the game's only goal in the 68th minute to give Fairport the win and Victor its first loss. Kinglsey Malcolm assisted on Rouhana's tally and goalkeeper Michael Nesser made three saves for his second clean sheet of the season.
PITTSFORD SUTHERLAND 2
BROCKPORT 0
Assisting on a goal in the first and scoring in the second, Will Bowen notched his first two points of the year to improve Pittsford Sutherland's record to 2-0. Eric Wang scored in the first and Aidan Pellegrino assisted on Bowen's goal in the second. Goalkeeper Matthew Nixon made six saves to preserve the shutout.
HILTON 2
WEBSTER SCHROEDER 0
After dropping their season opener, Alec Smith and Brett Wilkins recorded their first goals of the year to improve Hilton's record to 2-1. Senior Joshua Ranke was responsible for assisting on Smith's tally in the first and Wilkins in the second half.
SPENCERPORT 5
CHURCHVILLE-CHILI 0
Following a scoreless first half, Spencerport's offense erupted for five goals to give the Rangers its second consecutive 5-0 win. Jacob Lenhard opened the flood gates one minute into the second half off a pass from Vincent Ranieri who followed up with a goal of his own 13 minutes later. Later in the match, Gianni Pellett, Henry Hart and Lenhard combined for three goals in a seven minute span. Sujan Rajamohan, Greg Ranieri and Frants Valodzka all had assists in the game and Jadon Schlierf made eight saves for the shutout.
HONEOYE FALLS-LIMA 3
GREECE ODYSSEY 0
Hayden Smith's opening goal would have been enough to earn the win, but two additional tallies allowed Honeoye Falls Lima to seal the game with a three goal margin. John Henry Woloszuk made it 2-0 before the end of the first half and Aidan Crego piled on the final goal in the second. David Brassie picked up two assists and Chris Goetz earned one.
WEBSTER THOMAS 2
CANANDAIGUA 0
In the final match of a three-game homestretch, Zach Wolfe accounted for two goals in the first half to give Webster Thomas a 2-0-1 start to the season. Mike McNally assisted on the first goal and Isaac Buckley on the second.
RUSH HENRIETTA 0
PENFIELD 0
AQUINAS 2
WORLD OF INQUIRY SCHOOL #58 1
Aquinas senior midfielder, Joe Clark, tallied the game-winning goal on a direct kick to hand World of Inquiry School 58 its first loss of the season. Earlier in the half, Gian Malcolm scored his seventh of the year off an assist from Jon Gatti.
HONEOYE 5
EAST 0
Team scoring leader, Jack Reynolds notched two first half goals to lead Honeoye to its second win of the year. In the second half, Cameron Allison, Logan Thomas and Jake Jarosinksi all scored in within a five minute span. Jared Walden, Sam Berger and Alex Jarosinksi all had assists in the match.
KESHEQUA 3
BISHOP KEARNEY 2
After accounting for five goals in their season opener, Aidan Wood and Jacob Schiano added two goals late in the second half to lead Keshequa to its second win in as many games. Riley Rease assisted on both marks. Hunter Stephens scored Keshequa's first goal with four minutes remaining in the first half. Reese Powers also had an assist in the match.
DANSVILLE 2
LeROY 1
One of the two goals from Tyler Harris included a successful penalty kick with under three minutes remaining in regulation to give Dansville the win. Harris scored the Mustangs' first goal 10 minutes into the second half on an assist from Abram Barron. Nick Camuto made 15 saves in the winning effort.
GENESEE VALLEY 11
CUBA-RUSHFORD 0
Battling back from two tough losses, Genesee Valley's offense retaliated with an 11 goal outburst for its second win of the season. Cody Schneider led the way with three goals and an assist. Cannon Phillips, Christian Tuttle and Evan Windus each scored two while Riley Szymkowiak and Trent Scott had one apiece. William Scholes recorded three assists, Riley McKnight had two and Trevor Clark had one in the blowout victory.
HOUGHTON 6
LIMA CHRISTIAN 0
Senior Ayo Banwo picked up a goal and four assists in Houghton's first win of the year. Gennaro Pico and Duy Le each scored off feeds from Banwo while Levi Chamberlain scored twice off his touches. Dikko Dikko scored an unassisted goal to begin a four-goal-second-half.
HORNELL 5
HOLLAND 0
Hornell's Chase Freeland and Justin Briggs combined for six points in the second half to combat a scoreless first, giving Hornell its fourth win in as many games. Freeland and Briggs each picked up a goal and two assists. Ian Ashworth accounted for two tallies and Connor O'Rourke had one off an assist from Wyatt Argentieri. Senior goalkeeper Tanner Stutzman collected his fourth shutout of the season, only needing to make three saves in the appearance.
NORTH ROSE-WOLCOTT 4
RED CREEK 2
Caleb Murray scored twice in the first half to lead North Rose-Wolcott to its first win of the season. Mitchel Irish scored once in the first and once in the second for Red Creek, but goals from Jacob Minier and Nikos Soklaropoulas kept the Cougars ahead. Ritchie Williams also picked up an assist for Red Creek.
SCIO 1
BOLIVAR-RICHBURG 0
Elia Travaini scored the games' only goal on a pass from Cam Loucks. Cory Bolzan was forced to make three saves to hold Scio's lead for the eventual victory.
BYRON-BERGEN/ELBA 1
ALBION 1
Kyle Foeller scored in the third minute of the game to give Byron-Bergen/Elba the early lead. Josh Swapceinski earned the assist on Foeller's tally and goalkeeper Nick Baubie made eight saves through 100 minutes of action.
LETCHWORTH/WARSAW 1
PERRY 0
Nick Thompson scored the lone goal for Letchworth/Warsaw in the 60th minute. Mike Schafer earned the assist on the play.
FRIDAY
EASTRIDGE 3
SOTA/NE DOUGLASS 0
Three different players scored a goal apiece and Eastridge improved to 2-0-0 on the season. Taje Cassevoy gave the Lancers a 1-nil lead at halftime with an assist from Dylan Hanley. Stirling Delves and Lorenzo Cooper both added second-half tallies. Henry Keenan and Alex Wood collected an assist apiece.
EAST 3
BYRON-BERGEN/ELBA 7
Sam Pringle scored three goals, and Gianni Ferrara added a pair of tallies to lead Byron-Bergen/Elba. Rick Hubbard scored an unassisted marker to give the victors a 3-1 lead at halftime. Jerrod Amesbury also scored. Kyle Foeller had two assists. Josh Swapceinski, Andrew Hare, Matt Zwerka and Austin Hunt each had an assist for Byron-Bergen/Elba. Ben Ali Mfaume led East with a penalty kick conversion and an assist. Glodi Mata and Raymond Lopez also scored a goal apiece.
ROCHESTER ACADEMY CHARTER 0
WHEATLAND-CHILI 8
Brian Napier collected three assists while Gabriel Rosado and John Lynch both scored twice to lead Wheatland-Chili to its first win of the season. Tieshawn Walker, Jake Elliott, Zach Miles and Troy Smith each scored in the first half to pace Wheatland-Chili to a 5-nil lead after 40 minutes. Elliott and Walker both had an assist as did William Gocher and Joey Sutherland.
NORTHSTAR CHRISTIAN 3
C.G. FINNEY 2
Joe Hinds scored twice and Joshua Caporalettie added a goal to lead Northstar. Kevin Anderson and Josiah Bradley both had an assist. James Sidorishin and Mathew Torell scored for Finney. Conner Torrell assisted on Sidorishin's goal.
MIDLAKES/RED JACKET 1
PENN YAN 4
Brigham Hansen netted a hat trick all in the first half and added an assist to pace the Mustangs. Nicholas Jarecke scored the other Penn Yan goal and had an assist. Zackary Townley and Bryan Smith both had an assist.
RED CREEK 3
PEMBROKE 1
Pietro Ambrosini, Ritchie Williams and Keith Vivlamore had a goal apiece in the win. Brendan Curtis added an assist. Adam Dulski scored Pembroke's goal with an assist from Steven Drozdiel.
HONEOYE 2
ALBION 2
Albio won the game on PKs 4-1.
NAPLES 1
WAYLAND-COHOCTON 2
ALFRED-ALMOND 3
WELLSVILLE 1
Dylan Coots scored twice and Gavin Dwyer added a tally in the win.
JASPER-TROUPSBURG 0
ADDISON 3
PRATTSBURGH 7
HAMMONDSPORT 1
Mason Putnam posted four goals and an assist for the Vikings. Chris Lively, Jerimiah Hubbard and Kris Johnson had a goal apiece.
ARKPORT/CANASERAGA 1
CANSITEO-GREENWOOD 4
AVOCA 5
CAMPBELL-SAVONA 1
Devin Stowe finished with three goals and two assists in the win. Caleb Polmateeer and Cameron Giglio added a tally apiece. Seth Lathrop had an assist.