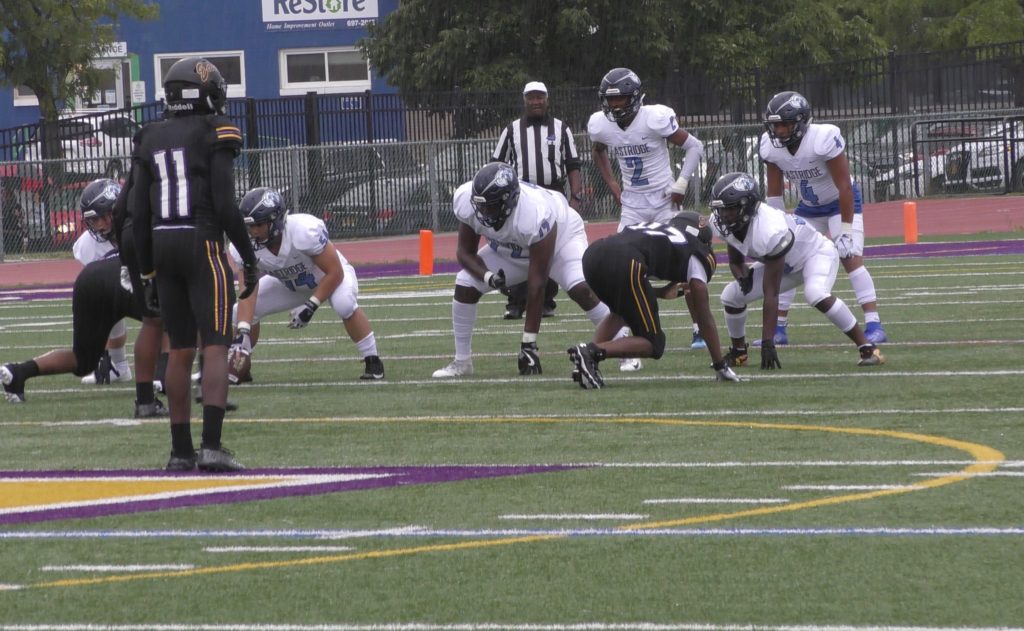 By CHUCKIE MAGGIO
ROCHESTER, N.Y. — When the biggest news of the young Section V football season blitzed social media mere hours before kickoff, Jalen Rose Hannah unlocked his phone and sent a directive to the Eastridge group chat.
"I was like 'Hey, it doesn't matter who's playing. We need to worry about us and what we need to do in this game.'"
Hannah ensured his words matched his text bubbles, rushing for 98 yards and three touchdowns to power the Lancers to a 26-21 victory at East high school on Friday night. All Eagles star running back Seven McGee could do was watch from the sidelines.
Section V ruled McGee, a University of Oregon commit who Rivals rated as the No. 2 back in the Class of 2021, ineligible for his junior season on Thursday based on New York State Public High School Athletic Association transfer rules. McGee transferred to and from Narbonne High School, where he did not play any sports, which Section V determined as a violation. While East plans to appeal the decision, McGee was in sweatpants and slides for the season opener.
Eastridge had the dominant ground game in McGee's absence, rushing for 252 of its 276 yards. Hannah, Aquinas transfer Ruben Torres (12 rushes, 78 yards) and senior Matthew Brantley (10 rushes, 46 yards) played smashmouth offense as the Lancers deviated from a spread offense to a tight double wing formation. Quarterback Sher'Ron Davis attempted nine scrambles of his own, posting 36 yards and only throwing 11 pass attempts while the Lancers moved the chains.
"We mixed up our blocking schemes a little bit, so we put in a gameplan, and it's probably my fault that we put it in on Monday," Lancers coach Jasson Jobson acknowledged. "We only had three days to practice it and it wasn't working. So we went to what we knew and we made some adjustments with our tight offense. And we ran behind the big guys, No. 74, (Austin) Shaffer."
"I love playing that style," Torres added. "The four or five yards, that's what matters most to me. Because you do that with two carries, that's a first down. So I told them, whenever we need the little inches, I've got it."
Hannah's first touchdown, an 11-yard score, ended a 16 minute and 30 second scoreless spell. After a first quarter that saw both teams commit turnovers on their own side of the field (a Davis interception that was tipped at the line, a fumble by UMass commit Freddie Brock), the Lancers pieced together a six-play, 47-yard drive to draw first blood.
The Eagles had their chances in the first half, the best being a would-be 34-yard haul by Justus Ross-Simmons at the one yard line that was ruled incomplete after Ross-Simmons couldn't get a foot down. Davis provided the tight coverage for the Lancers.
Tony Arnold was a defensive standout for Eastridge, recovering a fumbled East punt in the second quarter and intercepting a tipped pass at the one-yard line to preserve the first-half shutout.
East made a quarterback change at halftime, transitioning from Levi Wright Jr. to Anthony Gilbert. The move helped keep the Eagles in the game, as Gilbert tossed two touchdowns and connected with Mike Maxwell on a 72-yard catch-and-run to set up a Brock run for the third. Gilbert completed six passes for 135 yards, while Maxwell corralled three receptions for 95 yards.
The Eagles' rally fell short, however, when Eastridge recovered an onside kick attempt with under a minute left to secure the 26-21 win. As Jobson high-fived his players after the game, his message was simple: it wasn't always pretty, but they got the win.
"It seemed like we controlled the game," Jobson said. "Listen, I give (East) credit. They didn't quit, they kept fighting. But we won the game we don't normally win. We went to tight offense and we pounded the ball and we went four yards, five yards, four yards, five yards… and we wore them out. I thought a couple of their touchdowns that they had, we had great defense. They just made great plays… their players made a great play. We knew they had players. But I'm proud of my guys, that we were able to win a different way than we're used to. We lined up and we freaking pounded the ball. They put seven, eight, nine guys up front. All we did was ask for four yards at a time."
East collected just 53 rushing yards. Brock, a UMass commit, lost 12 yards total despite the touchdown run. It was a far cry from 2018's opener, when McGee recorded more than 140 yards of offense and scored each time he touched the ball as East routed Penfield.
Jobson empathized with McGee, saying he hopes the young talent is able to return to the field soon. McGee was understandably impatient on the sideline, motivating his teammates and even drawing an unsportsmanlike conduct penalty on Eastridge after a sideline scuffle with Davis. The high school All-American may be under suspension, but he still makes his influence felt on the Eagles sideline.
"There's always rumors; I heard from one parent of mine… I didn't believe it," Jobson recalled. "It was actually bad timing for it to come out today. I feel bad for him; that's awful that he gets told today that his appeal didn't win. I hope when they appeal in the state that it'll get approved… All I know is that Eastridge, when that came out it was big news. Every news outlet had that story on, so it was a huge distraction. We had players running around, 'Hey, Seven's not playing, Seven's not playing.' I would have rather found out when I came here… everyone went wild."