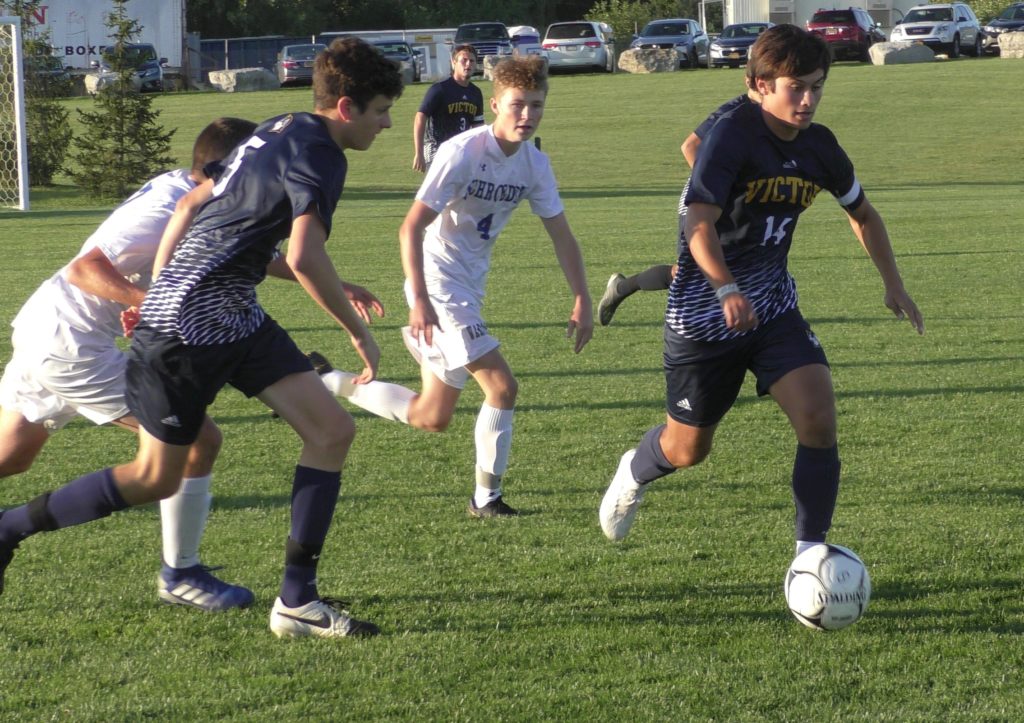 By PAUL GOTHAM
VICTOR, N.Y. — The Victor boys' soccer team didn't require any halftime tactical adjustments Thursday evening. They needed to reach inside themselves to find more. The Blue Devils found what they wanted in the second half.
Justin Graham scored three goals including a pair of second-half strikes during a four-minute flurry of offense, and Victor improved to 3-0 on the young season with a 4-1 win over Webster Schroeder in Monroe County Division I action.
"It feels great, a lot of teamwork," Graham said after the win. "They were simple goals. They all count just the same, getting the ball and putting it where it needs to go."
Leading 1-nil at halftime, Graham found the back of the net in the 58th minute to double the advantage. Less than two minutes later, the senior attacker connected again. Teammate Max Fiorica set up both goals.
Justin Graham works the sideline for a cross to Max Fiorica. Ethan Ellis gets a couple fingers on the shot and sends it over the bar. pic.twitter.com/u5LavYWp4N

— Paul Gotham (@PickinSplinters) September 5, 2019

"Max assisted all three of my goals tonight," Graham added. "He's feeding 'em to me, and I'm just doing my job, putting 'em in and doing what I can for this team."
Felice Rucci put the game out of reach in the 62nd minute when gathered a Graham cross and tucked a shot under the cross bar from 18 yards out.
"We talked about energy," Victor head coach Steve Fish said of the halftime discussion. " We just didn't have the energy in the first half. We stayed with our 4-5-1 and that triangle in the middle. We had guys that we just expect a little more energy out of and they showed it in the second half.
Felice Rucci sneaks one under the bar to give @VictorBLDevils BSOC a 4-0 lead. Justin Graham picks up an assist on the play. Graham has three goals to go with the helper. pic.twitter.com/6B91Vl3BVx

— Paul Gotham (@PickinSplinters) September 6, 2019

"Movement without the ball that was the key. Guys slashed into position and buried their opportunities late."
Finishing with a 3-13-1 record a season ago, Victor's defense has limited opponents to one goal in the first three games. Meanwhile the offense is shouldering its responsibility with 10 tallies this year.
"That's a brand-new back four," Fish said of his defense which includes center backs Alex Newton and Tristan Sulecki. "These guys have stepped up. How they've come together, playing together and staying tight and connected as a unit has been phenomenal."
Senior Caleb Crouch-Pickup has made 14 saves without allowing a goal in 215 minutes played between the pipes thus far.
"He's grown; he's bigger," Fish said of his goalkeeper. "Most importantly, his confidence has grown. You can see it this year. Last year when he got his minutes, he didn't look nearly as confident as he is now."
Fiorica and Graham have combined to score eight of Victor's 10 goals.
"We're all connected," said Fiorica who has three goals and five assists in the three matches. "We're all family, and we're all doing it for each other. We've all been playing together since we were so young. We're all best friends."
Sophomore Tristan Gilbert comes this close to making it a two-goal lead. pic.twitter.com/sPE27nnAIu

— Paul Gotham (@PickinSplinters) September 5, 2019

Wayne Ebling tallied Schroeder's lone marker in the 72nd minute. Nick Bartosiewicz assisted on the play.
Graham scored in the 15th minute to give Victor a lead it did not surrender.
Victor travels to Fairport (1-1-1/0-1-0) for another divisional matchup on Saturday.
Schroeder (0-2-0/0-1-0) hosts reigning divisional champ Hilton (1-1-0/1-0-0) on Saturday.