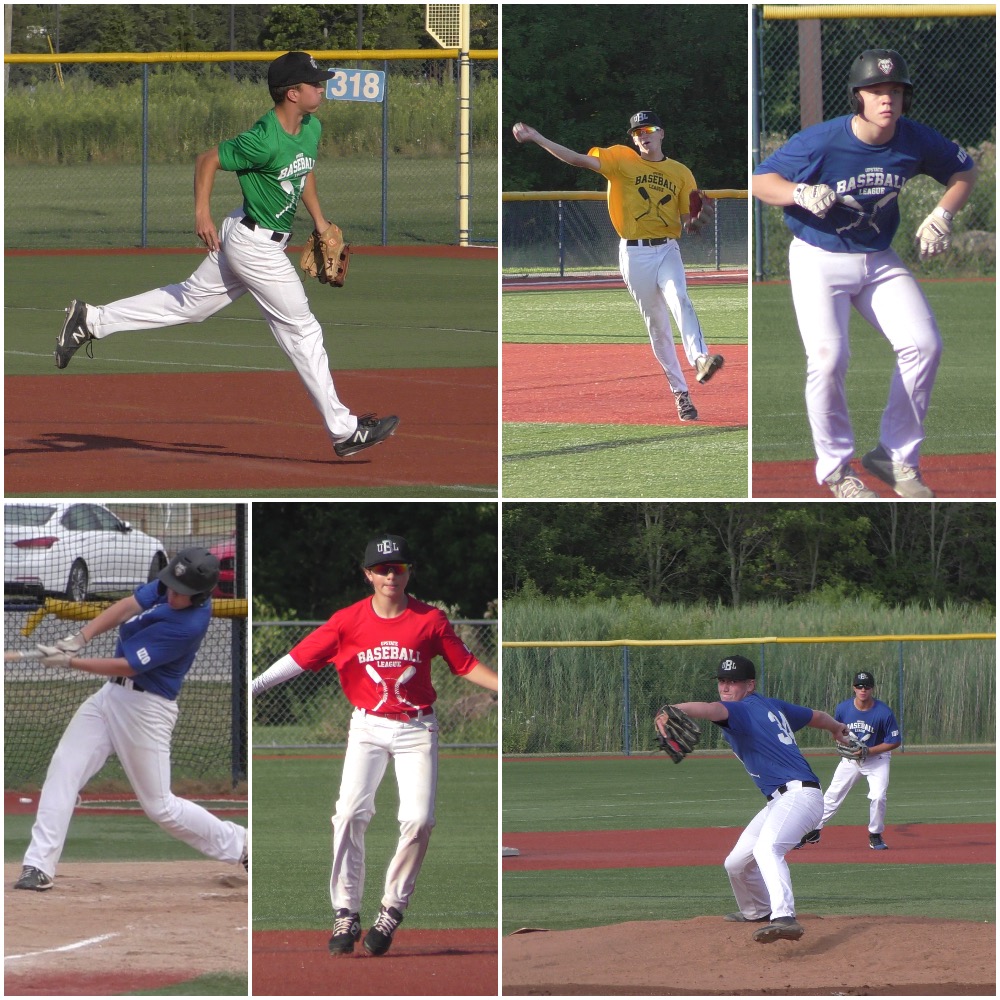 By PAUL GOTHAM
ROCHESTER, N.Y. — Dan Tirabassi (Rush-Henrietta) earned 2019 Upstate Baseball League DI Most Valuable Player. Chris Sleeper (Rush-Henrietta) was named DI Pitcher of the Year while Korey Canton (Greece Odyssey) grabbed the DI Gold Glove award. Tommy Derleth (Fairport) garnered DII MVP while Zach Merlo (Fairport) and Jackson Rucker (Fairport) rounded out the individual awards announced by the league.
Tirabassi led DI Green hitting .600 on the season. He finished with a league-high seven extra-base hits including a 3-for-3 night when he collected two triples and a double. Tirabassi also played three innings at first, 24 at third and another 26 at shortstop – making difficult plays look routine on a nightly basis.
Dan Tirabassi is for 3-for-3 on the night with two triples and a double. pic.twitter.com/Y4KQZ2CTiV

— Paul Gotham (@PickinSplinters) August 16, 2019

Sleeper threw just seven innings during the regular season for DI Blue, but the right-hander made his mark striking out 15 batters without allowing a hit. His time on the mound was limited because he missed one weekend to attend the Prep Baseball Report Futures Event in Georgia where he earned himself scholarship opportunities from both Elon and Rutgers University.
Chris Sleeper toes the slab for DI Blue. pic.twitter.com/XTQlPOina7

— Paul Gotham (@PickinSplinters) August 21, 2019

Canton logged 50 innings at shortstop during the three-week UBL season . Making plays in the hole between third and short, taking away hits up the middle, routinely charging balls and turning double plays, the three-year UBL veteran provided nightly highlights on the diamond.
Shot off the bat of Paul Sofinski. Joey Alphonse to Korey Canton to Ed Hall. 4-6-3 GDP. pic.twitter.com/mCzgUbcOWg

— Paul Gotham (@PickinSplinters) August 20, 2019

Derleth finished with league-highs of a .667 batting average as well as 10 RBI and two home runs. He did this while playing 14 innings at third base and another 11 at catcher and committing just one error during the time spent at those positions.
Tommy Derleth caps a 3-run rally with a 2-out single. FINAL: DII Blue 11 DII Red 10 pic.twitter.com/sYtvPjJTfp

— Paul Gotham (@PickinSplinters) August 21, 2019

Merlo made three appearances and hurled seven innings for DII Red. The righthander struck out 13 and walked three while allowing just three hits to earn DII Pitcher of the Year.  Opposing batters hit just .120 against him and he had a WHIP (walk + hits per inning) .86.
.@ubl_baseball – DII Blue vs. DII Red: Zach Merlo strikes out a pair in a clean 6th. 6 full: Blue lead Red 2-0. @PickinSplinters pic.twitter.com/fEZs45CqaM

— John Mitchell Likanje Junior (@jml5798) August 8, 2019

Rucker played 31 innings at shortstop and finished the season without an error making 11 put outs and 12 assists to grab DII Gold Glove.
Smooth like butter: Preston Foryt to Jackson Rucker to Kenyon Mahoney. 4-6-3 GDP. pic.twitter.com/GzSCGgpNcl

— Paul Gotham (@PickinSplinters) August 20, 2019