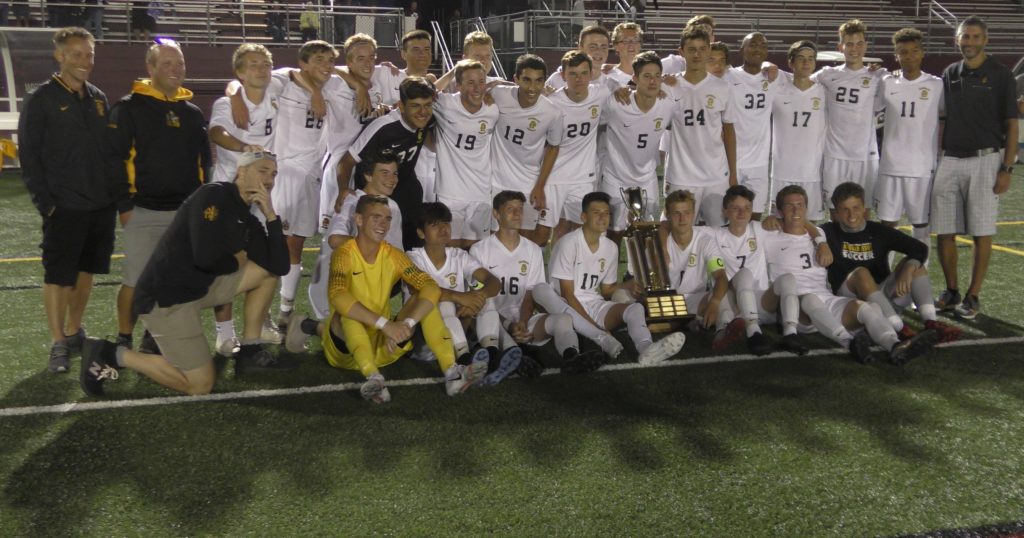 By PAUL GOTHAM
ROCHESTER, N.Y. – Senior Brad Talsania collected two goals and an assist, and the McQuaid Jesuit Knights downed host Aquinas, 6-1 to claim the 2019 Catholic Cup.
Talsania connected from 30 yards less than two minutes into the match. The midfielder set up Elliott Aguirre two minutes later and McQuaid was off to a commanding lead.
"We knew if we scored early, we'd put them down," Talsania said of the mindset coming out of the locker room.
Andrew O'Hern made it a 3-0 game with an assist from Ryan Brown before Aquinas put its first marker on the board.
Brad Talsania strikes from 35 yards out. 37 to go: @McQuaidJesuit 5 Aquinas 1 pic.twitter.com/T70wsPWvbS

— Paul Gotham (@PickinSplinters) August 31, 2019

Zach Smith led Devon Allen for a 4-1 McQuaid advantage heading into halftime.
Talsania wasted little time finding the back of the net three minutes into the second stanza. This time he struck from 40 yards out.
"Over the summer, me and our goalie Carter Duncan we went to Brighton High School and shot," he explained. "I've been working on that, so it came natural. They gave me the space, so I just hit the ball."
Collin Bavabidila added the sixth McQuaid (2-0) tally.
Adam Holt scored the lone Aquinas (1-1) goal.
The same two teams will meet at McQuaid on October 12th.