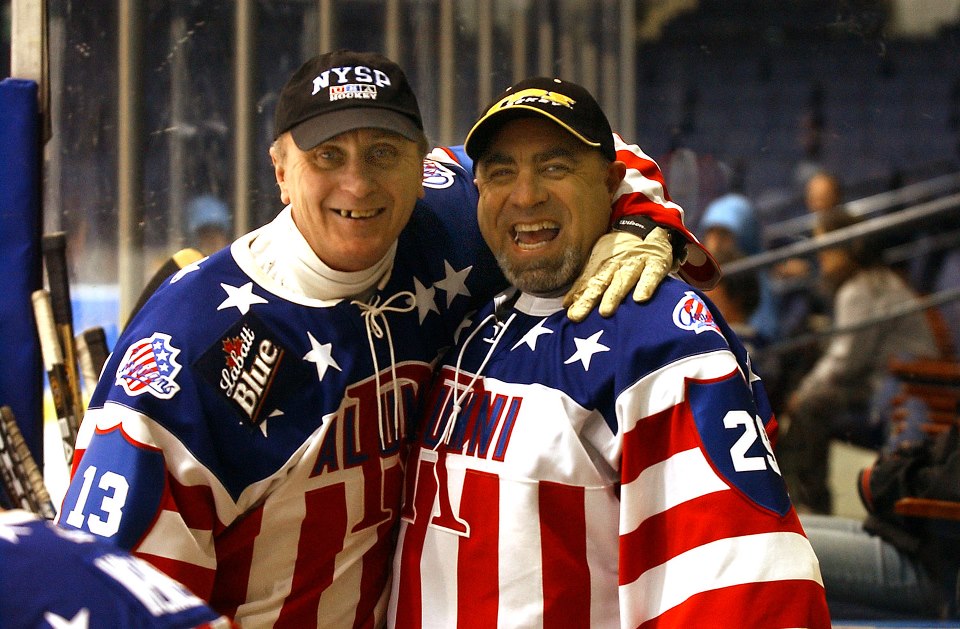 By KEVIN OKLOBZIJA
If you played with Jim Pettie, then you had a friend and teammate for life.
If you played against him, well, he definitely wasn't your friend on the ice.
Pettie had a love for hockey, a staunch belief in team and an unparalleled zest for life, longtime friends and former Rochester Americans teammates say.
"This was a man who could live life," said Scott Metcalfe, who got to know Pettie through the Amerks Alumni Association and later worked with him at Johnson & Johnson. "He led with his chin in life."
Mr. Pettie, a goaltender who played three of his eight professional seasons with the Amerks, died Saturday morning in Rochester after a battle with cancer. He was 65.
"He was the truest, most loyal friend/teammate you could have," said Steve Langdon, who played hockey against Mr. Pettie during their youth hockey days in the Toronto area and became his teammate for three years in Rochester.
"And then we end up living within a mile of each other for all these years in Greece," Langdon said.
Mr. Pettie, like so many former Amerks, made Rochester his home during his playing days and never left, spending four decades here. He was a regular participant in Amerk Alumni events, and when his ailing knees made it impossible for him to play, he still was part of the show.
"He was very active in the alumni Veterans Learn to Skate Oasis program," Langdon said. "He really enjoyed the personal interaction with the vets."
Pettie also helped Langdon coach a squirt hockey team in Rochester Youth Hockey, when Langdon's son was on the team. Also on the team: Brian Gionta, who went on to play more than 1,000 games during 17 NHL seasons.
Mr. Pettie played in 21 NHL games for the Boston Bruins, posting a 9-7-2 record with a 3.68 goals-against average.
As a goalie, Mr. Pettie was rambunctious and combative. In 1975-76, he amassed 145 minutes in penalties for the Dayton Gems of the International Hockey League. That was the fifth-highest total on the team, and he was the goalie.
"I would say he was probably the toughest goalie to ever play the game," Langdon said.
Said Daryl Drader, another of Mr. Pettie's former Amerk teammates: "If you didn't play with him, you probably wouldn't like him very well. He was tough to play against."
Known as "Seaweed" because of his long, tangled, tentacled hair, Mr. Pettie definitely fit the unique category. He was carefree and he had his own style of humor.
"I remember we were at Lakeshore (Hockey Arena) one day and 'Weed' was holding court in the dressing room," Metcalfe said. "He was telling stories about his days with the Bruins. He was stand-up comedian and motivational speaker all in one. And there were 40 guys in rapt silence, learning about their heroes with the Bruins."
One of the stories Mr. Pettie told that day: Several Bruins players were on vacation. Bobby Schmautz, wearing a full suit, walked up onto the diving board and stood above the pool. His friends dared him to jump in, betting $100 he wouldn't do it.
"I'll take that bet," Schmautz shouted, before diving in.
He was wearing Mr. Pettie's suit.
"He absolutely loved hockey," Metcalfe said, "but when hockey was done, he moved on quickly. People would say, 'I remember you when you played for the Amerks,' and he'd say, 'That's in the past. I'm just Jim.' "
Just Jim, who would do anything for a friend and teammate, Langdon said.
In 1977-78, Drader and Gary Carr were called up from Dayton by the Amerks.
"Here I am, in a strange city, and right after practice Jim invites myself and Carr to his house for dinner," Drader said. "He wanted us to be part of the team, to be welcomed. That's who he was. He was a different personality but he had the best heart."
And he made the most of life. "He had a good time for the time he was here," Drader said.
Mr. Pettie is survived by his daughter, Kara, and two granddaughers, Madeline and Lillian.
"His daughter said it was fitting that he passed today," Langdon said. "Today is the 31st and he wore No. 31."