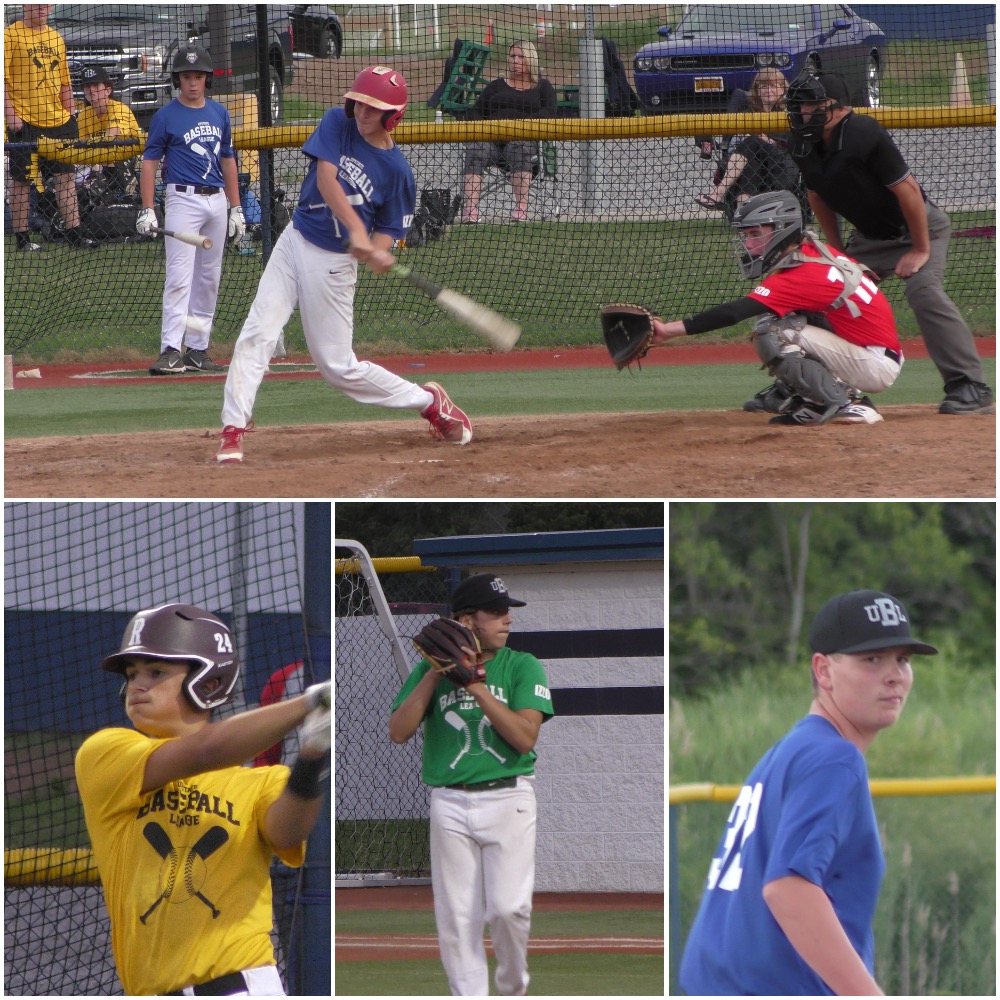 DII BLUE 9
DII RED 4
Tommy Derleth (Fairport)  capped a 4-for-4 day with a bases-clearing triple in the seventh inning as DII Blue (4-1-1) won its third straight game. Derleth added an RBI single in the third and finished with four RBI and a run scored.
Bases-clearing triple from Tommy Derleth highlights a 7-run seventh to give DII Blue a 9-1 lead heading to the bottom of the seventh. pic.twitter.com/9YKCLR6fNs

— Paul Gotham (@PickinSplinters) August 15, 2019

Clinging to a 2-1 lead heading into the last last inning, AJ DeBalso (Canandaigua), Weston Elkovitch and Drew Wilson (Brockport) opened the frame with a back-to-back-to-back singles. DeBalso scored on a wild pitch, and Ryan Zaft (Webster Schroeder) brought in two runs with a sacrifice fly. Derleth put the game out of reach four batters later. Blue sent 11 to the plate in what proved to be the decisive inning.
Ryan Zaft unloads from left to double off the runner at the plate for the third out of the fourth. DII Blue DII Red 0 pic.twitter.com/DSSHWc68Le

— Paul Gotham (@PickinSplinters) August 15, 2019

Blue took a 1-0 lead in the first when Chuck Sobaszek (Rush-Henrietta) led with a single and eventually scored on a Derleth base hit. Derleth's third inning RBI single made it a 2-0 advantage.
With runners on first and second, Zach Prior goes to the turf to take away a sinking line drive off the bat of Antonio Jorge. Mid 6: DII Blue 2 DII Red 1 pic.twitter.com/gmy8GWPlYP

— Paul Gotham (@PickinSplinters) August 15, 2019

The deficit was cut in half in the fifth when Joseph Barbato drove in Kenyon Maloney (Canandaigua) on a fielder's choice for DII Red.
Zach Prior highlighted a three-run bottom of the seventh for Red with his first home run of the season. Mark Veerkamp (Webster Schroeder) singled to start the stanza, and Prior followed with a two-run inside-the-park blast. Kenyon Mahoney (Canandaigua) walked and eventually scored on a wild pitch.
Zach Prior finds a gap and touches 'em all. pic.twitter.com/e6aWx5wGKq

— Paul Gotham (@PickinSplinters) August 15, 2019

Prior raised his batting average on the season to .353.Brian Nassivera (Greece Arcadia) and Parker Drees (Greece Arcadia) also collected hits for DII Red.
Blue's Merlo and Wyatt Roselli (Victor) combined to throw five no-hit innings to open the game. Merlo walked the first batter then recovered to strike out the last five he faced. The right-hander set down six on strikes and walked a pair. He also hit a batter. Roselli worked around an errokept the no-hitter alive with two solid innings. He walked the first two batters of the fifth inning and allowed a run but was able to keep everything else in check.
Zach Merlo needs 10 pitches to strike out the side in the third. Going to the 4th: DII Blue 2 DII Red 0 pic.twitter.com/HBxfwKuVRW

— Paul Gotham (@PickinSplinters) August 15, 2019

Roselli was 2-for-2 at the plate with two walks. Blue finished with 12 hits.
Red's Preston Foryt (McQuaid) struck out one over three shutout innings of relief. After surrendering a single and a walk to the first two batters he faced, the right-hander retired the next seven batters he faced.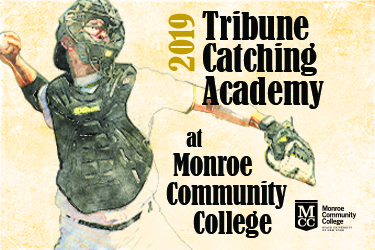 D1 GREEN 6
D1 GOLD 14
Three batters finished with two hits apiece as DI Gold won for the second time in three games. Jett Kopalek (Rush-Henrietta) drove in a pair of runs during a five-run first inning when Gold sent 10 to the plate to take a lead it did not surrender.
Trailing 3-0 after a half inning of play, Korey Canton (Greece Odyssey) reached on a hit by pitch to start the frame. Joe Alphonse (Greece Olympia) singled. One out later, Kaden Helmer (Victor) brought home the first run of the inning with an RBI groundout.  Kopalek later plated Calvin Rogers and Ryan Merkov.
Canton and Helmer drove in a run apiece in the second when Gold tacked on four more for a commanding 9-3 lead.
Kaden Helmer's run-scoring single is part of 4-run second. DI Gold 9 DI Green 3 pic.twitter.com/MrElpfDygX

— Paul Gotham (@PickinSplinters) August 16, 2019

Helmer hurled four innings to pick up the win. After allowing three runs in the first inning, the right-hander settled in and retired seven straight including striking out the side in order in the second.
Canton finished 2-for-2 with an RBI and three runs scored. Alphonse went 2-for-4 with three RBI including a two-run double to highlight a five-run fifth. Alphonse also scored two runs. Helmer was 2-for-3 with two RBI and two runs scored.
Joey Alphonse bloops a double inside the right field line and scores 2. DI Gold leads 11-5 with no outs in the 4th. pic.twitter.com/GOfzDPIu5s

— Paul Gotham (@PickinSplinters) August 16, 2019

DI Green's Daniel Tiarabassi (Rush-Henrietta) finished 3-for-3 on the night with two triples, a double, two RBI and two runs scored.
Dan Tirabassi is for 3-for-3 on the night with two triples and a double. pic.twitter.com/Y4KQZ2CTiV

— Paul Gotham (@PickinSplinters) August 16, 2019

Tirabassi plated Devin Cannon (Spencerport) in the first for the early 3-0 advantage. He tripled again in the fourth and doubled in his last at bat. CJ Wiest (Brockport) went 2-for-2 with a walk and two RBI. Cannon struck out three over two scoreless innings of relief.