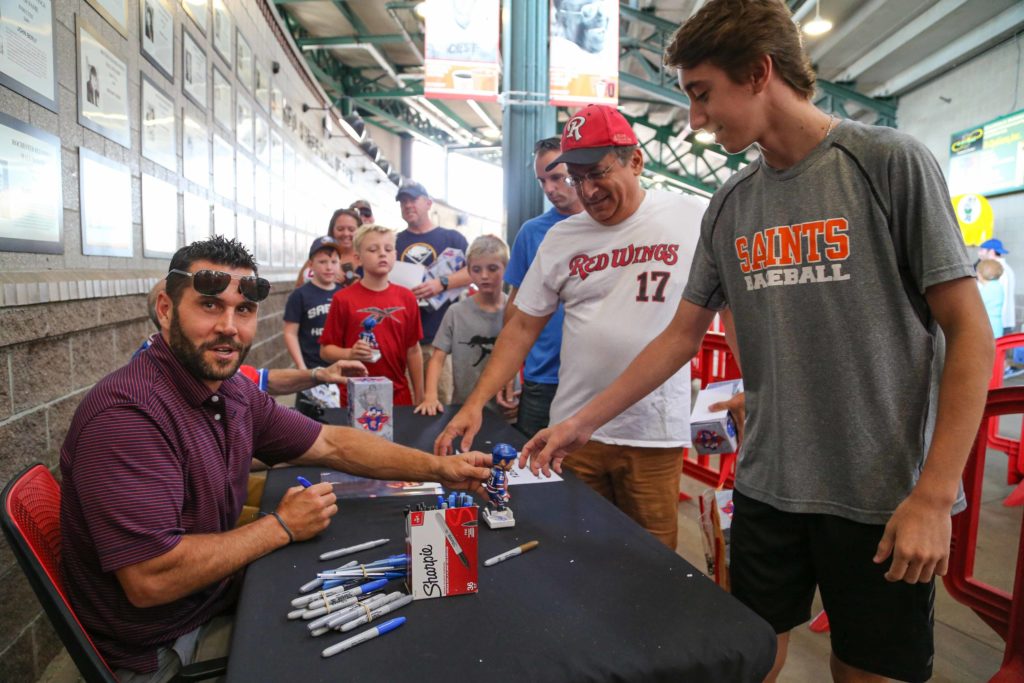 By KEVIN OKLOBZIJA
When fans filed into Frontier Field on Sunday afternoon — aka, Hockey Day — bobbleheads of Brian Gionta were handed out to the first 2,000 fans.
The Rochester Red Wings, or some iteration, have been playing baseball continuously since 1899, but they like their hockey, too.
Harvest Gionta, Brian's wife, was among the first few hundred fans to enter the stadium, and when she handed the attendant her ticket, she was offered a souvenir of Rochester's most famous hockey player.
No thanks, she said.
"My own wife didn't want one," Gionta said with a big smile. "I'm not sure what that means."
The 40-year-old Gionta was the headliner on the inaugural Hockey Day, when the annual Walk of Fame induction ceremony provided a perfect accompaniment. Rochester Institute of Technology men's coach Wayne Wilson and the women's 2012 NCAA Division III national championship team were among the inductees.
Gionta is preparing for Year 2 of retirement. His farewell to his playing career came in 2017-18, when he played his one and only game with the Rochester Americans during his pre-Olympic tune-up, represented the United States at the PyeongChang Winter Games, then closed the season — and his life on the ice — with the Boston Bruins.
Over 17 pro seasons, he played 1,026 games and produced 291 goals, 304 assists and 595 points. He hoisted the Stanley Cup with the New Jersey Devils in 2003 and wore the "C" as captain for both the Montreal Canadiens and Buffalo Sabres.
Now he's just Mr. Gionta to youth soccer, hockey and baseball players, and will be filling a player development role with the Sabres again.
"I miss playing but I don't miss the grind," he said after his autograph session and perfect ceremonial first pitch.
The best part about retirement: He gets to see his kids (Adam, 14; Leah, 11; James 7) grow up. He can watch their games, and help out coaching too.
"Instead of maybe making two or three games a year, I can be around all the time," he said. "It goes by fast. The next thing you know, we'll be looking at colleges."
The school year is spent in Buffalo, where his kids have settled in and have made friends, and summers are back in Greece at their home on Lake Ontario.
Gionta helped out some in a player development role last season, joining Matt Ellis on sessions with the Amerks. He also accompanied front-office personnel on scouting trips a few times. He's not sure of his precise role moving forward.
"It's more exploration at this point," he said.
After possible chance to leave, Wilson decided to stay put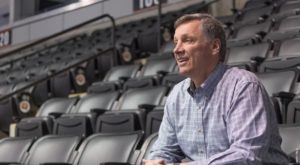 While Gionta has transitioned to a second career, Wilson isn't going anywhere. He'll be back behind the bench at RIT for 21st season.
There was, however, a slight chance of a change. The head coaching job at Bowling Green opened up. Wilson gave it consideration. He played four seasons for the Falcons, winning a national title as a senior in 1983-84, then returned as an assistant coach for 11 years (1988-89-1998-99).
RIT, however, stepped up and sure the only coach their Division I program has known wasn't going anywhere. His contract was extended through the 2024-25 season and he received a bump in salary.
"It was something my wife (Lynn) and I talked about," he said of the Bowling Green vacancy.
"There's no guarantees I was going to get the job there, and I like it here."