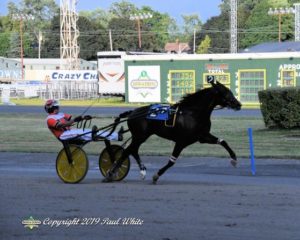 By KEVIN OKLOBZIJA
The general impression for years has been that the sport of harness racing, especially in Western New York, has been at best treading water.
Batavia Downs Gaming is bucking that trend.
While the track is just nine race programs into the 65-race-day 2019 season, there has been an unexpected wagering resurgence.
Handle from all sources — one-track, export and from Western Off-Track Betting's branches and online platform — is up significantly.
Total wagering is up 30 percent ($32,372) per race program, with a 20 percent gain on-track, 10 percent bump at OTB and BataviaBets.com, and 36 percent from export outlets, according to general manager of racing Todd Haight. There have been six more total races (97 compared to 91 in 2018).
The total handle on Monday was the fourth-highest since Western OTB bought the track in 2002. That was a 129 percent spike compared to the same Monday in 2018. Wednesday's total was the fifth-highest.
Purses also have increased, thanks to the boom of business on the gaming floor over the past year. The Open I pace now has a purse of $12,500, up $1,500 from the close of 2018. The Open II goes for $11,000, a bump of $1,100.
The higher purses have lured several trainers from Saratoga to ship west, and barns from Ohio and Pennsylvania also are making visits.
Live racing resumes Saturday night with a 13-race program.
For the first time Batavia will host the New York Sire Stakes Night of Champions, with $1.8 million in purses on the line for the eight championship divisions ($225,000 each).