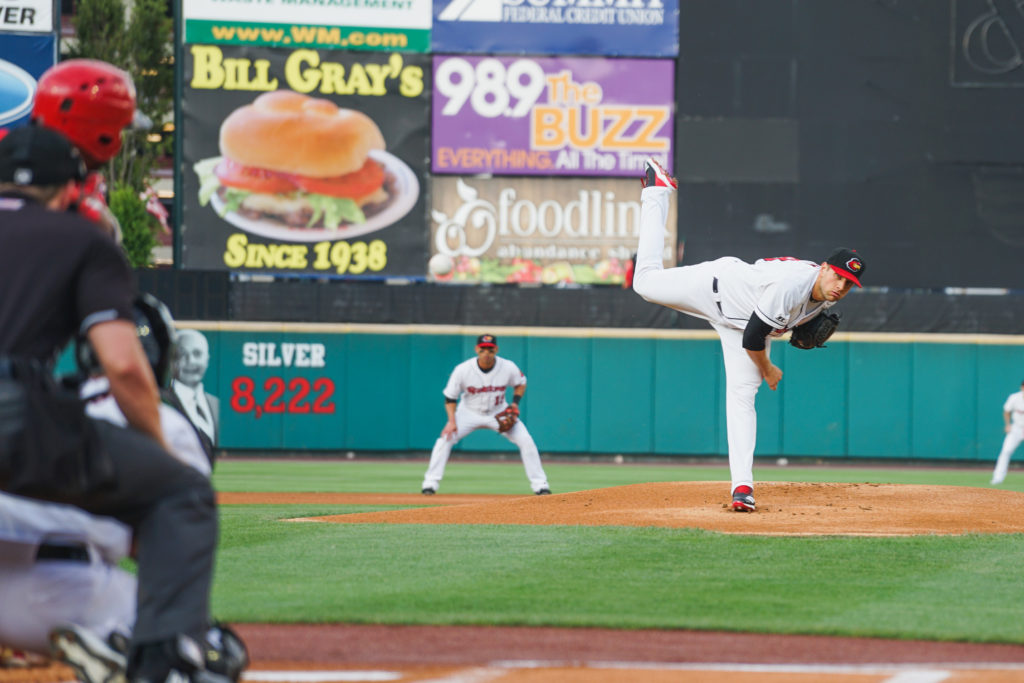 By KEVIN OKLOBZIJA
Having grown up in the Minneapolis suburb of Eden Prairie, Adam Bray spent many a night watching Minnesota Twins baseball at the old Metrodome and then Target Field.
And like any kid watching his home town team, he dreamed of someday becoming the hometown hero.
While there's still plenty of work to do, the little-kid's dream seems more realistic than ever.
The 26-year-old right-hander is continuing his advancement through the Twins system, showing an ability with the Rochester Red Wings to throw strikes and make hitters earn their way on base.
On Friday night Bray, a reliever by trade, once again played the role of "opener." He gave the Wings four scoreless innings but their third pitcher of the night, Fernando Romero, gave up three runs on five hits and the Louisville Bats rallied for a 3-1 victory at Frontier Field.
Bray allowed three hits, walked one and struck out three and has a 3.60 ERA and 1.10 WHIP in six Triple-A appearances.
"He's done a good job," Wings manager Joel Skinner said after Bray's fourth consecutive spot start since July 26. "He keeps his fastball out of the middle of the plate and he gets his curveball over."
Perhaps more importantly, he loves to compete.
"He takes the ball and pitches it until we take it away," Skinner said.
Bray is in his fifth pro season, and second in the Minnesota organization. He was drafted on the 33rd round in 2015 by the Los Angeles Dodgers out of South Dakota State University. The Twins traded for him in March of 2018.
"To get traded over here was a dream come true," he said. "It's been awesome."
He spent most of this season at Double-A Pensacola (3-3, 2.54, 1.06 WHIP) and now finding out what Triple-A hitters can do.
"There's a lot of veterans that have been up and down," he said. "It's cool to face these kind of guys that have a little bit more experience. But at the same time it's a batter in the batter's box that you have to get out."
A starter throughout college and even some in rookie ball and Class-A, Bray primarily has been a reliever the past three seasons. He's tinkering a little with a split-finger fastball this year and is also working on throwing up in the zone more than in the past.
"Mainly I'm just trying to get weak contact," he said. "I'm trying not to walk anyone and and trying to put up good numbers."
There's maybe a nice intangible on his resume as well: He's done some winning along the way.
As a junior in high school, Eden Prairie won the Minnesota State High School championship. Later that summer, the Eden Prairie American Legion team advanced to the national title game before losing to Midwest City, Okla.
The next summer, Eden Prairie won the championship, defeating Medford, Ore., in a 13-inning title game.
"That was a cool experience," he said. "Even 2010 was cool when we finished second. It's something I'll remember for the rest of my life."
The goal right now, however, is to keep making memories.
A loss that stings
The Wings only run came on a Tomás Telis line-drive homer to right center in the fourth inning off Vladimir Gutierrez, who entered the game with a 3-10 record and 6.90 ERA. The Wings, however, managed just three hits off him.
Rochester's only real threat after the first inning came in the eighth, when Mike Miller greeted reliever Alex Powers with a lead-off single and Drew Maggi followed with a walk. Powers escaped, however, as Ramon Flores flied to left, Wilin Rosario struck out and Brandon Barnes fouled out.
Welcome back, Ryan O'Rourke
The Wings bullpen will be upgraded today when Ryan O'Rourke signs a contract. He was released by the Syracuse Mets (2-3, 3.27, 1.41 WHIP).