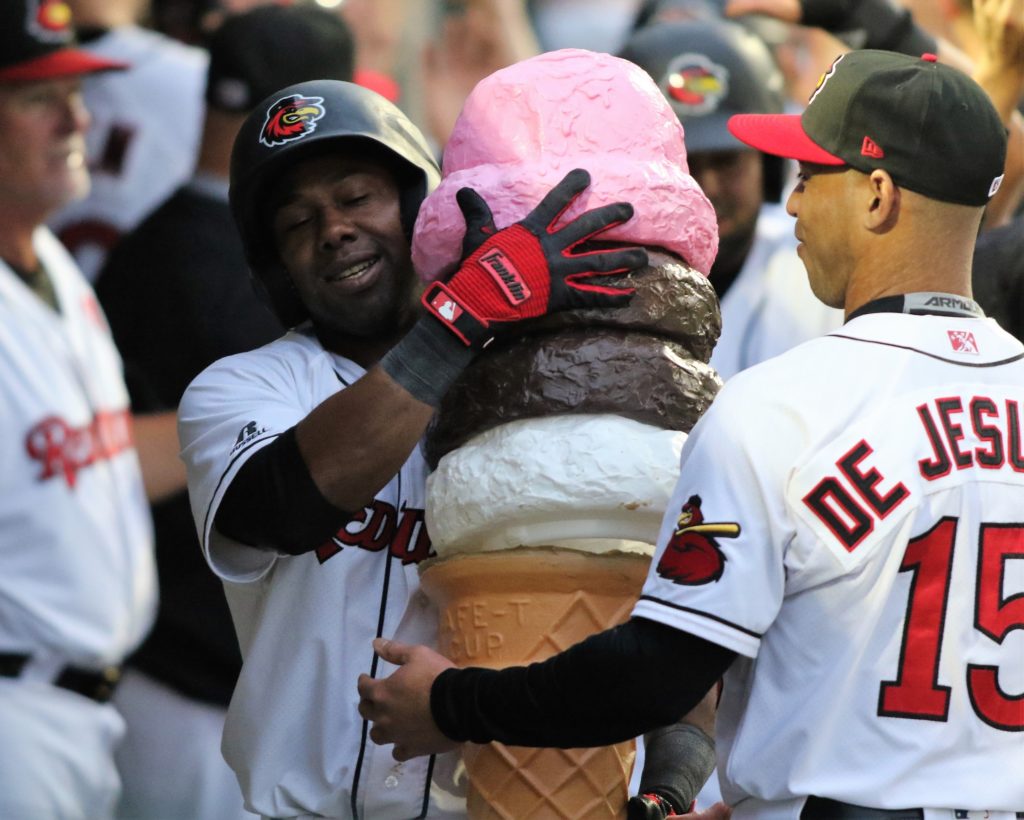 By KEVIN OKLOBZIJA
It was a pseudo homecoming for Ian Anderson on Tuesday night at Frontier Field.
Having grown up in the Albany suburb of Clifton Park, Anderson was promoted from Double-A Mississippi to make his Triple-A debut with the Gwinnett Stripers against the Rochester Red Wings.
His parents were in the Frontier Field stands behind home plate. As were his grandparents. As were friends. As was pitching coach from Shenendehowa High School. The Anderson cheering section was about 20 strong.
And then Alejandro De Aza spoiled the party.
The 35-year-old De Aza, a veteran of 18 professional seasons, belted a third-inning grand slam onto the RE/MAX sign on the pavilion roof behind the right field wall as the Red Wings thumped Gwinnett 8-3.
De Aza also drew a bases-loaded walk from Anderson in the first inning and then, after Anderson's night was over, Ramon Flores delivered a two-run double in the sixth before belting a solo homer in the eighth.
The Flores blast to center was the Wings 154th homer of the season, tying the 60-year-old franchise record with 26 games remaining.
"Hopefully I can hit one tomorrow so we break it," De Aza said.
His homer on Tuesday broke the game open for the Wings, turning a 2-1 deficit into a 5-2 lead.
SEE MORE JOE TERRITO PHOTOS HERE.
"It was an instant four runs," Wings manager Joel Skinner said.
It did not break Anderson's spirit, though.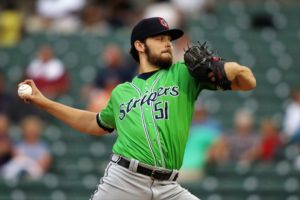 The 21-year-old right-hander is ranked No. 3 on Atlanta's prospect list and No. 34 in all of Major League Baseball, according to MLB.com. He was drafted third overall by the Braves in 2016, before his senior season at Shenendehowa was over. As a sophomore in 2014, he pitched a third of an inning in relief in a 3-0 loss to Victor in the state championship game.
A mid-season All-Star in the Southern League for Mississippi (7-5, 2.68 ERA, 1.16 WHIP), Anderson lasted just three innings. He allowed six hits, four walks and five runs while striking out five as his control at times abandoned him.
"I tend to give guys too much credit," Anderson said, referring to what may have been a reluctance to attack the strike zone, "and there is that little learning period when you first get promoted.
"All in all I'm not too upset about how things went. It's definitely something to build off."
Anderson allowed a double to the first batter he faced, Drew Maggi, and then walked three before the inning ended to force home Maggi with the game's first run.
Gwinnett, the International League's best team at 66-45, scored twice off Wings starter Sean Poppin in the top of the third but the Wings retaliated immediately against Anderson.
Wilin Rosario walked, then Brandon Barnes and Tomás Telis followed with singles to load the bases. Anderson then fell behind De Aza 3-0 and the Wings right fielder had the green light.
"It was early in the game and I just said, 'Let me try to find a good pitch,' " De Aza said. He got it, all right, and it landed only after traveling 397 feet. "He didn't want to walk me so I just wanted to be aggressive because I was only going to see one good pitch."
He signed with the Wings on July 19 after playing all season with New Britain of the Independent Atlantic League. In 19 games with the Wings, he is hitting .324 with 6 homers, 18 RBI, a .632 slugging percentage and 1.045 OPS.
"I just try to do my job, I try to contribute," he said.