By PAUL GOTHAM
ROCHESTER, N.Y. — Ben Ranney (Pittsford Sutherland) dialed zero for DI Blue. Jack Scanlon (Aquinas) led DI Red with his arm, his bat and his speed. Weston Elkovitch (Victor) picked up his first win of the season for DII , and Zach Merlo (Fairport) paced all hitters. The quartet earned Upstate Baseball League weekly honors for July 29 – August 3 as announced Monday.
DI PITCHER OF THE WEEK
Ben Ranney – DI Blue – Pittsford Sutherland
Ranney made two appearances on the mound and finished with a win and a save. The right-hander struck out three and walked one over three shutout innings opening night. He allowed one hit to pick up the win. On Saturday, the senior allowed one hit over two shutout innings of relief to pick up the save in a 12-7. Ranney finished the week holding 19 batters to a .118 average. He logged a WHIP (walks + hits per inning) of 0.8.
DI PLAYER OF THE WEEK
Jack Scanlon – DI Red – Aquinas Institute
Scanlon put opposing defenses on notice with a pair of extra-base hits borne from a doubles-out-of-the box attitude. The senior infielder hit .500 (4-for-8) for the week with a double and an inside-the-park. He caught the defense off guard Wednesday night, when he sent a flare to centerfield and finished the play hugging the bag at second. On Saturday, his hit to center bounded off the University of Rochester Towers Field turf and over the centerfielder's glove. Scanlon easily touched 'em all for a home run. Earlier in the game on Saturday, Scanlon served as the relay and delivered a strike to home to erase a possible run.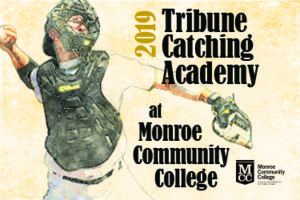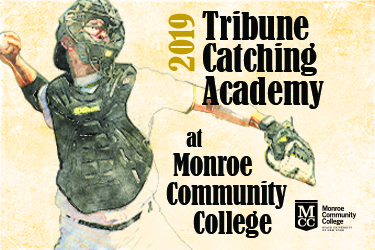 DII PITCHER OF THE WEEK
Weston Elkovitch – DII Blue – Victor
Elkovitch struck out four in a win Thursday night. The left-hander allowed one hit and faced one batter over the minimum in three of work. He held opposing batters to a .100 average and logged a WHIP of 0.33.
DII PLAYER OF THE WEEK
Zach Merlo – DII Blue – Fairport
In two games, Merlo collected four hits in five at-bats while working a walk. Three of his four hits were doubles. He drove in a run and scored twice. 

Not to be overlooked
Tommy Derleth (Fairport) matched Scanlon with a league-high five RBI. Derleth went 3-for-5 on the week including a grand slam. Ethan Hurwitz Pittsford Sutherland) went 4-for-8 with two walks, a stolen base, three runs scored and an RBI. Max Stuver (McQuaid) collected a triple and a double at the plate. In the field, his diving stop at short started a rare 6-4-5-4 double play. Shane Harisis (Eastridge), Will Russotti (McQuaid Jesuit) and Patrick Walsh (Gananda) struck out six batters apiece for the week.
Upstate Baseball League action continues Monday (8/5) with a pair of DI games. Blue meets Green for a 5:45 PM first pitch while Red and Grey will follow. Both games will be played at University of Rochester's Towers Field.