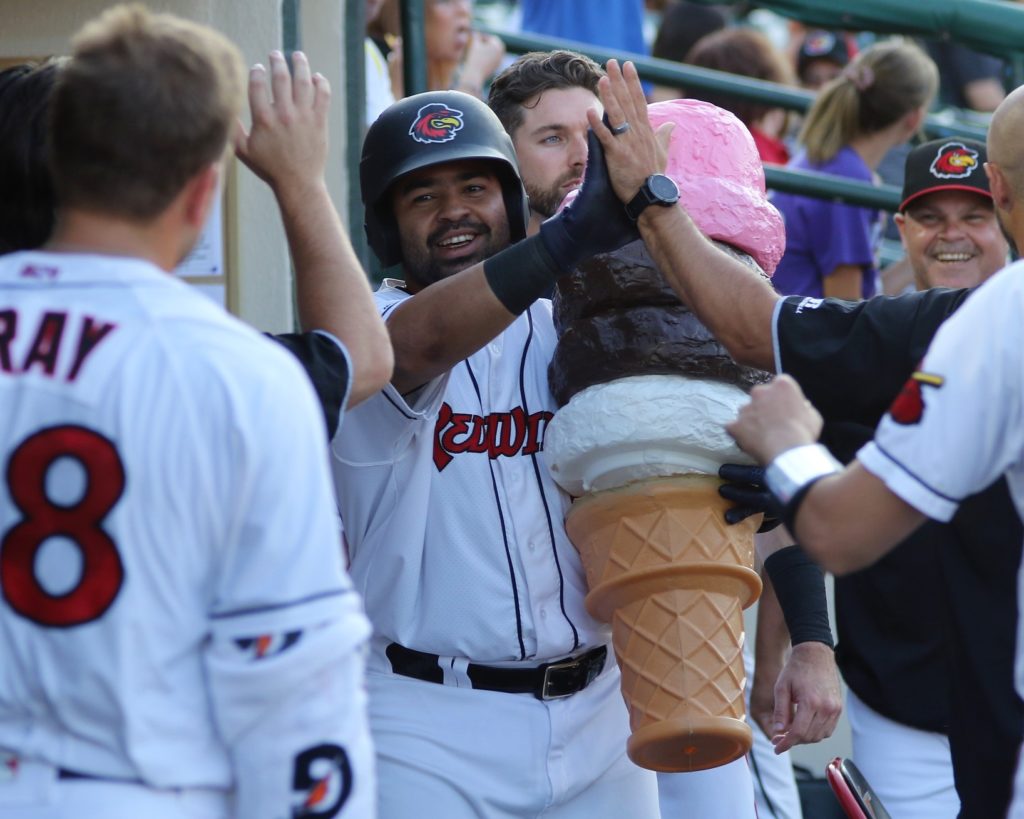 By KEVIN OKLOBZIJA
Listen to a New York Yankees game on the radio and you're guaranteed to hear John Sterling say to broadcast partner Suzyn Waldman, "You just can't predict baseball, Suzyn."
None of the 12,248 fans at Frontier Field on Wednesday night would disagree, either.
Oh, Wilin Rosario hitting another home run — his 15th — and driving in three more runs was not unpredictable. And Alejandro De Aza hitting his third home run in just his 14th game with the Rochester Red Wings also wasn't a surprise.
Together they drove in all but one of the runs as the Wings defeated the Scranton/Wilkes-Barre RailRiders 6-1.
But no one expected hot-hitting outfielder Jaylin Davis to be pulled off the diamond before batting practice so he could be told he'd been traded to the San Francisco Giants.
Boom, just like that, the Wings lost their best all-around hitter (.331 average, 1.112 OPS), a guy whose 15 home runs and 27 extra-base hits since June 24 were the most in all of minor-league baseball.
"It's bittersweet," Wings reliever Preston Guilmet said. "It's a good opportunity for him but it always sucks to see a good teammate leave."
You probably weren't predicting reliever Adam Bray would make another start and once again perform admirably for four innings, just as he did Friday night against Indianapolis.
Yankees fans certainly didn't expect to see 20-year-old right-hander Deivi Garcia — the organization's No. 1 ranked prospect according to MLB.com — give up a season-high six runs, all in just four innings.
And there's absolutely no way anyone thought they'd see a pitcher pick up a bat and stroll into the batter's box.
Yet there was Guilmet, stepping in to face Will Carter in the sixth inning and laying down an absolutely perfect sacrifice bunt on the first pitch he saw.
You just never know, Suzyn.
"I just wish he hadn't run so hard to first," Wings manager Joel Skinner said.
Hey, this was his chance for a hit; he was running.
"I didn't want to just jog down there," Guilmet said. "It was such a good bunt I thought I might beat it out."
Guilmet was forced into the lineup when third baseman Drew Maggi left the game because of injury. Maggi was hit on the left forearm in the second inning and was able to play until the sixth, when it was evident he couldn't bat again.
He was to have X-rays Wednesday night and his playing status isn't known, but reinforcements are on the way to replace Davis and perhaps Maggi for Thursday's 12:35 p.m. rematch.
The last time a Wings pitcher hit was on July 3, 2015, when Logan Darnell was forced into the batting order in the 15th inning.
While Guilmet had never batted professionally in North America, he said he did quite a few times in 2017 while playing in Japan.
Now, however, he has no bat of his own, so he needed to borrow one from Nick Gordon.
"He gave me his batting gloves, too, and I wore Maggi's helmet; the guys hooked me up," Guilmet said.
Then they watched intently from the dugout.
"I think everybody kind of poked their head out to watch that," Guilmet said.
What Guilmet did even better than bunt, however, was what he's paid to do: pitch. He worked two strong innings, allowing just one walk while fanning two. In total, Bray, Ryan Eades, Guilmet and Zack Littell allowed six hits, one unearned run and three walks while striking out seven.
"It was a pretty well-pitched, efficient game," Guilmet said.