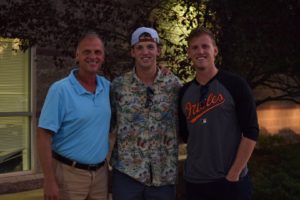 By PAUL CIFONELLI
When Steven Klimek earned a call-up from Class A-Advanced Frederick to Double-A Bowie earlier this season, he didn't have to spend much time searching for living accommodations. The Baltimore Orioles farmhand only needed t0 go to the frequently dialed numbers on his phone and call his brother, Ryan. With the older Klimek working less than an hour from Bowie, the commute presented no problem.
Steven, the right-handed reliever, and Ryan, the person directly responsible in-game for Major League Video review and an Advance Scouting assistant for the Orioles, living under the same roof.
The video game rivalry has been renewed. Only thing missing is meals prepared by their mother. It suits the former Greece Arcadia Titans well.
"It's awesome that, when we're both home together, that we can both get home from the ballpark and hang out on the couch and talk about what happened in the majors and what's happening with his team today," Ryan said. "It's been living with my best friend, so it's been great."
Steven was selected in the 33rd round of the 2015 MLB Draft by the Orioles out of St. Bonaventure. He spent that season with the Orioles Rookie-League team in the Gulf Coast League. The right-hander opened 2016 with Aberdeen in the New York-Penn League before finishing the campaign with Delmarva of the Class A South Atlantic League.  He pitched again for Delmarva again in 2017 before advancing to Frederick for the start of 2018. Over five seasons, Steven Klimek has logged an ERA of 3.27 across five levels.
Ryan began working in Major League Baseball during the 2015 season when he served as Minor League Video Intern in the Seattle Mariners organization. After a year with the Mariners, he moved on to a different American League West organization, the Los Angeles Angels of Anaheim. Eight months with the Angels as a Baseball Operations Intern led to a Player Development internship with the Orioles. Ryan has been with Baltimore since beginning that internship in 2017.
ALSO ON PICKIN' SPLINTERS:
Schwind a natural fit on Pirates Triple-A Coaching Staff
New dad Bostick still enjoying the baseball ride
Adam Scott's quick rise through the low minors sets up bright future
Brighton's Ernie Clement makes jokes, hard contact for Akron
Scott and Clement, former Section V foes, team up at Akron
Schwind to pitch to Josh Bell in MLB HR Derby
A special home game for Danny Mendick
It'll be a Mendick homecoming and reunion at Frontier Field
Bostick, Cullen, Mendick and Scott combine for big night
Mendon's Max Troiani thriving in the Cape Cod League
Both brothers have been a part of two different regimes with the Orioles.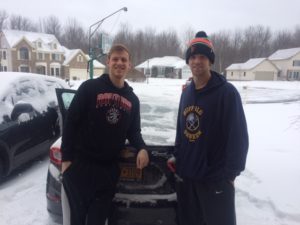 During the most recent off-season, Baltimore hired Mike Elias as their Executive Vice President and General Manager. With that the organization ushered in an emphasis on baseball analytics. Many philosophical changes were made, including having pitchers with, what Steven described as, "average" two-seam fastballs switch to four-seam fastballs. In the modern age of high-strikeout, high-home run baseball, four-seam fastballs are beginning to become the pitch of choice for organizations.
"From a development standpoint, every day there is a goal," Steven said of the organization's new approach. "There's a goal to get better. And not that in the past we haven't had goals but now we're pretty specific and detailed about our goals."
Steven was one of the pitchers who was told to switch to the four-seam fastball. In addition, he added a cutter, which he claims looks more like a slider.
In 17 relief appearances with Frederick prior to the June 22nd call-up, the former Bonnie threw 32.2 innings with a 2.48 ERA. He struck out 31 batters and held opponents to a .190 average against him. He earned a spot in the Carolina League Mid-Season All-Star Game – his first such honor at the professional level.
Despite adjustments to his approach on the mound and throwing the fastball that breaks toward his glove hand for the first time in his professional career, the right-hander said he does not believe the cutter has directly led to his improvement this season.
"I don't know if it's attributed to just that," Steven said. "I think it helps to add another weapon to my repertoire and it's just kind of been an added pitch for me. It's definitely helped, but I wouldn't attribute it all to that. It has aided in my success so far."
Ryan arranges scouting reports on the Orioles' upcoming opponents and prepares video for players to watch before and after games. He is also responsible for controlling the video replay system during games. When he's in charge of the video replay, he has 30 seconds after a play is over to relay to the dugout whether to challenge the call on the field or not.
The older Klimek acknowledges that there is pressure involved with replay reviews, but has learned how to make the job easier on himself.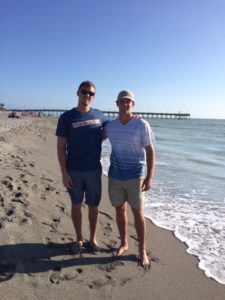 "I'd be lying if I said it didn't have some (pressure) to it," Ryan said. "But really, it's more just familiarizing yourself with the angles and when there's a play at first, which angles are typically going to be the best to find if the ball hit the glove before the foot hit the bag. Then it's just trying to stay calm through it and trying not to get too locked in. Our coaching staff has been great, on their side of the phone, keeping an eye on the clock, because you have 30 seconds."
Despite the differences in their schedules, the two brothers are able to spend time together when the Orioles and Baysox are both at home.
"We try not to talk about that stuff (organizational matters) too much," Steven said. "After games, we'll go home and just turn on the Nintendo Switch and play some NBA or watch TV or whatever and just hang out and be brothers. It's been pretty cool the last month."
With his promotion to Double-A, Steven now sits just two steps from the major leagues. He admits that the promotion has him excited, but he knows he has to stay in the moment in order to make it happen.
"It (making the major leagues) absolutely does (cross my mind)." Steven said. "We are pretty close at this level but I really just try to stay in the moment and know that there's a lot of guys that can get to AA and their careers might end. I just have to keep on working and keep on moving forward. It is pretty cool to know that it is close. It doesn't feel as far as it may be, but it's definitely close and it's definitely exciting."
With Steven so close to the major leagues, Ryan has also given some thought about the potential of working with his brother every day. While he knows there is still work left for Steven to do, Ryan would love for that opportunity to happen.
"I'd rather see that (Steven with the Baltimore Orioles) for him than for anything in my career path or anything like that," Ryan said. "I know how hard he's worked. Ever since he was a kid, before he ever knew baseball players got paid to play baseball, he wanted to be a big leaguer. I hope that some day that happens and it's already been really cool and really great for my family to have us both in the same organization. If we were both in the same city, with the same team, that's a storybook ending."
For now, it's head-to-head competition with video games and talk about baseball. Not too much unlike those times at home in Greece, New York.