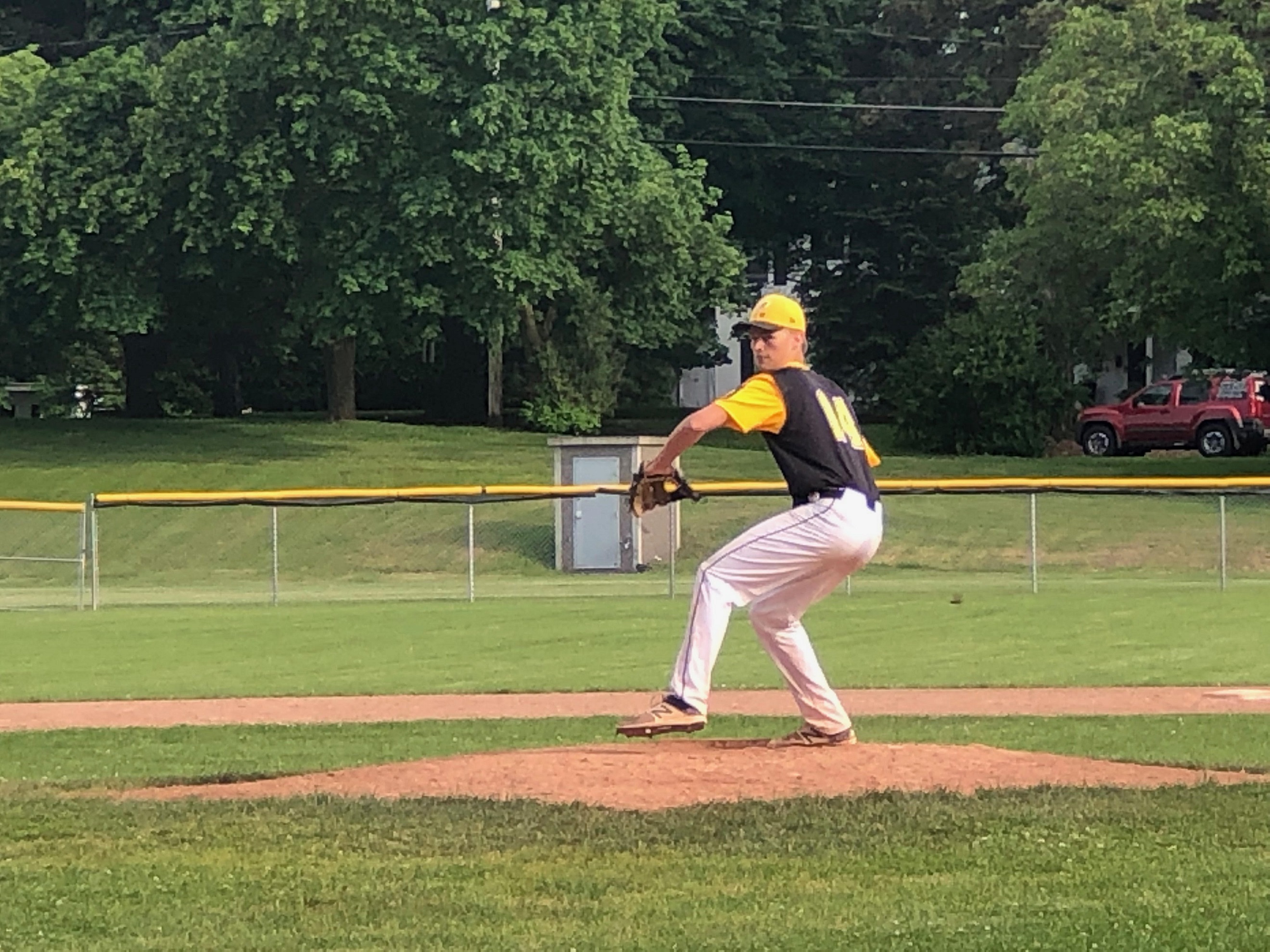 By BILLY HEYEN
All season long, Hayden Smith has delivered when called upon for Rayson Miller. With a loss Monday representing the end of RM's season, Smith ensured that wouldn't happen.
Rayson Miller stayed alive at the state tournament with a 7-1 win over Maine-Endwell. Smith threw a complete game on the mound, allowing five hits and striking out six. The lefty-hitting Smith also added a two-run triple at the plate. RM advances in the losers' bracket to play Hamburg Post on Tuesday. Update: The state rulemakers altered the schedule and Rayson Miller will play undefeated Rockland on Tuesday.
Hayden Smith #14 came in to close the game out and keep hopes alive for Rayson Miller! #Tourny #NYSALB pic.twitter.com/qPCK7BsoNU

— American Legion NYS (@NYSALChampion) July 29, 2019
The District 7 champs struck first in the second inning. Maxx Countryman singled and eventually came around to score after the ball was thrown around by Maine-Endwell. Then in the third, Lukas Haefner led off with a single before Andrew Sanchez walked. With two outs, Smith delivered his two-run triple to give himself more than enough cushion. RM added two more in the fourth, with Haefner singling and Owen VanNewkirk doubling as part of the damage.
Maine-Endwell scored its lone run in the bottom of the fourth, taking advantage of two singles and a hit batter to score a run on a ground-ball double play.
Smith controlled the game from there. In the seventh, Rayson Miller tacked on two more runs courtesy of singles from VanNewkirk, Peyton Parmeter and Countryman, along with a bases-loaded walk from Ian Read.
With a big lead, Smith had plenty of wiggle room in bottom seven but didn't need it. He recorded strikeouts to start and end the frame around a bit of movement on the bases.
Rayson Miller now heads into its biggest test in advancing at states thus far Tuesday. RM will need to play and win two games Tuesday to advance to Wednesday's championship series. A year ago, that meant two Kevin Sheppard starts and wins on the same day. It's true that RM will be without its top three arms Tuesday, with all of Smith, Haefner and Countryman ineligible to pitch.
RM head coach Tom Sapienza could turn to any of Donny Varrenti, Sam Leonardo, Jesse Countryman or Parmeter on the mound. He'll certainly need a couple to keep Rayson Miller's season alive. Thanks to Smith's performance Monday, RM will at least get to make that choice. Update: With the changed schedule, Rayson Miller will play just one game Tuesday, against Rockland.