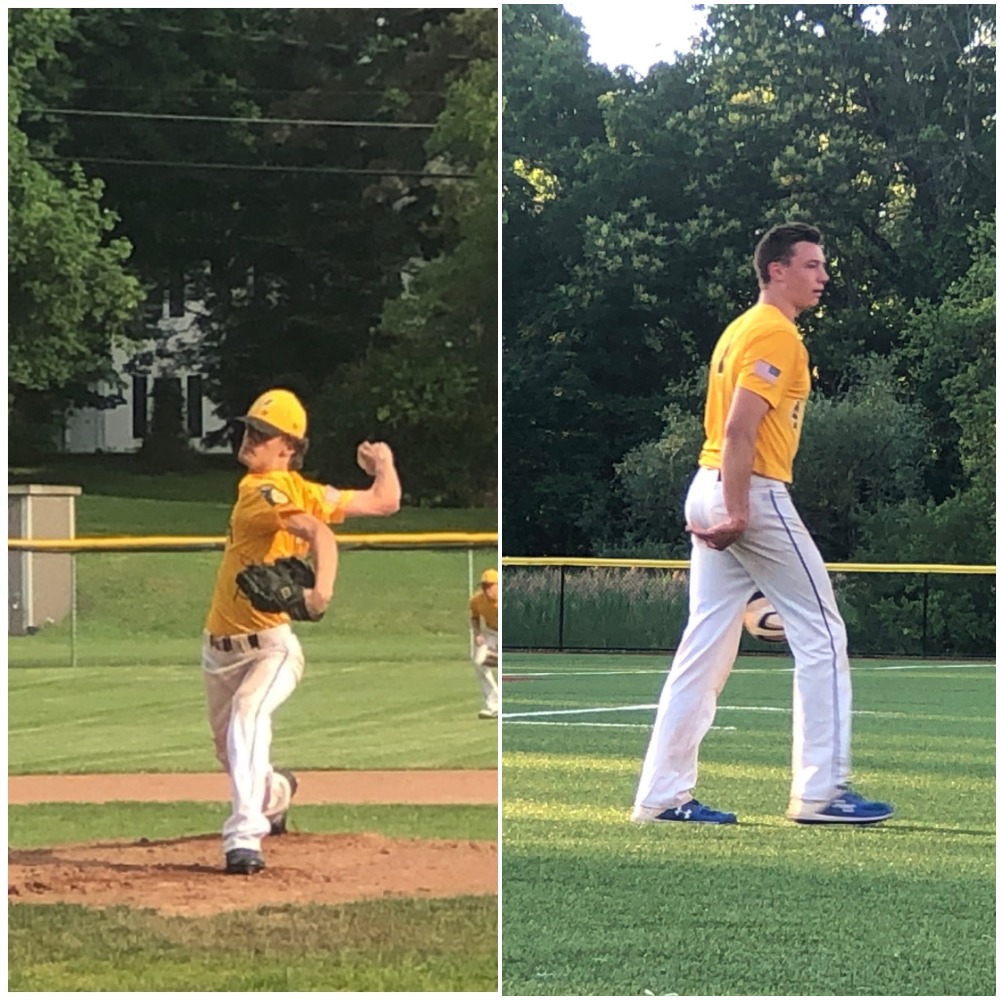 By BILLY HEYEN
The last time Lukas Haefner and Owen VanNewkirk played at Murnane Field in Utica, the outcome wasn't what they wanted. They posed with a second-place trophy, Haefner's arms crossed and no emotion on his face. VanNewkirk tucked himself into the back row, not making an effort to be prominently pictured.
With Rayson Miller back at the state tournament for the second-straight year, it was the veterans that set the tone in their opener on a quest to best last year's second-place finish.
Haefner got the start on the mound and earned the win for Rayson Miller in a 4-1 win over Smith Post in the opening game of the New York American Legion double-elimination tournament. VanNewkirk knocked in the first three runs for Rayson Miller. It keeps RM in the winners' bracket and extends its overall win streak to 10 games.
"We're chasing a gold ring," Rayson Miller head coach Tom Sapienza said after RM's district championship. "We got a good group. We're healthy and we're firing on all cylinders. We're going to be tough to beat."
With that out this contest is over Rayson Miller takes the victory 4-1 over Smith Post. #Tourny #NYSALB keep up with the rest of the game at https://t.co/Uaqv33EP4e pic.twitter.com/8hOKFQnver

— American Legion NYS (@NYSALChampion) July 28, 2019
Rayson Miller didn't waste any time starting another run at states. Lukas Haefner led off with a single and stole second against Smith's Kyle Clark. Owen VanNewkirk's batted in the two spot for the last two seasons because of his ability to put bat to ball, and he delivered immediately, singling on a 2-1 count to drive home Haefner and get a run on the board two batters in.
Haefner, who was not 100 percent heading into last year's state tournament and so was limited on the mound, got the ball on Saturday. He didn't avoid trouble, but he limited damage. In the first, he walked the first batter and allowed a hit to the second before escaping. Then Smith Post put runners on the corners with no outs in the second, but Haefner struck out the side (around another walk) to get out of dodge again.
One classic baseball saying involves needing to get to an ace early before he settles in. Smith couldn't get to Haefner in those first two frames. Then the 5-foot-9 righty found his groove and worked 1-2-3 innings in both the third and fourth. That allowed former Rush-Henrietta teammates Zach Ochs and Haefner to single back-to-back to begin the top of the fifth.
In stepped VanNewkirk, already with two hits on the game. There wasn't a third hit in the cards, yet, but a groundout to the shortstop scored Ochs and brought in RM's second run of the contest.
Rayson Miller pulled Haefner after he allowed two-out single in the fifth, with his pitch count below 80 pitches. That allows him to maintain eligibility to pitch on championship Wednesday if RM makes it there. Hayden Smith came on to record the fifth's final out.
Smith worked himself into a jam in the sixth, allowing a leadoff walk followed by a single. A ground-ball fielders' choice brought one run across to slice the deficit in half and get the inning's first out. But Smith struck out Smith Post's eight and nine-hitters to escape the sixth with the lead at 2-1.
Rayson Miller tacked on a couple of insurance runs in top seven. Haefner notched his third single, then VanNewkirk drove him in with a double. Andrew Sanchez traded places with VanNewkirk after a double of his own, and RM took a 4-1 lead to bottom seven. Rayson Miller closer Joey Kench finished it off.
With that RBI double Rayson Miller post takes a 4-1 lead over Smith Post 24 #Tourny #NYSALB pic.twitter.com/8MjNygcGpc

— American Legion NYS (@NYSALChampion) July 28, 2019
The Rayson Miller win sets up a 4 p.m. matchup Sunday with Saugerties Post 72, which won its opener 12-9 over Clinton County. Saugerties' nine-hitter Alex Mooers led the way with a 3-for-4 game while Saugerties relied on three pitchers to get it through the high-scoring affair.
Last year, Rayson Miller was no-hit by Rockland in its second game at states to fall into the losers' bracket, where pitching depth becomes an even larger priority. This season, it was the players who'd been through it once before, Haefner and VanNewkirk, who got RM off to the right start. With one win in the bag at states for Rayson Miller, they'll have a shot in less than 24 hours to get one step closer to their season-long goal.
Rayson Miller notable statistics:
Lukas Haefner: 4.2 IP, 4 H, 2 BB, 5 K (W); 3-for-4 with two runs and a steal
Owen VanNewkirk: 3-for-4 with two doubles and three RBI
Andrew Sanchez: 2-for-4 with a double and an RBI
Zach Ochs: 1-for-3 with a run and a steal
Hayden Smith: (Hold)
Joey Kench: (Save)