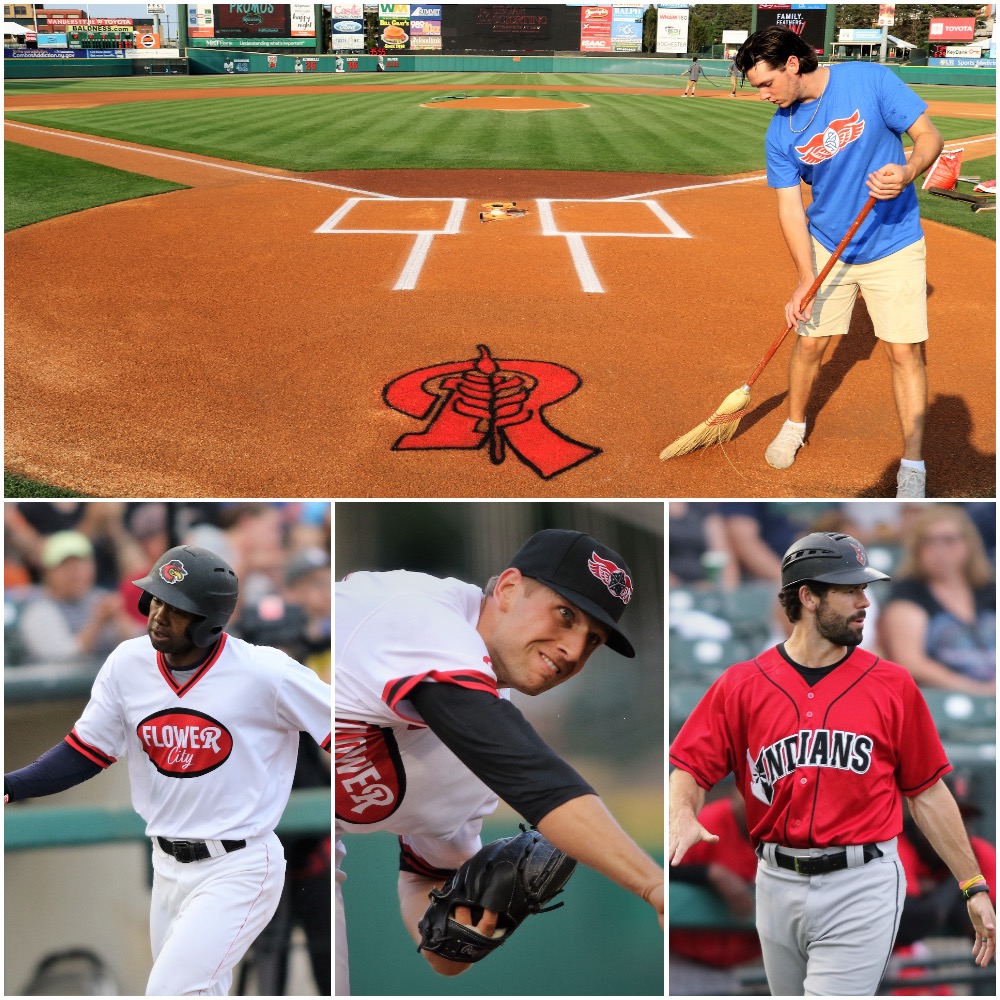 By KEVIN OKLOBZIJA
You would think, just on mechanics alone, Jimmy Kerrigan would be perfect for today's game of hit it high and hit it far.
The right-handed hitting Rochester Red Wings outfielder doesn't need to work on launch angle in order to ensure balls are propelled skyward with the desired trajectory.
Except he contends his natural swing isn't what he needs to use in the batter's box. He's much more successful when he goes old-school and tries to go back up in the box.
"I'm prone to already having an uphill swing," Kerrigan said. "But if I try to hit home runs, it never happens. I just need to keep my shoulder in, stay simple and hit the ball up the middle."
And then balls go over the fence. At least they did Friday night, when the Red Wings played a little long ball and received dominant pitching from three relievers in a 4-1 victory over the Indianapolis Indians at Frontier Field.
VIEW MORE JOE TERRITO PHOTOS HERE. 
Kerrigan homered in his first two at-bats — solo shots in the second and fourth to give him six in 20 games with Rochester — and Alejandro De Aza also hit a solo homer as the Wings improved to 51-53, including 3-1 on the homestand that continues through Sunday.
For the 25-year-old native of Philadelphia, it was his first two-homer game in Triple-A and the second as a member of affiliated ball. The only other was in his first season, on Sept. 1, 2017, with Cedar Rapids.
He got his chance with the Wings because of injuries with the Minnesota Twins and, after an early adjustment period, he has found his hitting stroke. He was 5-for-33 in his first 11 games and is 13-for-36 since.
"You start to get a couple hits here and there and you start to feel better," Wings manager Joel Skinner said. "It just helps your tempo, it helps your timing.
"And he's coming out every day and working on his craft. When you get a pitch to hit, you don't miss it, that's what it comes down to."
What has also helped: he's healthy and he's able to call Rochester home. Just over two weeks into the season, he was sent home from Double-A Pensacola to rest and recuperate after a bout with mono and strep throat. He returned to Florida on May 28, came to Rochester on June 18, played in two games, returned to Pensacola on June 24, and then was promoted against to Triple-A on July 6.
"This is the first time being on the same team for more than three weeks this year," Kerrigan said. "It's nice. We've got a great group here."
While the three homers boosted the team total to 134 through 104 games, Adam Bray, Sam Clay and Ian Krol were in control on the mound.
Bray allowed two hits (including a solo homer to Jake Elmore) and struck out one in four innings, Clay pitched three hitless innings and Krol closed it out with by recording five of the final six outs on strikeouts.
For the game, 13 of the 27 outs came from ground balls and the three pitchers threw a total of 109 pitches.
"How about that? That's being efficient," Skinner said.