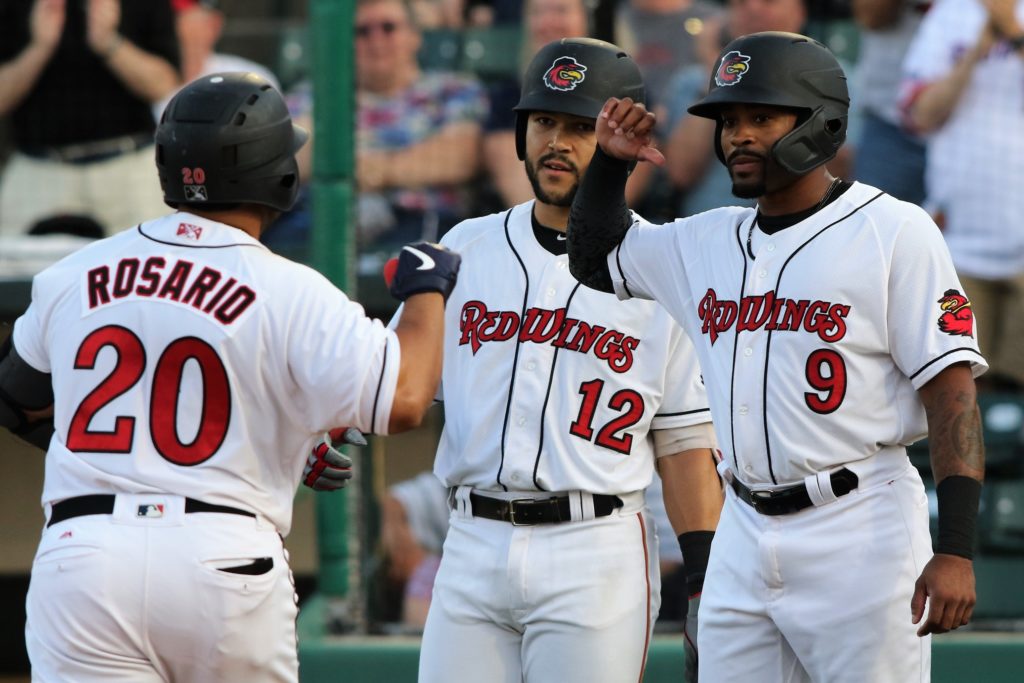 By KEVIN OKLOBZIJA
At around 4 a.m. on Tuesday, Nolan Rosario entered the world out in Denver, Colo.
At around 7:45 p.m. at Frontier Field, Wilin Rosario, the proud papa, hit a 404-foot home run to left-center field, a tribute to the arrival of his third child.
The towering drive capped a six-run outburst and gave the Rochester Red Wings a 7-0 lead.
Ah, but Rosario wasn't done. In the sixth inning, he hit a 420-foot bomb to center to give the Wings a 13-0 lead.
And for one last forget-the-cigar, have-another-homer salute, the Wings designated hitter belted a 414-foot shot to center in the eighth, the final Rochester runs in a 16-3 win at Frontier Field.
"I just tried to have the best game I can, so when he grows up I can tell him about it," Rosario said after his seven-RBI performance against the Norfolk Tides.
Rosario's barrage overshadowed the 5-for-5, four-run, three-double night by right fielder Jaylin Davis, and the 4-for-5, 3-run, 3-RBI night for second baseman Drew Maggi. Between the three, they accounted for 13 hits, 10 runs and 10 RBI.
"It was all good," Wings manager Joel Skinner said. "Twenty-two hits. Wow."
The last time a Wings team collected 22 hits was July 23, 2016 at Syracuse. And before this month, the Wings hadn't had a player drive in seven runs in a game since Justin Morneau in April of 2004.
It's now been done twice in 12 days. Zander Wiel drove in a seven-pack on July 11 against Lehigh Valley and Rosario did it on Tuesday.
"Things happen in the game," Rosario said. "You try to work hard, you try to do whatever you can to help the team win. I don't try to hit the ball out, I just try to have a good A-B."
He actually hit one homer for each child he and his wife, Genesis, have: son Will is 7, daughter Aidelys is 5.
And somewhat lost in the offensive barrage was the performance by starter Randy Dobnak. Called back up from Double-A Pensacola on Monday, the 24-year-old right-hander pitched six scoreless innings.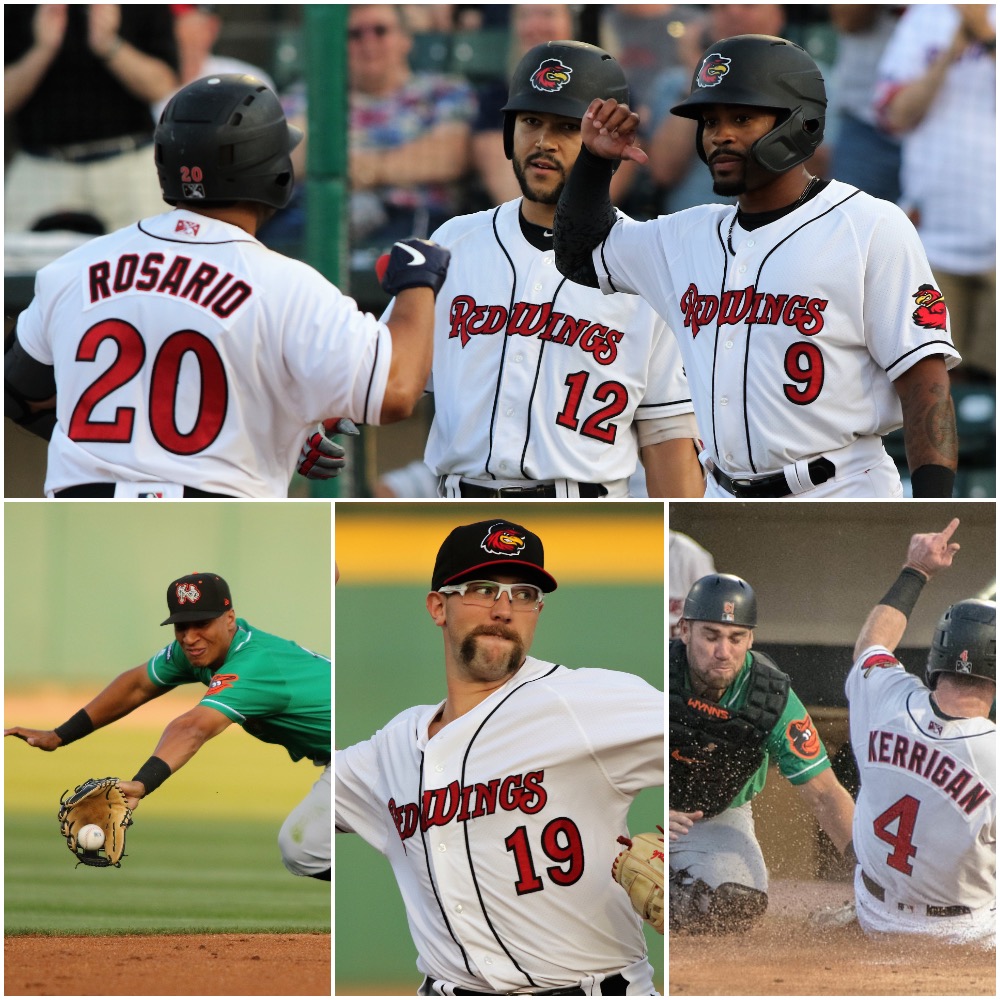 He allowed four hits, walked two and struck out six to improve to 2-1 while lowering his ERA to 1.90 in four appearances with the Wings. He has adjusted well to the difference between Double-A and Triple-A.
"There's less holes for guys and if you make a mistake, they're going to kill it," Dobnak said. "I made some mistakes tonight and they hit it hard."
The night was a little more special for Dobnak thanks to an eight-person cheering section from his hometown of South Park, Pa.
His parents, Jodi and Rick; grandfather Rich Carney; uncle Rick Carney; Mike Dice, the best man in his wedding; along with Mike's girlfriend, mother and brother.
"My parents have followed me around but my buddy hasn't seen me pitch since high school," Dobnak said.
They all saw him take control in the first inning and never relinquish it. Dobnak admitted that a big, early lead makes life on the mound a little easier, "but I like to focus on limiting the damage all the time."
He limited the damage very well while the Wings hitters did a lot of it, especially Rosario.