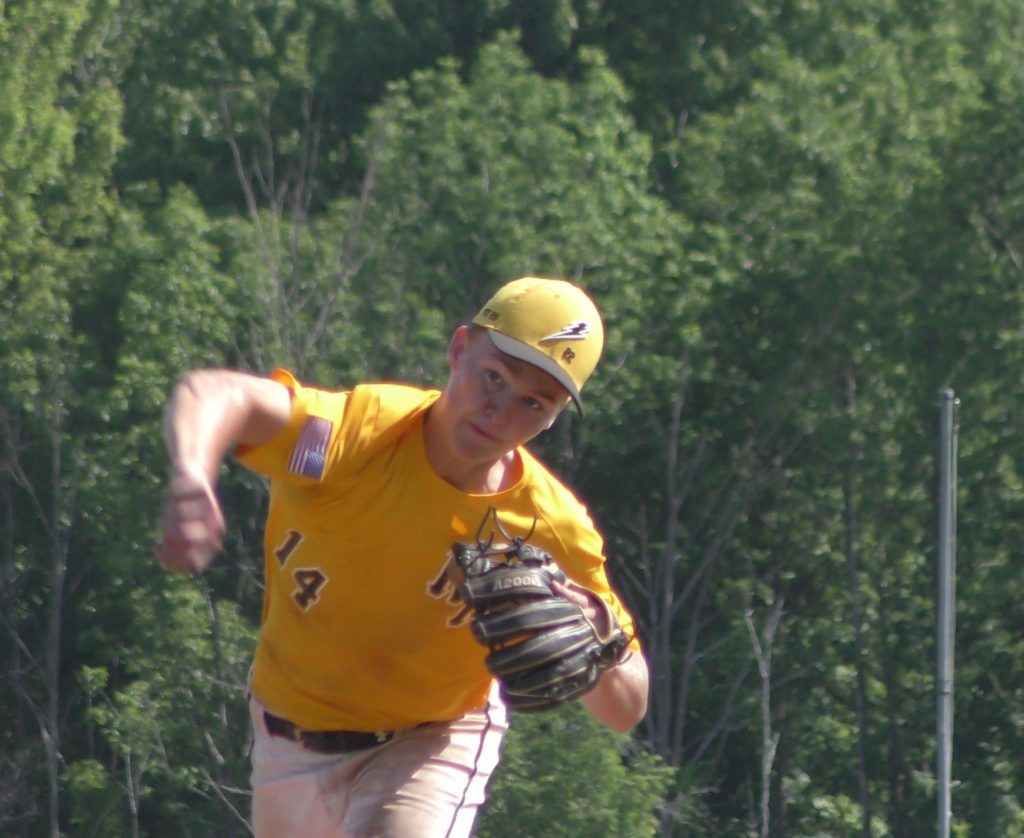 By JOHN LIKANJE
HONEOYE FALLS, N.Y. – The Rayson Miller baseball team was brimming with determination to go back to Utica for the New York State (NYS) tournament. When Owen VanNewkirk crossed the plate and the umpire called the game due to mercy rule, Tom Sapienza's squad ran out of the dugout and celebrated on the field in jubilant fashion.
"We're chasing a gold ring, "Sapienza said after the 12-1, five-inning victory over James Cooke. "We got a good group. We're healthy and we're firing on all cylinders. We're going to be tough to beat."
"This is why me, Lukas (Haefner) and Maxx (Countryman all came back," VanNewkirk said. "Everybody here was selected to play for a reason: to get back. And now we're going back and it's the greatest feeling ever."
Trailing 1-0 in the third inning, Rayson Miller sent 10 batters to the plate and broke out for six runs on six hits. Zach Ochs (Rush-Henrietta) and Ian Read (Avon) hustled for back-to-back infield singles. VanNewkirk sliced a two-out triple down the right field line to give Rayson Miller a 2-1 lead.
"He's a third year player," Sapienza said about VanNewkirk. "He's one of our older guys and one of our leaders. We have him in the two-hole for a reason. We want him in that situation and he always delivers. He did last year at states."
Andrew Sanchez (Rush-Henrietta) lined a double to straightaway center to bring in VanNewkirk. Peyton Parmeter (Corning Community College) doubled to the center field fence to score another run. Countryman (Finger Lakes Community College) drew a walk and crossed the plate on Hayden Smith's (Honeoye Falls-Lima) double, the fourth extra-base hit of the frame for Rayson Miller.
American Legion Baseball District Playoffs Final – @Post931 vs. Rayson Miller: Owen Vannewkirk go-ahead 2-run triple as part of a 6-run 3rd. Rayson Miller scored all 6 runs with 2 outs. @PickinSplinters @Wheyen3 pic.twitter.com/hgSnkPASoh

— John Mitchell Likanje Junior (@jml5798) July 19, 2019
Rayson Miller added three more runs in both the fourth and fifth innings. Sapienza's squad scored all 12 of their runs with two outs.
"The group that just won the championship can swing it," the Rayson Miller head coach said. "I would describe our ball club this year as a six-cylinder car that largely through the season was hitting around three or four cylinders. We're up around five now. We're going to be a tough out in the states."
Parmeter and VanNewkirk both connected for a pair of base knocks and drove in three runs apiece. Parmeter reached base in all three of his at-bats and crossed the plate once. Along with his triple, Vannewkirk doubled, was hit by a pitch and scored a pair of runs.
"He (James Cooke pitcher Owen Delforte) had a curveball that made me look foolish in my first at-bat," VanNewkirk explained. "I kind of got behind early, took a few good pitches late and got one kind of low and away that I just poked. My third at-bat, it was just kind of fastball, up and out. I just got my barrel to it and went running."
Sanchez doubled twice and drew a walk in four plate appearances. Read connected for a pair of singles and scored a run in three at-bats. Ochs had a walk, reached on a fielder's choice and crossed the plate twice. Countryman collected two walks and scored a run.
On the mound, Smith battled to hurl a complete game on 89 pitches, allowing one run, five hits, two walks and striking out five batters. The senior right-hander retired nine of the last 11 hitters he faced. Smith induced eight outs on the ground and two in the air as well. The 6-foot senior has allowed one earned run in 10 innings of work this postseason.
"He just battles," VanNewkirk said about Smith. "He didn't have his greatest stuff as he had early in the year, but he battles. He goes curveball, fastball and he's got good stuff. Tough to hit."
"He was in the dirt a lot," Sapienza explained about his starting pitcher. "When Hayden needed to make a pitch, he did."
American Legion Baseball District Playoffs Final – @Post931 vs. Rayson Miller: @hoss1821 strands a runner at 1st base with a strikeout. Halfway through 5: Rayson Miller leads James Cooke 9-1. @PickinSplinters @Wheyen3 pic.twitter.com/q6LvJPsP1w

— John Mitchell Likanje Junior (@jml5798) July 19, 2019
Rayson Miller has outscored their opponents, 34-4, in four postseason victories.
"What tends to make champions is the ability to turn around and make the next best play," Sapienza said. "I've got a team full of them. That's why it's fun to be on the field with them."
For James Cooke, Peyton Schuck (Penn Yan) doubled, singled and drew a walk from the leadoff spot. Dave Kelley (Victor), Danny Melendez (Victor) and Brendan Popielec (Victor) all connected for a base hit apiece. Melendez scored on a fielder's choice in the second inning. Zachary Carpin (Clarkson University) drew a walk. Jake Chittenden (Victor) and Delforte were both hit by a pitch.
Rayson Miller will represent District 7 in the NYS tournament next weekend in Utica. Sapienza's squad still has work to do and as Lukas Haefner (Finger Lakes Community College) always shouts during the game, "Do a job!"