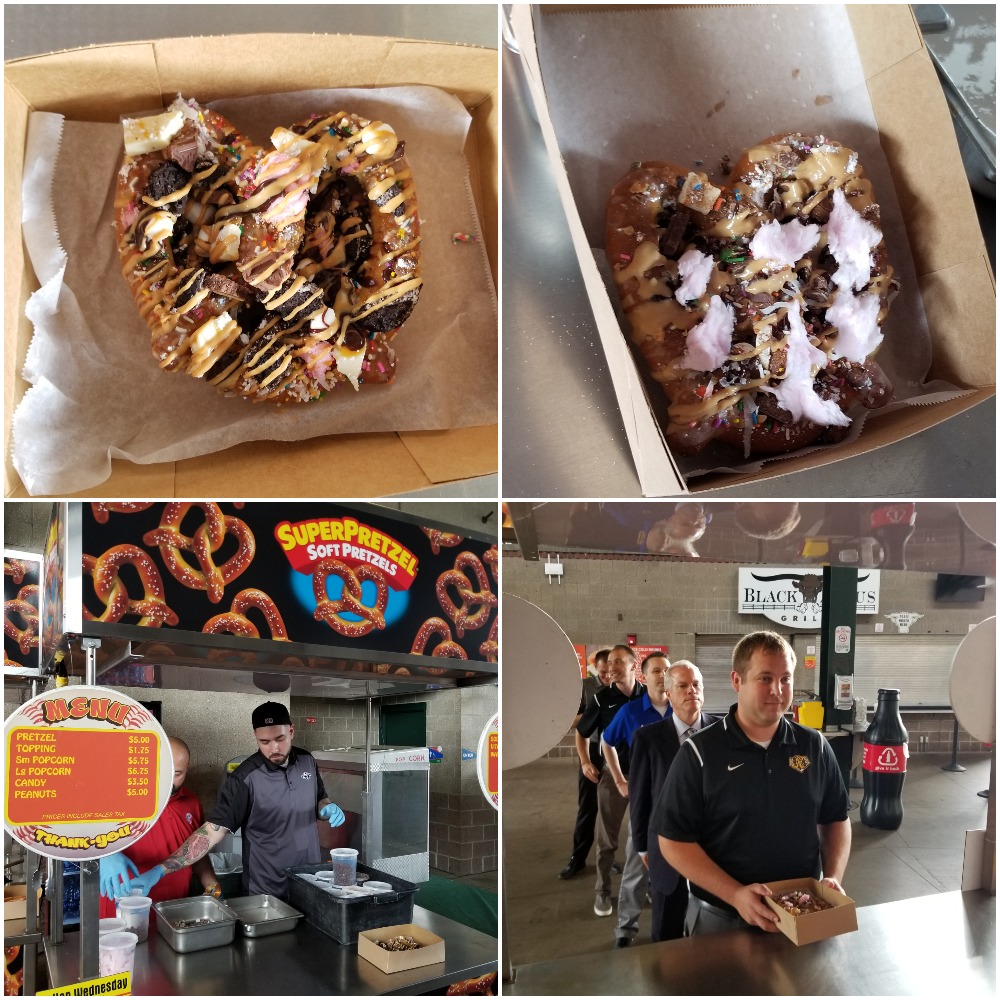 By JOHN LIKANJE
ROCHESTER, N.Y. – The Rochester Red Wings announced "The Works" pretzel as part of their festivities for "Office Night," which will take place July 31st when the Scranton/Wilkes-Barre RailRiders come to town. The new creation features 18 different toppings, including peanut butter, Oreo's, chocolate, sprinkles, sugar and marshmallows.
"I think it's just absolutely delicious and I'm going to say it's even a little bit healthy for you," Red Wings general manager Dan Mason said with a grin during an interview Thursday afternoon at Frontier Field.
From yesterday: Jeff DeSantis (Concession Manager) and Ryan Donalty (Executive Chef) create "The Works" in preparation of @RocRedWings Office Night. @PickinSplinters @njrowan pic.twitter.com/CBzAuDmY9J

— John Mitchell Likanje Junior (@jml5798) July 19, 2019
Sweet glaze, cinnamon sugar, chocolate, white chocolate, fudge, M&M's, caramel dip, mint chip, chocolate chip, marshmallows, nuts, toffee nuts, coconut, peanut butter drizzle, Oreos, sprinkles, cotton candy bits and powdered sugar.

"The Works" coming to Frontier Field July 31. pic.twitter.com/kcT7T1RLs3

— Rochester Red Wings (@RocRedWings) July 18, 2019
The Works will be served at the SuperPretzel Soft Pretzel concession stands during the game.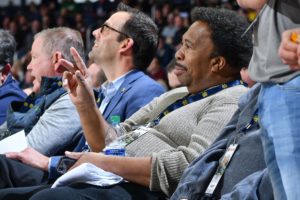 "Every time that we have a theme night here at Frontier Field, we like to include every element of the entertainment experience to our theme nights," Mason explained. "A lot of our in-game promotions are going to be contest-related to things that were maybe done during episodes of "The Office." Of course, we had to have a food element and we thought this would be a great way to do a food special."
"If we're going to do a food special, it had to be The Works pretzel. We will also be having a 'Big Tuna' sub and a 'Nard Dog' hot dog as well."
The Office Night theme is based off the "Initiation" episode of The Office, an American sitcom, in which free pretzels are handed out to the employees in celebration of Pretzel Day. Actor Leslie David Baker, who plays Stanley Hudson, will attend the game as part of the event.
This is Pretzel Day. pic.twitter.com/sFyhTY2Luf

— Rochester Red Wings (@RocRedWings) July 18, 2019
"If we're going to do the Office Night and if Stanley's going to be here, Stanley's favorite day of the year is Pretzel Day," Mason explained. "This is The Works pretzel that Michael Scott ordered during the Pretzel Day episode. We thought it'd be a fitting tribute, with Stanley in the house on July 31st, to sell The Works pretzel, which fans will be able to buy here at Frontier Field for the first time ever for 11 dollars."
"We'll be doing a meet-and-greet session with Stanley. Fans, for 10 dollars, can either get an autograph or a picture or, for 15, an autograph and a picture."