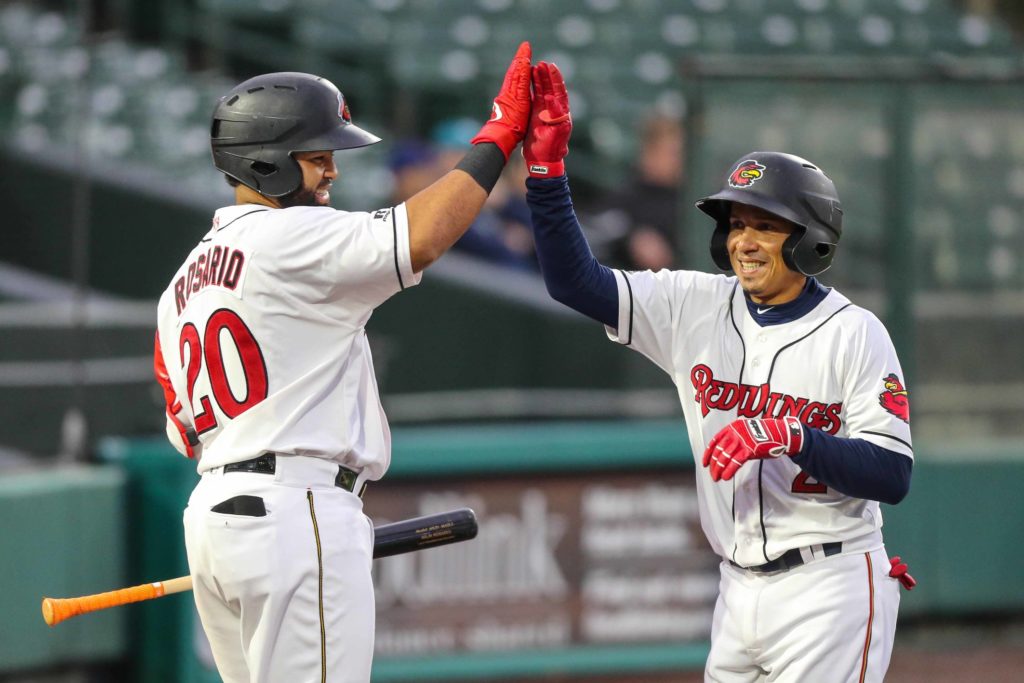 By PAUL CIFONELLI
NORFOLK, VA. – Nick Gordon's two-run single capped a four-run fourth inning and put the Rochester Red Wings (48-49) ahead for good in a 9-4 win over the Norfolk Tides. Gordon's single drove in Ronald Torreyes and Jimmy Kerrigan.
While Gordon's single game the Red Wings a 4-3 lead, Torreyes sparked Rochester with his own two-run single. Torreyes knocked in Jaylin Davis and Tomas Telis.
After the four-run inning, the Red Wings' offense took off. Davis drove in Alejandro de Aza in the fifth to extend the lead to 5-3. After the Tides cut the lead to 5-4, Telis doubled in Davis to regain a two run cushion.
Torreyes capped off his big day at the plate with a three-run home run in the top of the ninth to tack on some insurance runs. Davis and Telis also scored on Torreyes's ninth round tripper of the year. His final line for the day was 3-for-5 with five RBI and two runs scored.
Telis did his best to match Torreyes's output, going 3-for-4 with an RBI, two runs scored and a walk. Kerrigan also registered multiple hits, recording two in five at bats.
Rochester's started Preston Guilt struggled allowing three runs in just 2.2 innings. His relievers picked him up, with Carlos Torres, the winning pitcher, DJ Baxendale, Cody Allen and Cody Stashak threw the remaining 6.1 innings and only allowed one run. Torres gave up that run, but he picked up three of the 6.1 relief innings. Allen was the only reliever to work himself into trouble, walking three in his lone inning of work.
For the Tides, Mason Williams and Austin Hays did most of the damage offensively. Williams finished 2-for-4 with three RBI and a walk, while Hays went 3-for-5 with two runs scored and two doubles.
Rochester native Christopher Bostick finished with a walk out of the leadoff spot for the Tides.
The Red Wings will begin their next series on Friday, July 19 in Gwinnett. The first pitch between the Red Wings and the Stripers will be at 7:05 p.m.