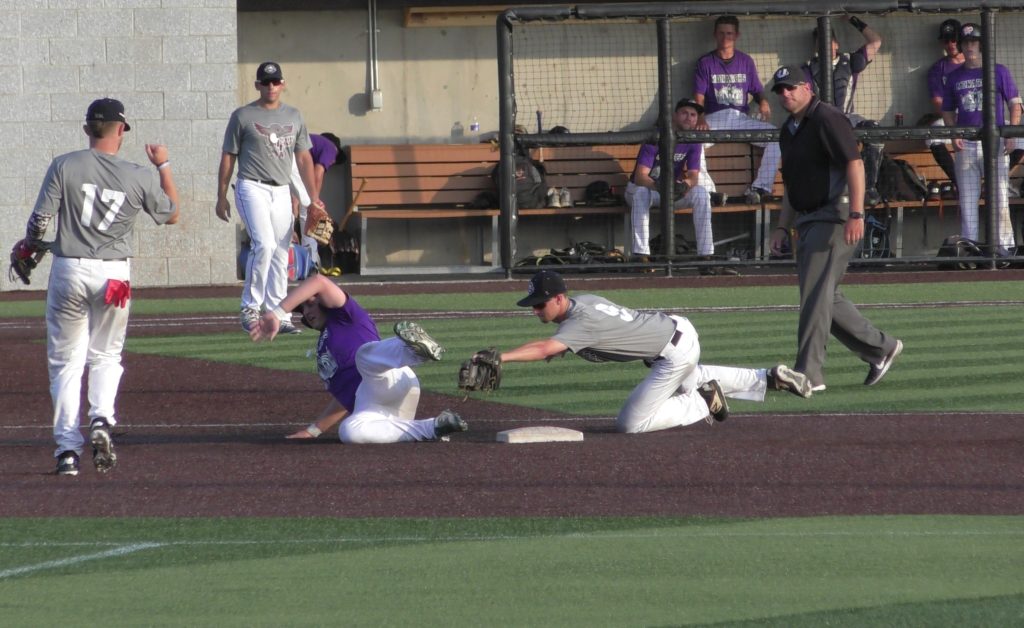 MONARCHS 1
FLYING FISH 11
James Sciortino (SUNY Cortland) plated two runs with a triple as the Flying Fish picked up their third straight win. Cody Cooper (Slippery Rock) and Justin LoTemple (Alfred State) started off the third frame with a single apiece, and Sciortino belted the three bagger to drive them in for a 2-1 lead that the Flyin Fish never let up. Sciortino also drove in two more runs with a bases-loaded base hit in the sixth frame. Cooper added a double and a single and scored two runs. LoTemple finished 2-for-3 with a one run double in the sixth and two runs scored. Senior Sean Sheets (Keuka College) went 3-for-4 with a two run double and plated one runner with a single.
Tyler Broderick ranges into the hole for the final out of the sixth but not before the Flying 🐠 push across 5 to make it an 11-1 game. pic.twitter.com/KKY2wLrtNd

— Paul Gotham (@PickinSplinters) July 18, 2019

Andrew Bailey (Mercyhurst) was a home run short of the cycle, drove in two runs and scored twice. Anthony Mashewske (Keuka College) went 3-for-3 and scored.
Drew Bailey finds a gap,and the Flying Fish run their lead to 5-1 with 1-out in the 4th. pic.twitter.com/QktYD0uQ0U

— Paul Gotham (@PickinSplinters) July 18, 2019

Ray Specht (Niagara County CC) and Hayden Ewell (Southern New Hampshire) scored a run apiece. Drew Delaney (Slippery Rock) picked up the win on the mound. Delaney fanned five through five and allowed one run off six hits. Noah Camponelli (St. John Fisher College) belted a one-run double in the third in the loss for the Monarchs. Maxwell Yale (Allegheny College) went 2-for-2 and scored. Tyler Broderick (Keuka College) and Tyler Cyrus (John Carroll) had a hit apiece. Marty Williams and Jeff Wilson had a base hit apiece.

LAKE MONSTERS 2
WINGS 4
Ben Martin (St. John Fisher)  connected on a one-run double in the bottom of the sixth inning, and Shane Harisis (SUNY Brockport) drove in Martin to put the Wings up 4-2 to and secure their fourth straight win. The inning started with a base hit from Justin Graham (St. John Fisher) who scored on Martin's hit. Graham finished 2-for-3 and scored twice. Jacob Heredia (Monroe CC) beat out an infield hit in the fourth that scored two. Jaden Masucci (Alfred State) fanned four over four innings and allowed just one run off five hits.
Dylan Hillabush doubles inside the left field line and later scores on a 2-out Logan Martella Tasick single. Lake Monsters up 1-0 in the 3rd @interstateCBL pic.twitter.com/AukKTZXGdZ

— Paul Gotham (@PickinSplinters) July 19, 2019

Frank Lauricella (Finger Lakes CC) picked up the win for the Wings. Lauricella pitched 2 1/3 innings, and fanned three with one run allowed. Jim Marasco (Nichols) struck out both batters he faced to pick up the save. Logan Martella-Tasick (Mercyhurst) went 2-for-3 with a walk and an RBI single in the third.
Logan Martella-Tasick takes away the sinking line drive off the bat of Jordan Maher. No score after 2: Lake Monsters and Wings. #shoestring @interstateCBL pic.twitter.com/kq9gppQWX7

— Paul Gotham (@PickinSplinters) July 19, 2019

Ryan Ballard (Tompkins Cortland CC) and Tyler Coy had a double apiece and Coy scored. Erik Gauer (Gordon), Evan Newkirk (Castleton University) and Matt Petrossi (Pike University) contributed a single apiece. Dylan Hillabush (Brockport) had a hit and scored.